The Grand Rejuvenation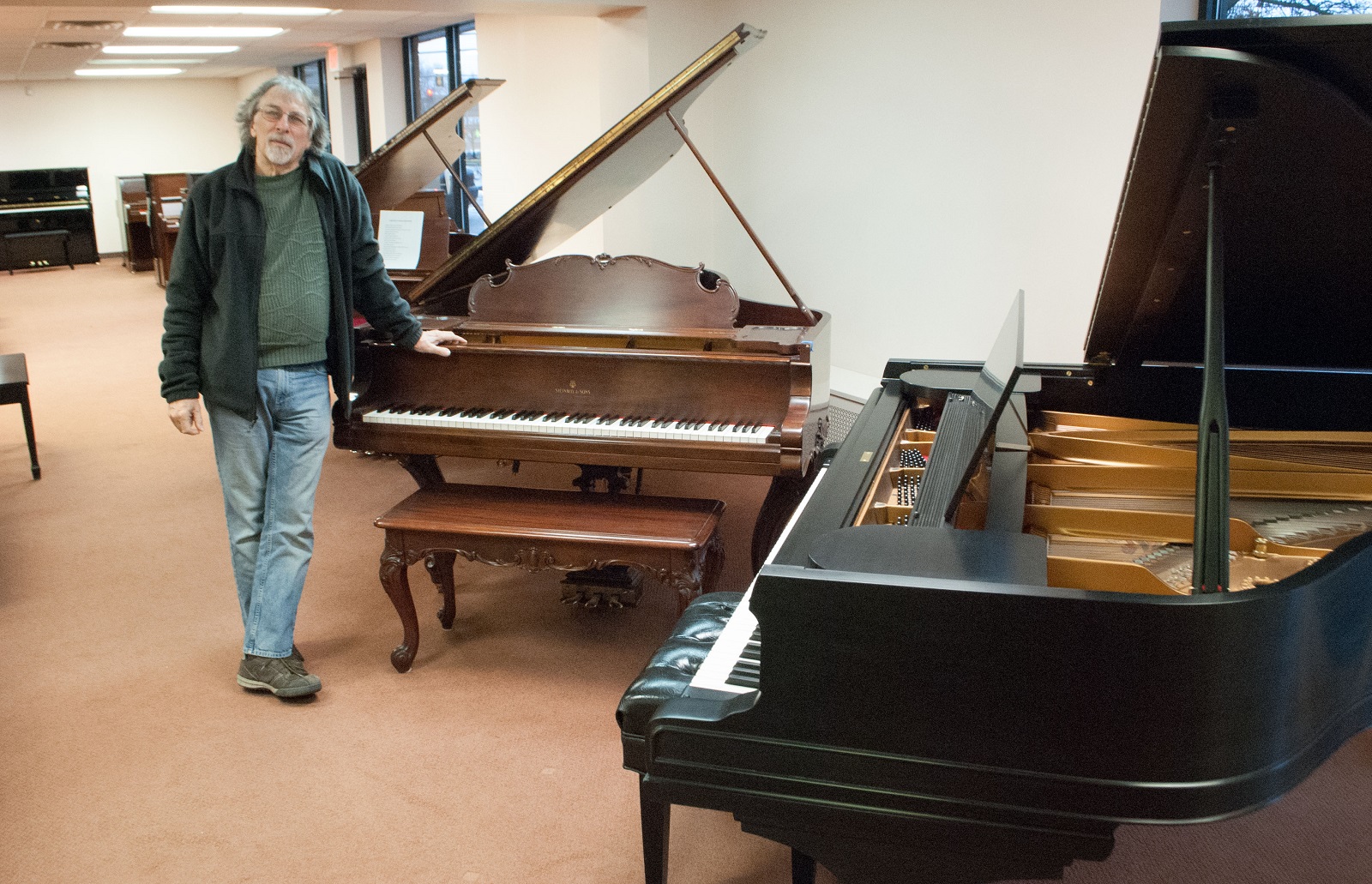 Photo by: Bridget Broihahn
Between the 4 shopkeepers and the 2 tuners that work at The Piano People there is collectively around 200 years of experience restoring pianos. The Piano People, located at 503 S. Country Fair Drive in Champaign, was founded in 1979. Three guys set out to meet the needs of all things piano: home services, tuning, restoration of grand pianos-and the occasional upright-refinishing and the selling of new and used pianos. They wanted to also provide rentals, storage, moving services and accessories.
One of those co-founders, Steve Schmidt, is still around. He's one of those people that is inspiring because the passion he has for his craft. His face lights up as he talks of soundboards, ivories and hammers. Those that work with him must love their work, as well. "My last hire was 20 years ago. We all have a wide variety of skills and a genuine desire to restore pianos," Schmidt said.
Let's go back a few years to when young Steve Schmidt was a recent graduate of Northwestern-with a degree in chemistry-and about to start his adult life. He'd always played piano. He even played clarinet and drums in the marching band-which he loved. He's also played in many successful local rock bands: Ginger and The Tons 'O Fun Band, to name a few, and opened for bands like Rush, REO, Kiss and Argent. "When my electric piano-they were much different than the electronic keyboards of today-would break down, we might be somewhere on the road, and I would have to fix it," he said.
He decided to give this piano-fixing-up thing a try. "I filled up my apartment with them. Then, I got a storefront in Champaign. I started reading all I could about piano restoration. I joined the Piano Technicians Guild, I took seminars, I hung out with local tuners and other piano people in town," he said. Schmidt engrossed himself into pianos. He desired a bigger place to expand his growing business. "We moved into the old mattress factory in Champaign. We didn't have a business plan. We just wanted to tune, repair and restore pianos. We wanted people to enjoy the music from their piano," Schmidt said.
Finally, they bought a building, which is their current location. Since 1991 Schmidt has been the principal of the business. The Piano People is more than just a storefront, though. While they certainly have an extensive multi-room showroom area, since they specialize in the restoration of high-end grand pianos-which are very large-they also need workshop room, too. There were dozens of pianos in various stages of restoration housed throughout The Piano People's confines. Plus, they have a reconfigured automotive painting room that is complete with an exhaust system that keeps debris from ruining the finish of a piano. Each area is finely tuned to serve its particular purpose.
When considering a restoration, Schmidt takes into account many things. "We completely restore high-end grand pianos. Some uprights, too, but in the end, it costs about the same to restore those, and they are not as valuable as a grand or baby grand, so it becomes about the worth of the piano to the owner. We assess the piano. I look at it and give a quote," he said. They have restored pianos not only for families, but universities, churches and schools. Recently, they restored a grand piano that had been owned by Mary Todd Lincoln's sister and brother-in-law. Since it was highly likely that Abraham Lincoln himself was entertained by the ivories of this piano, Schmidt had to restore it. "I am a huge Civil War history buff and a big fan of Lincoln," he said. It was the restoration opportunity of a lifetime for him.
When piano sales went south during the last recession, their restoration business flourished. Schmidt pointed out that in its heyday, the United States had around 400 piano manufacturers. So, when the piano was a hot commodity-pre World War II-several hundred thousand were manufactured yearly. Of course, over time, they have greatly reduced to the point that there are only three piano manufacturers in the US: Mason & Hamlin, Steinway and Charles Walter. "Well, many of these older pianos are still around. We stopped primarily selling new, and now we restore. And business went up. Three years ago, we revisited new pianos, but there just isn't the demand for it," Schmidt said. The advantage for The Piano People's customers is that their restored piano is as close to new as it can be after Schmidt and his crew give it their total treatment. They even take newer pianos and give them the total treatment, too. "We aspire to make them enormously better," he said.
Schmidt stood by a grand piano sitting in the shop that is in one stage of restoration. It belongs to an 80-year-old man, and the man dearly misses playing it. "We need to restore this piano so he can play it again," Schmidt said. The Piano People take the old and make them like new again. And maybe, in this particular case, an 80-year-old man will feel new again, too. "It's about the music," Schmidt said.
Call The Piano People at 217-359-7601 or visit their website at pianopeoplecu.com.