Feb/March Editor's Note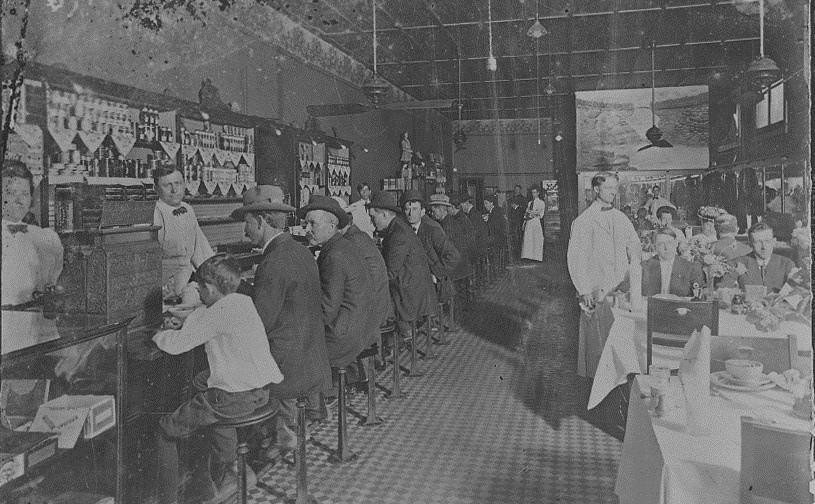 Photo by: Provided by Urbana Free Library Digital Collections
I like this issue of Central Illinois Business magazine, because it has a little something for everyone: a new business called Snooze, a visit with The Piano People, a trek out to Ford of Tuscola and a business lunch at Strawberry Fields.
I also included this picture from 1913 for your enjoyment. I have taken a recent interest in our local history, since I purchased an almost 200-year-old house last fall. I found this great picture in the Urbana Free Library Digital Collections. This picture was submitted to the collection by the Champaign County Historical Society. This is Peterson's Cafe at around 1913. It seems like a popular spot back then for people on their business lunch break, doesn't it?
Over a hundred years later, and there still is a need for a good business lunch, one that is both really tasty, yet healthy and satisfying, plus, easy on the budget. I was surprised that I could get a huge lunch at Strawberry Fields Cafe for about what I would pay at an inexpensive fast-food place. I had a delicious quinoa burger. I also had a great cup of coffee that passed my coffee-snob standards with flying colors.  
My trip to Snooze was really fun! Where else can you have a pillow fight with both the owner-"Big Mike" Namoff- and the manager-Kristie Powell- and get away with it during the business day? Namoff is really as fun as he seems. He treats people very well, which makes for good business.
Another place that treats people very well is The Piano People. They give new life to old pianos. They make them sound beautiful again. Steve Schmidt, the owner, is dedicated to the craft of restoring these iconic instruments. I left there enchanted, to say the least.
When I ventured out to Tuscola, I was greeted by the friendliest staff I have encountered for quite a while. I often think of car dealerships as being very similar to one another, but this group-led by Jon Hensley- is about excellence, price, service and relationships. And I had a fun time looking at this really cool Model T they had in the showroom. 
Good business, everyone! ~Bridget