Best of both worlds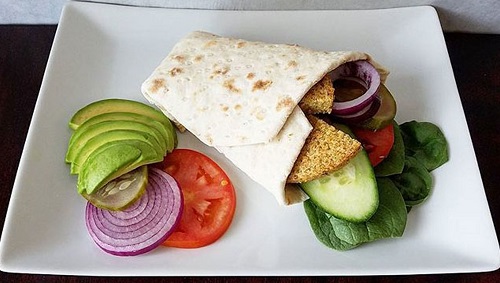 Photo by: Bridget Broihahn
On his business lunch, Ryan Burk enjoyed a veggie burger on flatbread at Strawberry Fields Bakery and Cafe. "It's delicious, fresh, savory and healthy," he said. Burk is a busy reporter for the local CBS-affiliate and appreciated the convenient, but healthy, choices that are available at Strawberry Fields.
During the weekdays, it is oftentimes very difficult to grab something quick and healthy, too. Not so, at Strawberry Fields, said owner Mohammad AL-Heeti, who recently joined the successful international store, World Harvest, together with Strawberry Fields in one convenient location. "We have nutritious, quick and satisfying food, but it is also affordable, too," AL-Heeti said. Lunches start at just $5.99 and up.
Strawberry Fields is known for their baked goods made with natural and organic ingredients. "We make our breads from scratch using only organic, unbleached, whole-grain flours. We have no-salt whole wheat bread for those with special diets, like gluten-free, vegetarian and vegan. Our sourdough bread is made from real sourdough starter. We have three pastry chefs to make sure we have the best selection and variety around," AL-Heeti said. He said customers may dine-in or carry-out.
Another businessman was eating the BBQ tofu. He had a hot food plate that comes with two main courses and rice. A retired woman sipped coffee and enjoyed a scone. "Our scones are delicious. They only $1.89 and are fresh," AL-Heeti said.
Besides main entrees, they also have sandwiches, salads and desserts, too. "Come in for breakfast, lunch, dinner or simply dessert," he said. The café offers coffee and espresso drinks, freshly squeezed and healthy juices, too. The café hours are Monday through Saturday from 8 a.m. to 8 p.m., and on Sunday from 10 a.m. to 6 p.m. On Saturday, they have a cooked-to-order breakfast menu from 8 to 11 a.m. "It's always delicious. It's always filling, and it's all for only $9.99," AL-Heeti said.
They also cater events and gatherings. "We specialize in deluxe box lunches, platters, salads and a variety of entrees," AL-Heeti said.
After lunch is done, why not shop in the grocery and health and beauty aids portion of World Harvest, International and Gourmet Foods? In the continental community of CU it is known that World Harvest will probably have the international food item desired. AL-Heeti likes nothing better than to give people a little taste and memory of their homeland. "World Harvest gives the community the taste of the world," he said. The store offers olives, cheeses, coffees, teas, jams, pastas, sauces, spices, and more from countries such as Australia, Argentina, Brazil, China, Columbia, Egypt, England, France, Germany, Greece, Mexico, Morocco and Turkey.  They are known for being the go-to store for those continental items.
World Harvest also supports local vendors. They believe in the symbiotic relationship between local businesses and keeping revenue local. Shopping local helps the local economy, according to AL-Heeti. Indeed, shopping local creates local jobs, it saves fuel and resources from transport and packaging, and it invest in local entrepreneurship. Some of the local vendors that Strawberry Fields and Harvest Market support are Blue Moon Farm, Prairie Fruits Farm, Kilgus Farm, Ludwig Farms, Moore Family Farm, Mussman Back Acres, Oberweis and Ropp Jersey Cheese.
The cafe and store are located at 306 W. Springfield Ave., Urbana, in the heart of downtown. Visit their websites at: strawberry-fields.com or worldharvestfoods.com. "If you still have a question, please call us at 217-384-1574," AL-Heeti said.