Post-frame barns and buildings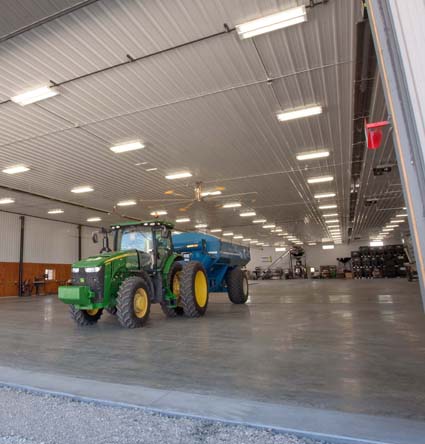 Photo by: FBi Buildings
The FBi has been in the Central Illinois area lately, and folks are quite happy about it. No, it's not the Federal Bureau of Investigation, but FBi Builders Inc., a post-frame building company. FBi Buildings was founded in 1958 by Edwin A. Bahler and is still owned by the Bahler family. Ed L. Bahler, son of Edwin, is the CEO. The home office is located in Remington, Indiana, about halfway between Chicago and Indianapolis.
FBi Buildings has built more than 20,000 pre-engineered buildings for clients, and as local farmers and business owners see the practicality of the buildings, they have been popping up in and around the Central Illinois area. They engineer a building to each customer's specific needs: wind load, snow load, etc. based upon their exposure rating, building use and any applicable codes. There is not a one-size fits all approach with FBi Buildings. They build for each individual farm or business' needs.
The Bahler family has created an engineering feat by taking the original "pole barn" and upgrading it to use square posts, over the old fashioned round posts. FBi Buildings was the first in the industry to use this method. The post is buried, with a ground-to-wall and then wall-to-roof connection, so the entire building is one continuous unit, not separate entities joined together. This design makes them the leader in the National Frame Building Association.
"Heck, we started the NFBA! We created the group. FBi Buildings has pioneered the industry," Ken Culbreth, director of operations said.
FBi Buildings passes the test
The advantages of post frame construction are numerous, and FBi Buildings leads the business, Culbreth said.
Exterior finishes are virtually unlimited. They have used brick, stone, cedar siding, and exterior insulation and finish system-or EIFS- a system that provides the outer walls with an insulated, water-resistant and finished surface in a composite material system. The roof can include be regular shingle or metal. FBi Buildings has 15 standard colors available for that perfect look. Plus, post-frame buildings are considered as green as a building can get, adding the advantage of eco-friendliness to the build.
Not all post-frame builders have complete control over the entire build. FBi Buildings has some of the best employees and subcontractors in the post-frame construction field. Some important details can get overlooked, such as engineering, truss fabrication and the construction crews. The advantages that FBi Buildings has are quick construction, affordability, flexibility in design, strength in materials, energy efficiency and environmental benefits.
Like their 29-gauge hard-rolled steel, that is thinner than the 26-gauge steel used in other companies, but stronger.
"The 29-gauge steel can withstand 80,000 pounds per square inch, while the 26-gauge only withstands 40,000 pounds per square inch," Culbreth said.
They are also extremely energy efficient, according to Culbreth, taking advantage of the three types of heat transfer in their design and materials: conduction, where material transfers to other materials; convection, where the heat flows in a circular pattern in the heating and cooling cycle; and radiant heat that transfer through empty space or radiation.
"Steel frames are colder. Wood frames versus steel frames means an energy savings for the customer," he said.
A company that has stood the test of time
"In 2008 or so when the home building industry hit a low, all these dudes with a hammer and pick-up truck decided they could supplement their income building post-frame construction," Culbreth said.
Culbreth said that it's the old adage: "You get what you pay for," when it comes to buildings.
"These hammer dudes tried to undercut our prices, but couldn't deliver the quality," he said.
Culbreth-who started as a builder with FBi Buildings-knows the construction business of post-frame buildings, and he advises those looking to build to speak with one of the FBi Buildings Project Sales Consultants, who plan clients' buildings for optimum flow, function, aesthetics and value. They also have a designer in their corporate office that will take the build to another level if needed.
FBi Buildings has a network of general contractors that can build the entire product, as well. They also have a separate division that can do renovations and repairs on existing buildings. In fact, they are the only post-frame company that provides this service.
It's the people
Culbreth said that the driving force in FBi Buildings is the staff.
"Our employees-everyone from the guy who picks up the trash to the engineers and designers have an average of eight years' experience, and that is just an average," he said.
He said their design and engineering teams are unparalleled in the post-frame industry.
"Whatever you're looking for, we can build it," he said. "We continually drive the market."
For more information, go to fbibuildings.com, email them at info@fbibuildings.com or call them at 800-552-2981.