Collector Cortez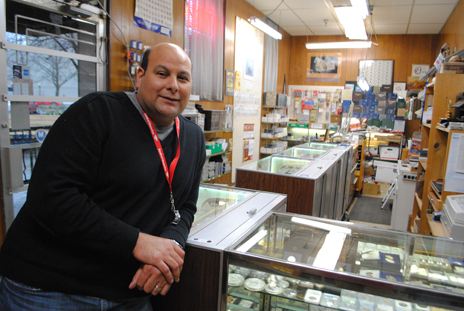 Photo by: Bridget Broihahn
"Everybody likes to dream, but I am living my dream," Mark Cortez said.
Cortez is the owner and operator of Specialty Stamp and Coin, located at 7 Taylor St., Champaign. The shop is open 10 a.m. to 5 p.m. Tuesday through Saturday.
Cortez has made a complete 360 degree turn as a career collector. He started as a kid collector and shop employee, then made his way to a grown-up mortgage banking vice-president, and finally back to a collector and, this time, the shop owner.
"I was a 14-year-old in a shop called Clutch Hitter in Champaign," he said.
Clutch Hitter made more money on the weekends when Cortez was working than they did the rest of the week. Cortez worked at the South Mattis Avenue shop for almost seven years, also known as "Clutch Hitter Baseball Club."
"That's where I got my economics degree. I learned all of my customer service skills-and my skills were honed-in that shop. I received knowledge about hard assets, collectors and investors. I have a working knowledge of collectability: condition, when it was made, how many were made, grade and worth. The hunt was-and still is-exciting, and the attainment of a certain collectible is challenging and always invigorating," Cortez said.
After Central High School and Parkland College, he worked as a mortgage originator at National City and PNC banks. He moved on to mortgage vice president for Inland Bank and consultant for Bank of America. He had a very lucrative career in his 12-year journey in mortgage banking.
"I was in the top 10 percent in mortgage production in the U.S. However, my goal was always to someday buy this shop from longtime owner, Gary Dayton. I just couldn't pass it up," he said.
He likes what he does now: the hours are better, and he gets to spend time with his family, something that was difficult in the life of mortgage banking. And he's keeping the tradition that Dayton started over 30 years ago.
"It wasn't that I didn't like it. It just wasn't my dream. There's a saying, "It isn't how you fall in the ocean. It's what do you do to get out." My goal was to enjoy what I do every day, and I certainly do enjoy this shop," he said, as he sold postage stamps to a customer that are priced 60 percent off of the going rate.
"I can do that because I bought out someone's estate and the stamps were in the estate," he said.
"Yeah, pick this guy's brain. He knows about everything," the customer said as he waved and left the store.
Cortez also likes building a reputation for all-year fair pricing, the fact that he can use his banking experience in estate settlement, documentation and appraisals for those that inherit collectibles, and building relationships with the collecting community. He also stores items in the bank vault, as Specialty Stamp and Coin is the only Illinois state approved coin shop offering safety deposit boxes right on the site. The building was once Citizen's Bank of Champaign. Sixty percent of Specialty Stamp and Coin's business is in gold and silver bullion.
"People will bring in their "want list," and I will track those items down for them, whether it's coins, stamps, sports paraphernalia and other collectibles," Cortez said.
He said collecting can be a hobby, but it's also an investment.
"There's a culture in it. There is a lot of history involved and it's incredibly educational. To be good at it, it takes considerable time and a commitment," he said.
The best part is seeing happy customers who return again and again or are sent by recommendation by another business.
"There's nothing better than when the people that are selling are happy, and also the people that are buying are happy, too," Cortez said, as another customer walked in and shook his hand.
To find out more about Specialty Stamp and Coin, come on by and visit with Cortez, give him a call at 217-359-7576, email him at mark@specialtystampandcoin.com or visit the website at specialtystampandcoin.com.