Business lunch and more...Michaels' Catering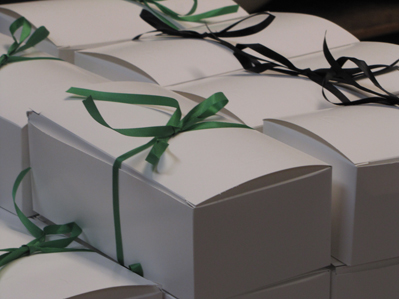 Photo by: Michaels' Catering
Well into their third decade of helping people serve up a festive time with topnotch full service catering, Michaels' Catering has kept their eye on the vision created years ago by its original owners. They are also growing and changing to fulfill the needs of their clients, who have come to know them as a source of reliability, quality and exquisite taste, whether it pertains to their food and drink, or their accoutrements.
The catering company was hustling and bustling at an early hour when Central Illinois visited last month. We soon learned that this was "business as usual" for the company that had served hundreds the night before at Hilton Garden Inn in Champaign. The current owners, Stephen Kovachevich, David Jimenez and Whitney Ackermann were all onsite, drinking coffee and excited for the day, which included business client catering.
Crisp, white boxes were set-up in sharp rows for the lunches that would nurture hungry professionals later that day at various business in the area. They had different colored ribbons tied to keep the boxes closed. Kovachevich explained that the colored ribbons have meaning and are code for the vast variety that Michaels' Catering offers.
"Plus, we can handle any dietary restriction, like gluten-free and others," he said.
"We do everything. We can make breakfast onsite, deliver box lunches, a morning break, an afternoon snack or even a full-service dinner," Ackermann said as she sipped her coffee.
The power trio brightly relayed how they had cooked hundreds of steaks the night before, as if it were a small feat. The passion for what they do was clearly evident.
Original owners, Michael Carragher, Michael Nelson and Joan Clement, who were associated as former Eisner employees set the bar high for the company. Marty Kamerer came on board later, and took the business to a new level, as well.
The current power trio have a vast collective experience in hospitality and management, and they plan to keep moving forward with new and innovative ways to serve the Central Illinois area. Plus, they are totally hands-on.
"We can serve an elegant dinner for four, or a large group of 1200. We can serve any event, whether it's a cook-out or a silver-service with fine china affair. We show-up on time, fully-staffed and ready to serve. ," Kovachevich said.
Jimenez, a native of Columbia, started in the kitchen at the Champaign Country Club as a server, busboy and helping with events. He's a true example of the American Dream.
"We want to make our customers happy, and we want to get it right. We want to give the best service around," Jimenez said.
They are purveyors, looking for trends, and taking catering and service to the next level and accommodating creative ideas, as well as taking care of return customers that have been with them from the beginning.
"We are open to anything," Ackermann said.
"We have been serving one client since 1983. It's an outdoor event where we bring the little Webers (grills) and it's really something," Kovachevich said.
Jimenez said they have no voicemail and customers talk to a person when they call.
"We have a very friendly website, too," Ackermann said.
"We have the latitude to give our customers what they want. We want to exceed their expectations," Kovachevich said.
Have a great idea for a get-together? Let the creative team at Michaels' Catering help you! Contact them at 217-351-2500 or visit their site at michaelscateringeevents.com.