An old method to serve new patients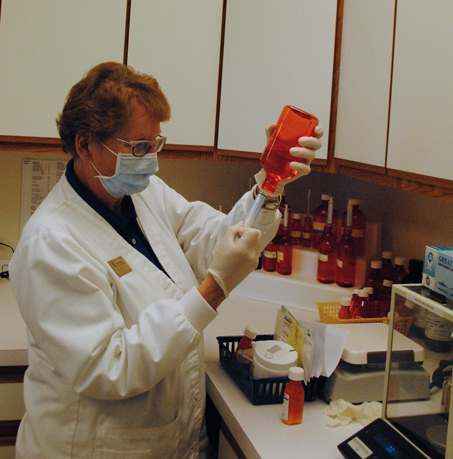 Photo by: Bridget Broihahn
What's old is new again at St. Joseph Apothecary, located at 204 N. Main Street in St. Joseph. Owned and operated by pharmacist Kathy Munday, she and her staff of 14, offer something that most pharmacies do not: they compound medicine. All licensed pharmacies prepare and dispense drugs from a prescription, but the compounding of medicine is a lost healing art that few pharmacies perform in this modern day and age.
Although in the earlier days of pharmacology, compounding medicine was commonplace. Seeing the lack, Munday saw an opportunity in the pharmaceutical business arena. She had been a pharmacist with other pharmacies-chain and other local stores-and she knew her idea would better serve customers. With this realization, she bought St. Joseph Apothecary.
"We found our niche," Munday said.
Plus, they focus on customer service that sets them apart from their competition, like a standard to answer the telephone by the second ring, having an actual person always answer the telephone and not a voicemail system, a separate and clean capsule room with a hepa filter ventilation system to keep down on airborne particles and a private consultation room to privately discuss medication-and other issues- with patients, something not seen in other pharmacies, where said discussions take place at the counter. The list of customer service techniques that are unique and specific to St. Joseph Apothecary goes on.
They must be doing something right, too, because 2017 is their 25-year anniversary. They will have a celebration later this summer for patients and customers.
"I saw that we could do variations in standard dosages of medications," she said of the definitive difference between St. Joseph Apothecary and other pharmacies.
Think about the possibilities: a patient would better off with a 7 milligram medication, but the standard dosages are 5 and 10 milligrams. Or the patient is allergic to a dye or a filler that is included in the pharmaceutical, but is otherwise fine with the active ingredient. St. Joseph Apothecary consults Professional Compounding Centers of America, receives a formula in the form of an equation and clear directives for the staff to compound the medicine. St. Joseph Apothecary has a strict protocol in place for filling prescriptions, as well. The result is that the customer has what they truly need with their prescription.
Munday earned a bachelor of science in pharmacy from the University of Iowa and an MBA from the University of Illinois. She has studied under the PCCA and the American College of Apothecaries Pharmaceutical Care Institute earning certificates in Women's Health, Men's Health and Respiratory Care Management. She also holds informational courses in arthritis and fibromyalgia self-help right on the premises of St. Joseph Apothecary. She is of the mindset that information regarding one's health leads to better self-care and healing, something she is passionate about.
"We take care of each and every prescription like it's for our own loved ones," she said.
Those loved ones include those of the fur and feathered kind, too. St. Joseph Apothecary often compounds prescriptions for dogs and cats.
"Yes, that's right. We compound and fill animals' prescriptions, too, with 50 percent of our business being that of a veterinary nature," she said.
Munday said they have compounded medicine for zoo animals, and the University of Illinois School of Veterinary Medicine, too.
"We have compounded medicine for pythons, tigers, toucans, owls, as well as cats and dogs," she said.
Munday saw that compounding was a way to better serve customers and she was right! To learn more about St. Joseph Apothecary, call the pharmacy at 217-469-2232, visit their website at stjoerx.com or stop in during open hours of Monday through Friday from 9 a.m. to 6 p.m., and Saturday from 8 a.m. to 1 p.m. They are closed Sundays and holidays.