Insta-worthy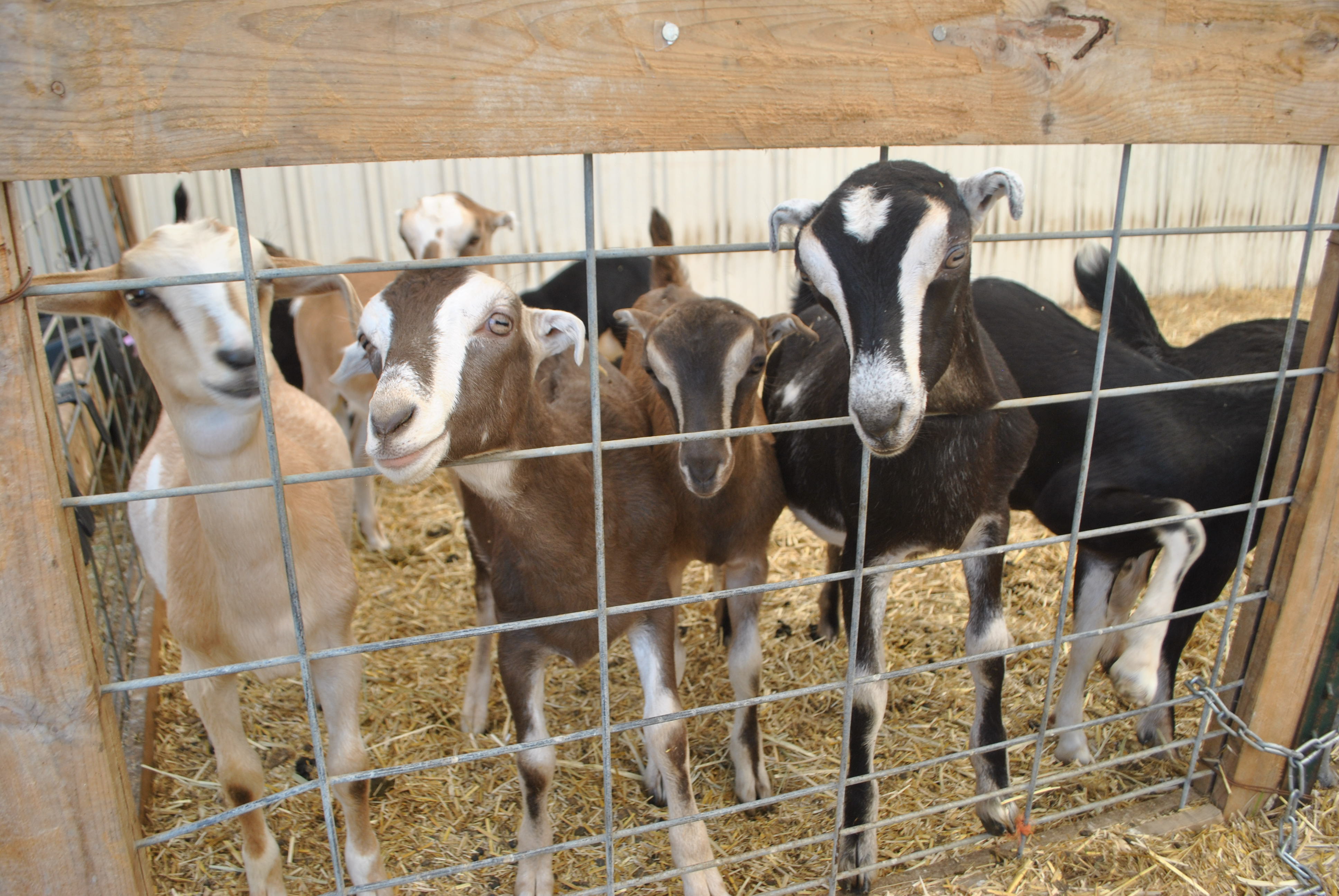 Photo by: Christine Walsh
The Illinois Office of Tourism's website, enjoyillinois.com, recently chose Prairie Fruits Farm to include in its 20 "Most Instagrammable Spots in Illinois."
The goat dairy farm, known for its award-winning cheese and artisan gelato, is described as "the perfect place to sit back and enjoy a peaceful evening on the prairie and even play with some goats too!"
Owners Wes Jarrell and Leslie Cooperband are both former soil science professors. They moved to Champaign-Urbana from Madison, Wis., in 2003 when Jarrell accepted a position at the University of Illinois, buying 7 acres that same year with the intention of it being a hobby farm. What's now their farm store/barn dining room was a dirt-floor machine shed then.
Inspired by Jarrell's childhood on an Oregon fruit farm, the couple decided to put in an orchard and chose the name Prairie Fruits Farm. "He wanted to recreate his childhood experience of eating perfectly ripe fruit off of the trees," Cooperband said.
They added goats in 2004. The idea was Cooperband's, influenced by a Madison farmers' market where the couple enjoyed French-style cheeses. "I was really intrigued by that," she said.
After getting a few goats and making experimental batches of fresh chevre in the home, Cooperband and Jarrell decided to go commercial and were licensed as Illinois' first farmstead dairy-creamery (milking their own goats and making cheese from their milk) in August 2005. They started with 25 goats and now have between 75 and 80. They are seasonal; all of the goats are bred in fall and kid in spring. They make cheese from March through December.
In 2011 they added gelato after going to Italy to learn to make it from scratch. In 2008, they received a grant from the Frontera Farmer Foundation that allowed them to build a commercial kitchen. That same year, with chef Alisa DeMarco at the helm, they started hosting dinners on the farm with themed menus and hyper-locally sourced ingredients. The "slow dinners" can take three and a half hours to go from appetizer to dessert. In between courses, the chef comes out to talk about the food, and the farmers who provide the ingredients are also invited to speak.
At a June dinner, for example, each course was paired with a different beer from Rolling Meadows Brewery near Springfield, which uses locally grown grain. The most recent dinner featured chef Stephanie Izard from Girl and the Goat in Chicago. Guests are seated at two long tables for communal dining and sharing and passing of plates of food. "It's a very convivial experience," Leslie said.
The farm store opened a few years ago. Cooperband and Jarrell call it The Real Stand because they feature their products as well as those from other farms that believe in sustainable agriculture and caring for the land. The store has local meats from Sidney's Bane Family Meats; artisan sausages and cured meats from Urbana's Piemonte Sausage Co. and Underground Meats in Madison. Wis.; locally milled flours from The Mill at Janie's Farm in Ashkum; honey from Champaign-Urbana's Two Billion Blooms; jam from Urbana's Autumn Berry Inspired; pancake mix from Funks Grove in Shirley, Ill.; and pecans from Voss Pecans in Carlyle, Ill. All of the beers served at Prairie Fruits Farm are from local brewers, and the sparkling wine comes from Illinois Sparkling Co.  in Utica, Ill. "We try to really support other local farmers and food artisans," Cooperband said.
In the spring, Prairie Fruits Farm hosts an event called Babies and Brunch that typically draws between 500 and 1,200 people over a four-hour period. "It's ridiculously popular," Coooperband said.
Maggie Taylor, one of the owners of Delight Flower Farm, which rents an acre of land from Prairie Fruits Farm, is a certified yoga instructor and hosts a "Yoga with Goats" class for a few weeks in April and May.
The farm recently hosted its first Goat Walk Happy Hour. Guests walked with goats through the pasture after the evening milking to a 2-acre restored prairie, where a portable bar was set up with local beer, wine and snacks. The event is planned for July and August as well.
In the fall, there's a cider pressing event.
"We're very event driven," Cooperband said.
After Thanksgiving, there is a holiday market with local artisan-made gifts, as well as a goat photo booth where families can have their photos taken with goats dressed as elves or Santa. There's also a pop-up holiday café. It's one of the farm's busiest times of year. "People have a lot of guests in town and are looking for something to do," Cooperband said.
The farm is now featuring "build your own" cheese boards that let customers select their cheeses and accompaniments like salamis, pickles, jams or honey and a wedge of locally made baguette bread to enjoy with a glass of wine, beer or a non-alcoholic drink.
"We're a working farm, not a hobby farm," Cooperband said. "That allows people to come and experience a working farm and get up close and personal with our goats. I think people enjoy that connection.
"Our overall philosophy is to demonstrate you can have a really high-maintenance operation dairy and creamery and maintain our priorities of care for the land, care for animals, pasture based and treating our employees really well," she said. "My husband likes to say we're accountable and transparent."
Although the public can't go in the creamery for food safety reasons, there is a window where people can watch the cheese being made.
"Sometimes it's messy; sometimes it's like a showplace," Cooperband said. "We want people to understand there's a lot of work behind running a farm like this."
True to their teaching roots, Jarrell and Cooperband use farmers' markets as an opportunity to educate the public. "What we do is actually not the norm," Cooperband said, citing statistics that less than 1 percent of goat farms are pasture-based. The vast majority have goats in confinement.  "We are not typical."
The farm was formerly in row crop production of corn and soybeans. Using goat manure compost and cover crops, Jarrell and Cooperband restored eroded slope near the Saline Branch. Then they started planting prairie grasses in 2008.
"We are on some prime, prime prairie soils," Cooperband said.
The goats stand on their hind legs to nibble cottonwood tree leaves. They also enjoy browsing on honeysuckle and honey locust, as well as on the prairie plants.
"They have a very varied diet," Cooperband said. "Our milk is a reflection of what they're eating. The two breeds we have (Nubian and LaMancha) have really delicious-tasting milk. That contributes to delicious-tasting cheese."
While there are breeds that produce a higher milk volume, the farm's breeds were chosen for quality over quantity, according to Cooperband. "The crosses we did give a unique character that produces a certain flavor profile," she said. "Our goats are pretty happy, and that seems to make good milk."
Cooperband's favorite part about farming is "being so connected to the land and so in tune with another animal, the seasonality of things. There are a lot of things over which we don't have control, and I'm coming to realize you can only control so much, especially with the climate variability. In some ways, it's satisfying."
Climate affects farmers, no matter what kind, she said. "We're being thrown a lot of things that make it challenging to farm," she said.
Prairie Fruits Farm has started supplying goat cheese to Sweetgreen, a national fast casual restaurant chain that serves salads. "They're growing like crazy," Cooperband said. "They would like us to grow with them." Jarrell and Cooperband are hoping to find a pasture-based goat dairy partner so that they can supply more cheese.
They would also like to build an event space that can accommodate larger private parties and possibly even offer farm stays, during which guests stay overnight and experience the lifestyle for a night, weekend or more. "People can participate in the day-to-day activities if they want to," Cooperband explained.
The fresh goat cheese takes three days to produce. The first day involves pasteurizing the milk, cooling it to room temperature, then adding a starter culture to cause a slow fermentation of the milk and then separating the curds and whey. The following day, the curd is ladled and then sits overnight to drain off the whey. On the final day, it is salted and packaged according to its final destination.
The farm also makes aged cheeses. Those also go through a pasteurization process but are fermented for a shorter time period. The cheese is then ladled into forms, and the following day it is salted and goes into an aging process that lasts about two to three weeks.
Prairie Fruits Farm's hours change seasonally. Currently they are open from 4 to 8 p.m. Thursdays and Fridays and from 1 to 4 p.m. Saturdays and Sundays, but Cooperband recommends checking the farm's Facebook page or website, prairiefruits.com. Private parties of up to 75 inside or 100 outside can be booked that way too.