A passion for pets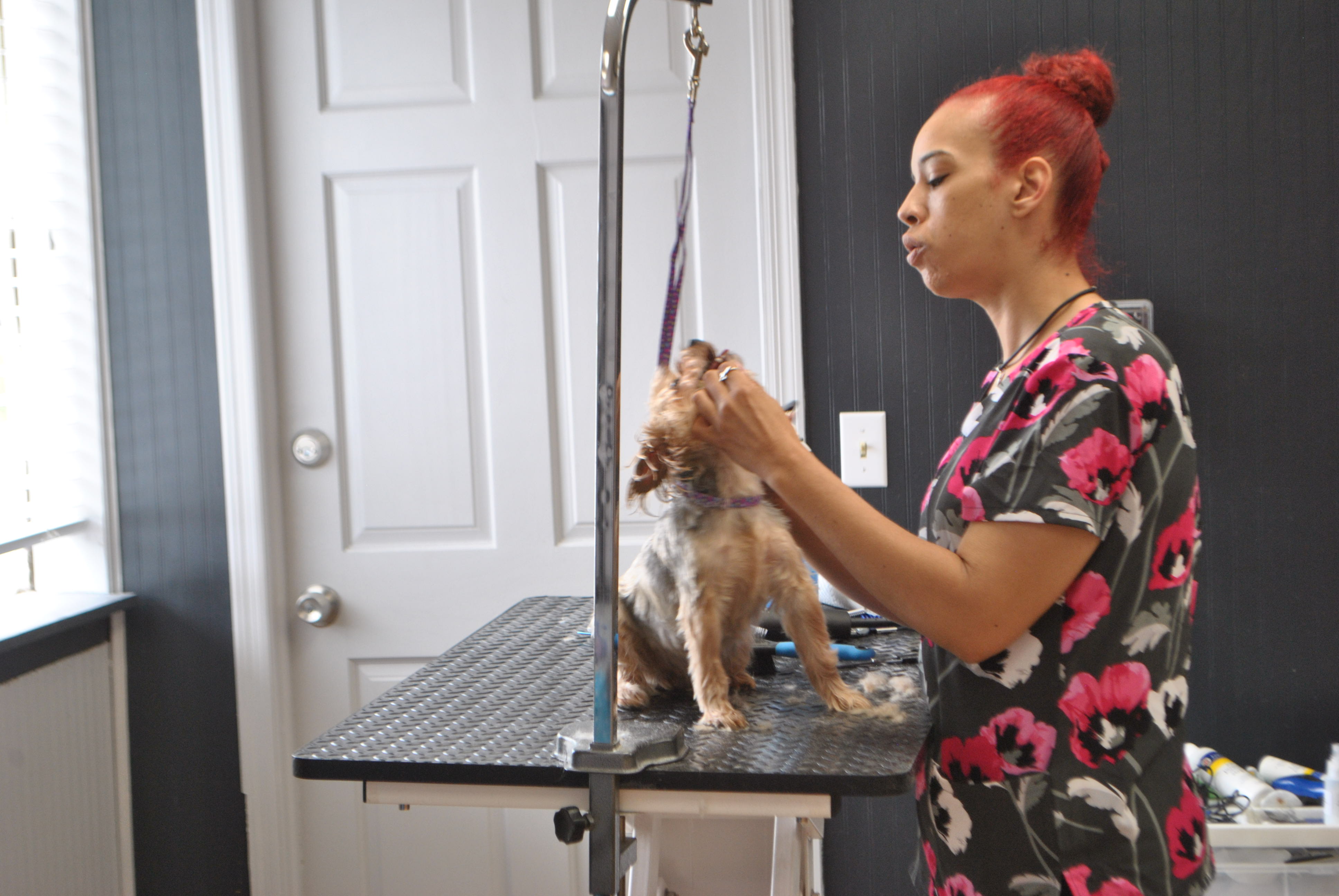 Photo by: Christine Walsh
Dogs have always played an important part in Debbie Skaggs' life. In fact, her grandfather claimed that a dog saved her life when she was 8 months old. "He picked me up by the diaper from the railroad tracks," Skaggs said. "I guess my love of dogs started there. Dogs are special."
That love of dogs led Skaggs, who was working at a local pharmacy, to start a cat sitting business in 2000, leaving her business cards at veterinarians' offices.
"I love animals – especially dogs," Skaggs said. "I decided to do something I had a passion for."
Skaggs has a big fenced-in back yard and goes home two or three times a day to let the dogs out and check on them.
Skaggs operated the Angel Paws cat-sitting business for about 10 years before she decided to add another element. "People kept asking about grooming," she said. "I used to go to customers' homes for calls and refer them to someone else."
In 2016 Skaggs opened a storefront 5 minutes from her home, at 900 S. Mattis Ave., Champaign.
Skaggs has two professional groomers on staff. "I have two excellent groomers," she said. "This is our passion and not just our job."
Skaggs jokes that her ever-present Pomeranian, Princess, is the co-manager.
Skaggs said that her aim is to "always make the clients happy."
"The dog's welfare comes first, and their comfort," she said. "I always treat customers the way I'd want to be treated myself. It's a professional service with a personal touch. We're a small business. We make them feel comfortable and get to know them and their pet."
Angel Paws accepts all breeds of cats and dogs and does not charge for extras like tooth brushing, blueberry facials, conditioners and warm towels to make animals feel secure.
"We try to make it pleasant for them," she said. "We bring them in here and hold them and just talk soft to them. We may work on the next one until they get fully comfortable. We take our time. You're grooming a moving target; you can't rush through it like you're cutting grass."
In addition to cat sitting and grooming, the business offers doggie daycare, daytime or overnight services, crate-free cat boarding in her home, in-your-home care or boarding for cats only.
"Some of my clients have been with me for years," Skaggs said. "We take care of a lot of well-known people here in town."
Sometimes in the grooming process, something may appear abnormal on the pet, and Skaggs then suggests the owner take the pet to a veterinarian to have it examined. "People are so busy these days, they miss stuff," Skaggs said.
Skaggs is licensed in the state of Illinois and is a certified vet tech, so she can administer medications if needed.
The grooming portion of Angel Paws is open from 8 a.m. to 3 p.m., and the doggie daycare part is open from 7:30 a.m. to 6 p.m. seven days a week. The long hours keep Skaggs busy; she recently took her first vacation in 12 years.
But it's worth it to her; Skaggs likes watching pets leave looking and feeling their best. "The transformation is very rewarding," she said. "The dogs appreciate us, and the clients appreciate us."
For information, call 359-1159.