DSC Logistics hires Butler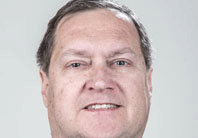 Photo by: Provided
Doug Butler has accepted a position as logistics supervisor at DSC
Logistics, a leader in transforming logistics and supply chain management.
DSC Logistics provides support to Kraft distribution in Champaign.
For almost two years, Butler has served business clients in Champaign County as a media consultant helping clients in digital, social media, radio and print opportunities at News-Gazette Media Group. Prior, Butler served as a middle school teacher at Jefferson Middle School in Champaign for 20 years teaching sixth-, seventh- and eighth-grade reading, language arts and social studies. Twice he was a recipient of the Golden Apple Award during those 20 years.