Rantoul restaurant serves up Southern cuisine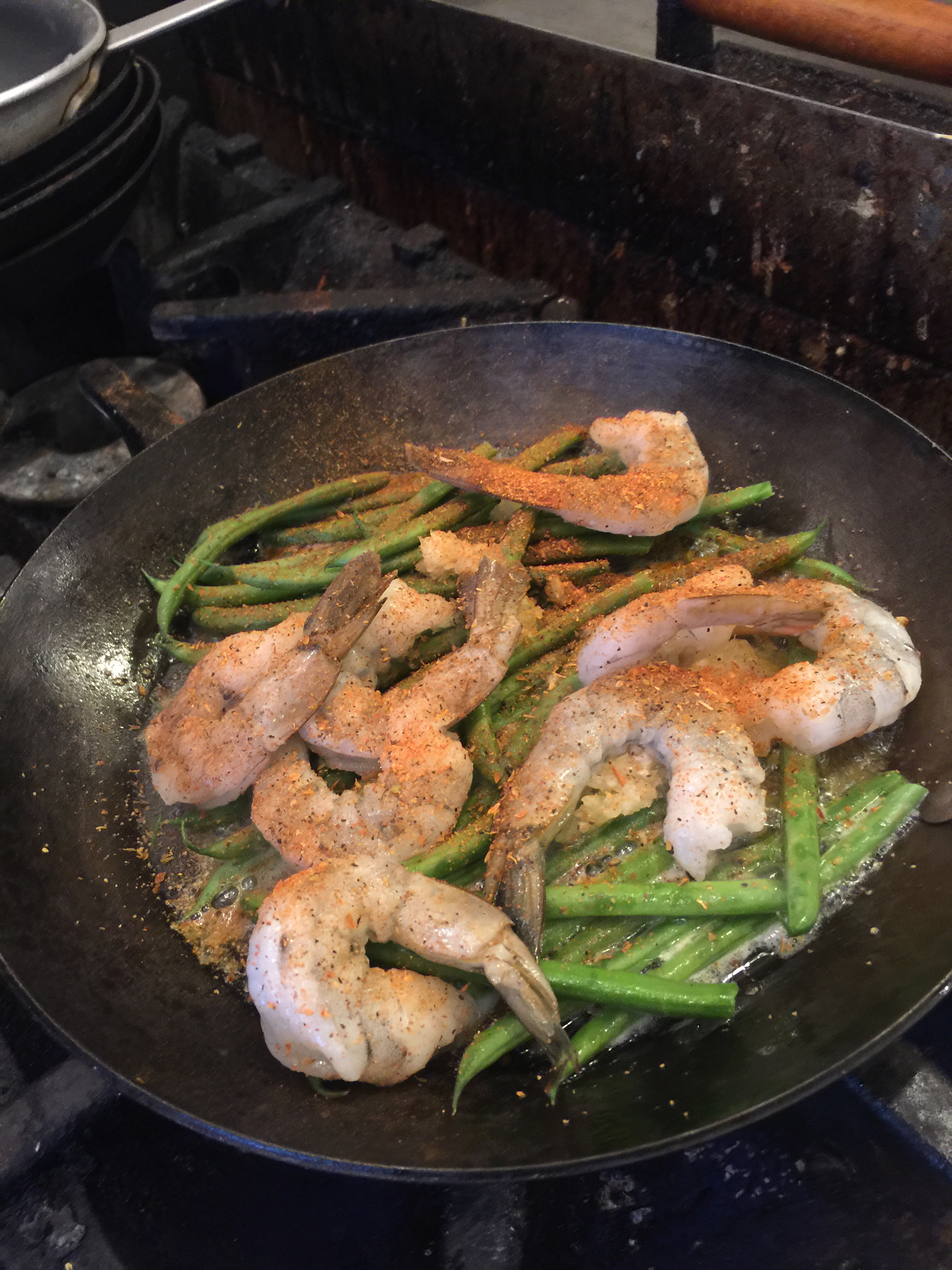 Photo by: Mindy Basi
Southern-inspired American cuisine is on the menu at C&C Kitchen in downtown Rantoul, served up by Chef Curtis McGee and his wife, Cameshia. The menu is small (just 15 selections, generally) but includes dishes from all over the southern United States, drawing on Chef Curtis' heritage and interest in Southern foodways.
Both Curtis and Cameshia McGhee do the cooking at the restaurant.
"We aren't pigeonholed into one particular kind of food," Chef Curtis explains, "which is why we call it Southern-inspired. We aren't just Cajun or Creole. We pull from anywhere in the South for our dishes."
The menu is small, he explains, because he wants to specialize in his kind of food. 
"We do one thing that we are best at," he says, "and that's what I serve."  
His big personality fits right in with the flavorful food, which he is clearly passionate about. 
"State borders don't mean anything when it comes to food.  It's a blending of cultures and traditions," Curtis McGhee says. "Food shows how much we are all the same."
Raised in the New Orleans area, with grandparents from Louisiana and Alabama, his personal food heritage includes many different Southern tastes and styles. 
"My grandmothers made the best meals," Curtis says. 
He has been a chef for over 20 years, working in the Southern United States and in Chicago. It was in Chicago he saw the blending of different food cultures into a melting pot of cuisines. 
"People like Chinese food, Italian food, soul food, so they put them together," Curtis says. "They serve fried catfish with spaghetti, or fried rice with fried chicken … people enjoy all different kinds of food."
His goal is to make his dishes accessible to everyone by using flavor. He designs his creole and Cajun dishes to be a little less spicy for Midwestern palates. 
"I probably like it a lot hotter than my customers," he confesses.
The menu includes their signature gumbo, which is an heirloom family recipe, sweet corn and crab soup, po' boy sandwiches, salads, shrimp and grits, and chicken and waffles, one of their specialties.
Cameshia McGhee manages the C&C Kitchen and is the creative drive behind the uniquely flavored waffles and butter served under their crispy fried chicken. 
"I don't want to be like everyone else," she says. "We don't want to get bored with the flavors." 
There's certainly nothing boring about key lime pie, s'mores, or pineapple upside down cake waffles. A different flavor is served up every week on Waffle Wednesday at the restaurant.
"We want to educate people about the food," Chef Curtis explains. "Sometimes when customers come in, they don't really understand what we are serving. They will look at the sign outside, which says, 'Southern Inspired American cooking,' and then come look at the menu and finally, they say, 'I want a taco, can I get a taco?' I don't serve tacos!" Curtis laughs. "That's not my culture! People say, 'What are you doing for Cinco de Mayo?' … we don't celebrate that. Our holiday is Mardi Gras!"
C&C Kitchen is also famous for their special seafood boils, a delicious stew of crawfish, shrimp, or crab, cooked with whole corn on the cob and potatoes. 
"We have people come from all over for those," Curtis says.
The restaurant is clean and modern inside, with two floors of seating. Two kitchens, one upstairs and the other downstairs, allows the McGhees to easily serve customers on either floor.
Both McGhees do the cooking because Curtis has his hands in numerous other projects. He would like to help revitalize downtown Rantoul. He owns the building where the restaurant resides, thanks to Dave Silver, who partnered with him to buy it. He bought the building next door, as well, and is renovating it to hold a commercial space and an upstairs apartment.
"I started with $200 and a dream," Curtis says. "We didn't have a restaurant, just a commercial kitchen space, so we decided to serve food by taking orders over text messages. We used guerilla marketing to make it work. We delivered Wednesday through Friday for lunch. We just grew, and we needed a restaurant. I looked every day for a space. This building in Rantoul was ideal."
He also has a food truck being rolled out this year. It has a rotisserie on the back, and the McGhees plan on having it around Central Illinois all summer.
Chef Curtis is also the executive chef for The Vault in Ogden. Cameshia Curtis does most of the cooking at the Rantoul location when he is busy miles away. 
"I have more traditional Midwestern food at the Vault," he explains.
C&C Kitchen is located at 107 E. Sangamon Ave., Rantoul. It is open from 11 a.m. to 3 p.m. Tuesdays, Wednesdays, Thursdays and Saturdays and from 11 a.m. to 7 p.m. on Fridays. The restaurant is closed Mondays.