Looking good, feeling good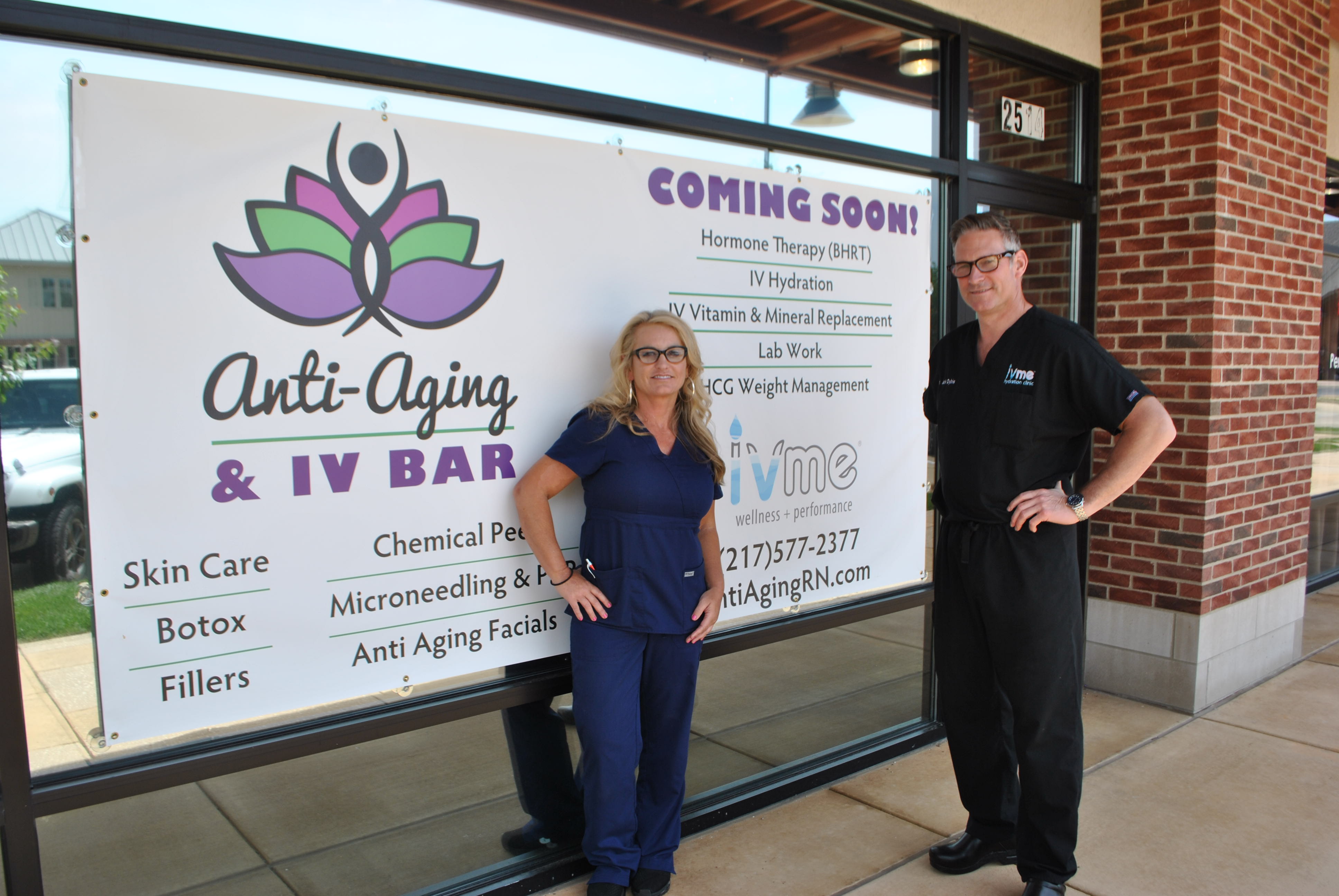 Photo by: Christine Walsh
Champaign has joined the ranks of cities like Beverly Hills, Las Vegas and New York City when it comes to treating colds and flus, hangovers and dehydration.
Kristie Isaac, a registered nurse in Champaign, opened Anti-Aging & IV Bar at 2520 Village Green Place in Champaign in March. The business, which will now be known as IVme, originally offered an hCG weight loss plan, advanced hormone optimization and Botox/Xeomin injections, but she wanted to expand to include IV injections. She reached out to Dr. Jack Dybis, a surgeon, who started the IVme brand six years ago in Chicago.
Meanwhile, Dybis had been wanting to expand to a third location beyond his two existing Chicagoland ones.
"Kristie is a great nurse … so we thought she would be a good fit," Dybis said.
A former cosmetologist, Isaac worked as an emergency room nurse for 23 years and has been in the aesthetics field for the last 10 years.
"I've always had an entrepreneurial spirit," she said.
The IV part of the business has had a "soft opening" with Dybis periodically seeing patients.
Dybis started his Chicago business by administering vitamin- and mineral-rich fluids intravenously primarily to people suffering from hangovers but expanded to offer them to people with conditions like migraines as well as those who want an athletic, energy or immunity boost. Dybis, who had never taken business classes, used the Internet to learn how to start a small business and write a business plan.
"For me, the medical part is easy, but the business part is a challenge," he said. "It's always changing. It keeps you on your toes in a good way."
Dybis was originally inspired to launch the clinic when he came down with a bad case of the flu as a resident and an anesthetist gave him an IV.
"It literally sprang me back to life," Dybis said. "I was totally cured. I got to thinking, 'Why isn't this available to the general public?' It was kind of like an insider secret."
The drips are customized for everything from recovering from athletic training to fighting fatigue.
In addition to IVs, the 1,500-square-foot Champaign clinic will offer Botox, hormone therapy touted as a way to help with weight loss and other conditions, and other lab draws.
"Looking good and feeling good all goes hand-in-hand," Isaac said.
Dybis describes the clinic's atmosphere as being more like a spa. After a line is started in one of the serene treatment rooms, the client is then escorted to a lounge area with couches, comfortable chaises and TVs to complete the treatment.
"We want to make it patient-centered, not illness-centered," Dybis said. "Every location has its own personality."
But Dybis warns not to be fooled by the non-clinical atmosphere into thinking it's not a medical office.
"We're all professionals and we take pride in that," he said.
The IV injections typically take between 45 minutes and an hour.
"We tweak everything to the patient," Dybis said.
Dybis said time is the biggest advantage that an IV clinic has over an ER. A pregnant woman, for example, could wait hours in a crowded ER to be treated for dehydration from vomiting and would then only be given fluids.
"They're not going to give you the vitamins," Dybis said.
Isaac cited a CBS report that up to 75 percent of Americans may be chronically dehydrated.
All patients are screened for their medical histories, and Dybis said his clinic has been credited with saving lives when he has sent patients to an ER for immediate medical treatment.
Dybis said businesspeople often use his IV clinics to avoid losing money from extended illnesses.
"They say, 'I'd be stupid not to come here,'" he said. "In the pace of today's business world, there is no time to be sick for three or four days; that's not a luxury anymore."
Dybis' clinic has traveled to people's homes and to movie sets to help people recover from illnesses quickly.
Isaac said she was sold on the idea of IVs after trying one once after becoming jet-lagged. She said many students ask for the IVs during finals week.
"It's for anything you're feeling tuckered out from," Dybis said.
The Champaign IVme clinic's hours will be 9 a.m. to 6 p.m. Monday through Thursday, 9 a.m. to 7 p.m. Friday and 9 a.m. to 3 p.m. Saturday and Sunday.