Home Grown Beers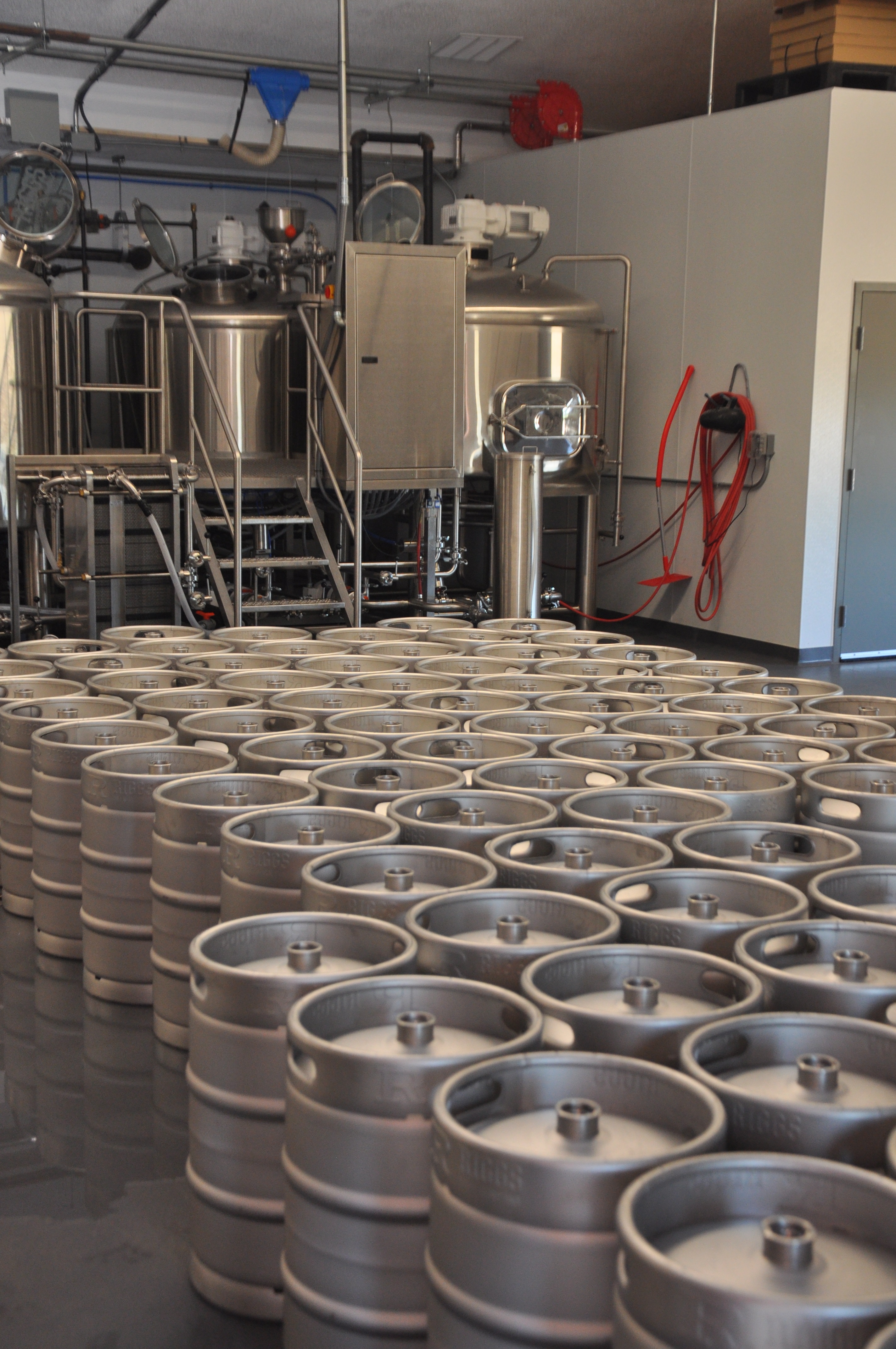 Photo by: Christine Walsh
CIBAugSept2018Riggs
Head: Home Grown Beers
Sub: Riggs Beer Company offers farm-grown brews
Story: Christine Walsh
Photos: Christine Walsh
Brothers Darin and Matt Riggs grew up on 300 acres that their family has farmed near Sidney since 1874 and knew that in today's agricultural world, there was no way they could both make a living by farming that little acreage.
When they discovered beer, "it was love at first sip," Matt Riggs quipped. He said the idea of starting their own brewery came about during a discussion "probably after having a couple of beers together."
Both Darin and Matt Riggs became military officers and were stationed in San Diego, Calif., where microbreweries were beginning to proliferate. Darin Riggs graduated from the University of California at Davis Brewmaster program and went to work for Anheuser-Busch. Matt's wife, Caroline, is German born and raised and talked him into going to brewmaster school in Munich and working at Brauhaus Faust in Bavaria. About three years ago, the Riggs brothers decided it was time to make their dream a reality and start their own brewery back home; they bought the former TK Wendl's building at 1901 S. High Cross Road, on the edge of Urbana.
"We wanted to show we can add to the amount of value (of our crops) if we vertically integrate it on to the consumer," Matt Riggs said.
The Riggs family grows about 20 percent of the barley, wheat and corn used in the brewery on their farm and in the fields surrounding the brewery. In the brewery's first two years, it used over 20 tons of Riggs-grown grains, and each month it uses about 1,500 pounds of the family's own grain. This fall they will plant winter wheat to go into the beer, and they will have 20 acres of grain in production surrounding the brewery, up from about 13 acres last year.
"We increase as we get more comfortable in our abilities," Matt Riggs said.
Although brewing grains can be difficult to grow in central Illinois, the Riggs' use a variety of wheat that was developed at the University of Illinois and is therefore better suited to the local climate.
Because the brewery's output has doubled from what it had been originally, the Riggs brothers have hired their first full-time non-family member, Kyle Schwenk.
In December, the brewery installed a 75.9-kilowatt solar array. The 273 solar panels are located not only along the road but in the beer garden, where two arrays are elevated to provide shade for about 12 tables.
"We generate 90 to 100 percent of the electricity we use via on-site solar," Matt Riggs said.
The beer garden is populated by some friendly outdoor cats, which Matt Riggs loves but is allergic to.
"They're essentially living on a farm here," he said.
A playground lends the beer garden a family atmosphere, an idea that Matt Riggs borrowed from his time in Germany, where it is common for children to play while their parents enjoy a beer.
"A lot of families take us up on that," he said.
There are also yard games like bags, disc golf and giant Jenga. The business hosts a lot of events like birthday parties and class reunions in its tap room and beer garden. An Urbana bike path through Stone Creek terminates in the beer garden, and there are bike racks near the southeast corner of the building.
Riggs' best-selling brew is their Hefeweizen, a popular Bavarian style, followed by their American lager, which is made with non-GMO corn from the family farm. Riggs' Illinois Kolsch, made from all Illinois ingredients including wheat and barley grown at the brewery, was the official beer of the Illinois Marathon. During the months of September and October, the Okoberfest, brewed from imported German barley for authenticity, is what customers crave. The Riggs spend about 12 hours in July brewing a double batch that they leave in the fermenter for about two months. Beers brewed from corn take a couple more hours since corn starch has to be boiled at a higher temperature, changing the order of steps in the process.
Darin Riggs was a computer science major at the University of Illinois and wrote up a database that meticulously tracks inventory, letting them know how much of any given beer is on hand, what they need to brew more of and where they need to slow production.
Riggs works with Brewers Distributing (Peoria), Lakeshore (Bloomington), Skeff Distributing Company (Decatur), Ronchetti Distributing Company (Mattoon) and Donnewald Distributing Company (Greenville) that get their product to over 300 locations in addition to their tap room.
The tap room, which seats 95 with a view of the production facility, is open from 3 to 10 p.m. Thursday and Friday and from noon to 10 p.m. Saturday and Sunday. In addition to Riggs beer, they offer wine, cider, soda juice and a full espresso bar. Food trucks that feed hungry brewery customers include Dave's Dogs, Piato To Go, Fernando's, Betsy's Bistro, Jurassic Grill, Brother George's BBQ, Smoked, TK's Cheesesteaks, The Snack Shack, Thai-Lao Cuisine, C&C Kitchen and Gregory Street Catering by Rosati's.
For those who would like a "behind-the-scenes" glimpse into the beer-making process, Riggs offers one-hour brewmaster-guided tours followed by a tasting of all beers at 3 p.m. on most Saturdays and Sundays.