From the bottom up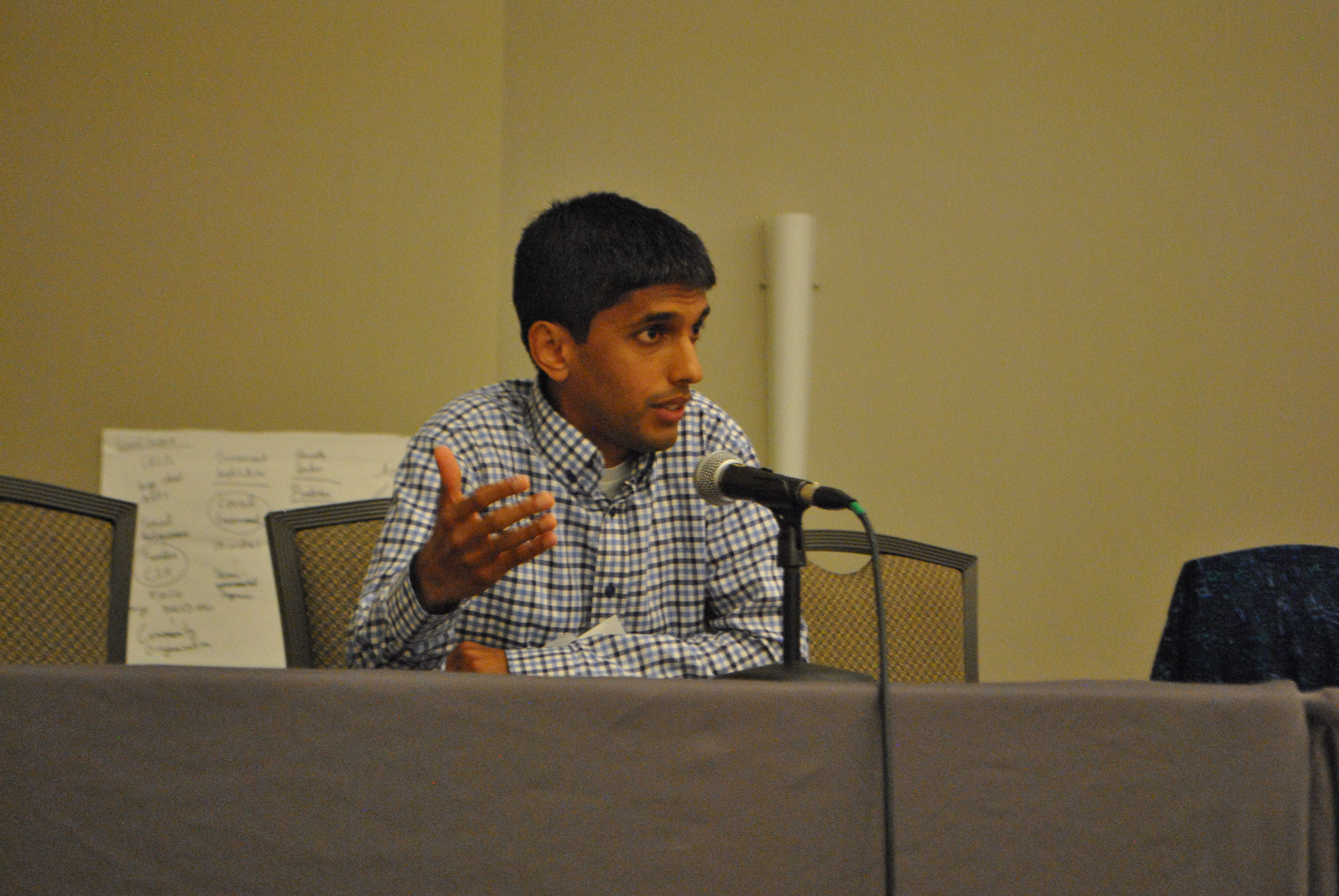 Photo by: Christine Walsh
They came from England, the Netherlands, Senegal, India, Mexico, Brazil, Kenya, Nigeria, Ethiopia, Australia, Canada, Tanzania, Honduras and Uganda. They were scholars and practitioners all united to share ideas about poverty and business.
The diverse group was attending the Subsistence Marketplaces Conference, which the University of Illinois' Gies College of Business has hosted biennially for the last 15 years in Champaign.
The conference is the brainchild of Madhu Viswanathan, the Diane and Steven N. Miller Professor in Business at UI, whose research spotlights literacy, poverty and marketplace practices. Viswanathan directs the Subsistence Marketplaces Initiative, which has pioneered a bottom-up approach to research and practice on the subject. He also founded and directs the Marketplace Literacy Project, a nonprofit that tries to distribute informative materials to advance marketplace literacy among people with low incomes and low literacy rates.
The project pioneered a five-day academic program for aspiring businesspeople in India, and Viswanathan has written a book about facilitating consumer and entrepreneurial literacy in subsistence marketplaces.
"The idea is to teach, 'Why should I behave in a certain way?'" Viswanathan said.
About 20 of the conference attendees came early and made a trip to southern Illinois to study rural American poverty.
A theme of empathy ran throughout the conference, which opened with Ron Duncan, who directs marketplace and maker education in southernmost Illinois, conducting a face-to-face poverty simulation. The conference-goers were assigned to low-income "families" who had to deal with scenarios involving law enforcement, social service agencies, the public school system, utility companies, pawn brokers, super centers and transportation. Duncan chided people who neglected to buy food as they attended to other needs, telling them, "You have endangered your family." After the simulation was over, Duncan pointed out how littered the floor had become as everyone grew increasingly desperate to survive and challenged the participants to think of that in relation to impoverished areas. Viswanathan, who had been playing the role of the sheriff, reported that one family had left its 3-year-old child alone all day while the adults went to work. Participants talked about how "trapped" they felt by the stress of their circumstances. "I want you to think about the change in your behavior over a 50-minute period; now consider that over years," Duncan said. Duncan stunned many by revealing that the stories that they had been acting out were all based on real families. "Think how hard it would be for someone without the resources you have," he said.
"This is a powerful educational tool, particularly to raise empathy to make them (students) understand what poverty is and the challenges," Hussein Faruque Aly of Lancaster University's Department of Marketing commented.
In a technology and innovation session Saturday, Edward Baars, senior business development officer at research organization IITA, presented about the N2Africa project, which used radio and SMS (a text-messaging service) to improve grain legume production in Tanzania. The Bill and Melinda Gates Foundation funded the $25 million project.
Gurpreet Kaur of Government PG College, talked about product innovation in subsistence marketplaces in India and gave an example of three-wheelers that can be used for multiple purposes simultaneously. In many cases, "They are using technology for their amusement only," Kaur said, adding that they practice frugal innovation – "making something out of everything."
In a social innovation workshop later that day, Myrtille Danse of development aid organization Hivos talked about how her organization uses drones to accurately document the Amazon rainforest's deforestation. She said such evidence is important when trying to strengthen a case with Interpol, the organization that facilitates international police cooperation.
Rikin Gandhi of Digital Green talked about an Uber-like app his development organization has created to connect farmers to transportation for their crops to markets, resulting in a 45-percent reduction in costs. Digital Green also produces short videos in which influential farmers share their testimonials about Extension-recommended practices like composting and making organic pesticides, screening them in small groups. Of the 1.7 million farmers the organization serves, the percentage of those using the practices has increased from 6 to 45.
Niels Bilou of Humanos then led participants through a design thinking activity in which they had to brainstorm ideas to address the refugee crisis in Sub-Saharan Africa by first developing an understanding of their needs and aspirations. "Our brains are wired for empathy," Bilou said, briefly explaining some of the neuroscience involved.
That exercise was followed by one in which participants were charged with crafting photo essays to tell a story about either northern India or Cairo, Ill., using a set of provided photographs. Ronika Chakrabarti of Lancaster University explained how to use lead, stabilizer, clincher and unity shots.
Last year the conference included a remote component with Uganda. This year, the UI's Marty Hodges and Killivallavan Solai demonstrated how 360 images and videos can allow viewers to look around a scene as though they are at the center of it. They used the technology to show what life is like in Tanzania, with images of water being carried across rough terrain and food being cooked in a hut with almost no ventilation.
On Sunday, Elena Olascoaga of the Marketplace Literacy Project in Monterrey, Mexico, was among the panelists during a session about experiences from different contexts of implementing marketplace literacy in subsistence marketplaces. She said one of the challenges was simply in getting women there to allow themselves time to go to a workshop; some said it had been 20 or 30 years since they had taken eight hours for themselves.
"They have little or no time, really," Olascoaga said.
One of her organization's objectives is to give women who are financially dependent on abusers the autonomy they need to leave those relationships. They also try to provide role models for young women.
After a few months go by, there is always a paper or a book published about what was learned during the conference.
"It's really about bringing people together," Viswanathan said.
Viswanathan was 22 when he enrolled at the UI to get his PhD and wanted to do something that would help people. Much of his 28 years at the university has been spent observing and interviewing people in impoverished areas.
"Many of them don't have an education, which is highly correlated with low income," he said.
After he became a professor, he created an international immersion experience for students.
"I was doing something so alien to a big school, but I wanted to create some change," Viswanathan said.
Eventually Viswanathan expanded his program to India and began looking at both sides of commerce – the consumer and the entrepreneur.
"It's gone in many different directions," he said.
Viswanathan coined the term "subsistence marketplace" in 2005.
"The idea is we start at the micro level and not at the macro level," he said. "It's, "How do they think, feel and relate?' The bottom-up is often neglected."
Viswanathan compares the process to the show "Undercover Boss" in which corporate executives take low-level jobs at their firms, interacting with employees to investigate how their firms really work.
"The boss finally understands what it means," he said.