Realism with a spin of optimism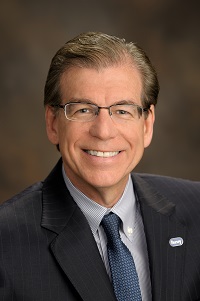 Photo by: Bridget Broihahn
Van Dukeman stopped for a quick morning beverage before he went to speak before a group of Busey  associates. Dukeman is the chief executive officer of Busey Corporation.
"Busey Corporation is the parent operation. Busey Corporation owns the bank and Busey Wealth Management," he said.
Later on that day, he would travel to Indianapolis to celebrate the opening of a bank branch expansion of Busey in the northern suburb of Carmel.
"There are not a lot of typical days in my profession, and that is what makes it really interesting. I would say one-third of my job is coaching associates, which I really like. The next third is consulting with clients and prospective clients," Dukeman said.
The final third is reaching out to the rest of the company, like the visit to the Busey bank in Carmel, for example.
"It's really rewarding," he said.
He was fresh-faced and sharply dressed. He is the best sort of professional: one with a truly polite manner and a relaxing demeanor, coupled with the strength of great experience and the steady kindness of a customer-service oriented professional.
Dukeman grew-up in Arthur.
"That was where I met Patti, my wife, who grew-up in Arthur, too," he said.
Dukeman received an undergraduate degree from the University of Illinois. While at UI, he worked for Busey at the computer center. Upon receiving his degree, the Dukemans moved to Houston. Dukeman worked in banking while attending graduate school at night.
"In 1986, I came back to Busey," he said.
Besides growing up in Arthur, the Dukemans have lived in Mahomet, and currently reside in Urbana.
"All were great places to live," he said.
The Dukemans have a daughter, Paige, who is currently an assignment editor for Fox News Channel at the Washington D.C. Bureau, and a son, Grant, who is a senior auditor/CPA at Deloitte in Los Angeles, California.      
Dukeman is the kind of leader that enjoys helping young professionals find success. He strongly believes his job is to help those under him find success.
"A great thing that comes with age and maturity is that you can be honest and speak from the heart. I enjoy giving constructive support to associates, and help them grow. We have a lot of associates, and I like to help them in their journey," he said.
Dukeman said he is a realist, but always has the positive outlook that good things can happen even in the most disadvantaged of situations.
"Like the recession of 200X; we got through it-it was extremely humbling-but we ended up on the positive side of it," he said.
He said that for a second consecutive year Busey has been voted one of the best banks to work for on both the local and the national levels. He said the responses from the associates were anonymous, and the response rate was very high.
Busey was voted among the Best Banks to Work For by America Banker magazine and Best Companies Group. The program identifies, recognizes and honors the best 75 banks to work for in the nation. Busey is only one of three Illinois banks to be recognized. The others were Signature Bank in Rosemont; ranked #16; Evergreen Bank Group in Oak Brook, ranked #49 and Busey in Champaign, ranked #67.
Likewise, earlier this year, and for a second consecutive time, Busey was named among the Best Places to Work in Illinois by Best Companies Group, the Daily Herald Business Ledger and additional partners. Best Companies Group and Florida Trend magazine also recognized Busey among the Best Companies to Work For in Florida.
"We are committed to the community, especially locally. Champaign County will always be the center and our core," he said.
Dukeman said that expansion is growth and Busey is growing.
"We've expanded quite a bit into the more densely populated areas that surround Champaign County, like St Louis, Chicago, Indianapolis and an increased presence in Peoria," he said.