Rantoul man becomes master truck driver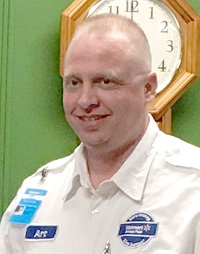 Photo by: Bridget Broihahn
Art Hesterberg of Rantoul, a professional truck driver for Walmart Transportation LLC of Greencastle, Ind., has been named master truck driver by the Indiana Motor Truck Association. The association awards the professional certification to drivers of commercial motor vehicles who meet high standards for educational achievement, professional conduct and accent-free driving.
Hesterberg has been driving trucks for more than 25 years and has driven the last three years for Walmart Transportation LLC.
During his driving career, he has successfully navigated more than 3 million miles without an accident.
To become a master truck driver, an individual must have an accident-free driving record for 1 million miles or 10 years, no traffic citations within the past three years and a record of community service or continuing professional education.