Building trust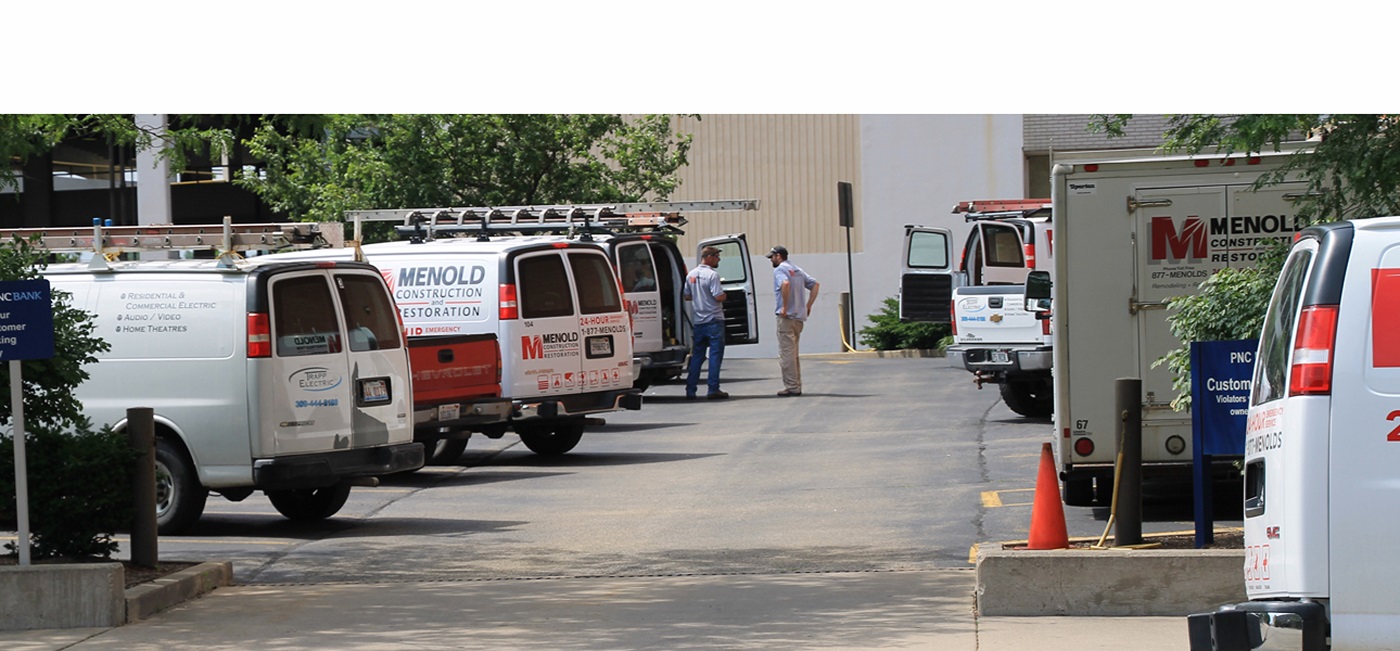 Photo by: Bridget Broihahn
Tom Menold's highest priority is always people. They are first.
That's a pretty interesting philosophy for a construction and restoration business, but actually, it makes perfect sense. Menold believes people are the cornerstone of his business.
Menold Construction and Restoration started based on this very foundation of putting customers first. It is a firm foundation, too, because Menold Construction and Restoration has been in the business for over forty years now. In fact, 2017 has been a year-long celebration of forty years of happy and satisfied customers.
"Literally and figuratively, home is where you take your shoes off and feel safe. When that is disrupted in any way that is where we come in. We say that it's going to be OK. When a disaster happens, and your home-or business-is involved, we can be the ones to get that control back," he said. "Likewise, even if people have a remodeling dream, it can traumatic to have their home in an upheaval. We give constant feedback and information. We have a continuous conversation with our clients. We have the utmost respect for their space."
Menold truly believes that if they take care of people, put others ahead of themselves and make that their core belief system, success will come. Well, it worked for this company.
Part of the business for Menold Construction and Restoration is helping people through a disaster. This company deals with people on, most likely, the worst day of their lives: a fire, a flood, storm damage and the list goes on. The place people call home is their haven from the world. When that is destroyed or damaged, it hurts to the core.
That is where Menold Construction and Restoration comes in. They understand the stress that their customers are under. They do their level best to provide answers to solve their problems quickly and with reliability.
For commercial construction projects- which can be stressful, too- Menold Construction and Restoration are there for the planning stage to the completion of the project in a manner that instills complete trust into the client so they know that their best interest is always at the heart of Menold Construction and Restoration. It gives them great peace of mind.
A little history on Tom Menold
Menold grew-up the eldest son of nine children. When he stepped out on his own, he saw a need for brick layers, and so he sought to learn the trade.
"Here I was a 17-year-old, and I decided to take the opportunity to be an apprentice. There was a big need for masonry work in our area," he said.
Menold has a certain talent for surveying the marketplace, seeing a need and fulfilling it. Even as a young man, he knew he would eventually have his own business.
Then, he left for the Army, during the Viet Nam era, and served in Germany as an operating room technician.
"When I returned home I went to college at (Illinois State University) under the G.I. Bill," he said. "However, after visiting (Southern Illinois University), I transferred. It was so beautiful."
He also met his wife, Sheryl, at SIU, and they recently celebrated their 40-year anniversary this year, as well. With a degree in fine arts and literature, he and Sheryl moved to Morton upon graduation, and they never left.
"I wanted to do more than a job. I wanted my own business," he said.
Back in 1977, Menold had the idea of branching out into solar power. Solar power was quite a buzz phrase in the business environment, but the economy had other plans with the onslaught of the recession of the early 1980s. The greater Peoria area was hit pretty hard, too. Many businesses that had endured for almost a century could not survive.
That's when Menold's talent for feeling out the business environment came into play, coupled with his experience in masonry and restoration. 
"The 1980s recession, wow, it was something. Peoria didn't fully recover, but our business did OK," he said. 
As with any entrepreneur, Menold gauged the business scene, and seeing that interest rates went to over 18 percent, forcing new construction to grind to almost a complete halt, he built relationships with entities that needed masonry repair, roofing and other types of work. Satisfied customers became repeat customers, and the word got around that Menold Construction and Restoration would do the job with complete customer satisfaction.
The economic recovery of the 1990s brought new construction back into the business realm, so Menold ventured back into it, but it became apparent that repair and restoration would always have a place in their business.  
"We have survived by doing repair and restoration," he said.
Menold's current vice-president of sales and marketing, Steve Driscoll, joined the company in 1992. He brought with him experience in insurance-loss repair.
"Steve bid for a large fire restoration job, and it ended up being very successful. We had a new opportunity to fill this need in the marketplace," he said.
Menold said that his team is why they have survived for forty years.
"I hire and retain good people. I am the CEO-the Chief Encouragement Officer- and I appreciate what our people do for us. It's fun to see people develop and grow. I love having a team of every type of person. We have a variety of talents," Menold said.
Recently, a team of Menold employees traveled down to Florida before the onslaught of the hurricane season to be ready for any repair and restoration that might be needed there. They took with them two semi-trailers and another trailer full of equipment.
"They were there for three weeks. They put in a lot of hours and helped to supervise temporary teams to do repairs," he said.
Menold Construction and Restoration continues to grow in their market, what they offer in the way of services and where they do work Central Illinois.
"I'm always looking for a new opportunity," Menold said.
For more information on Menold Construction and Restoration, go to menoldinc.com. They can be contacted at 877-636-6537 or info@menoldinc.com.