They want to serve you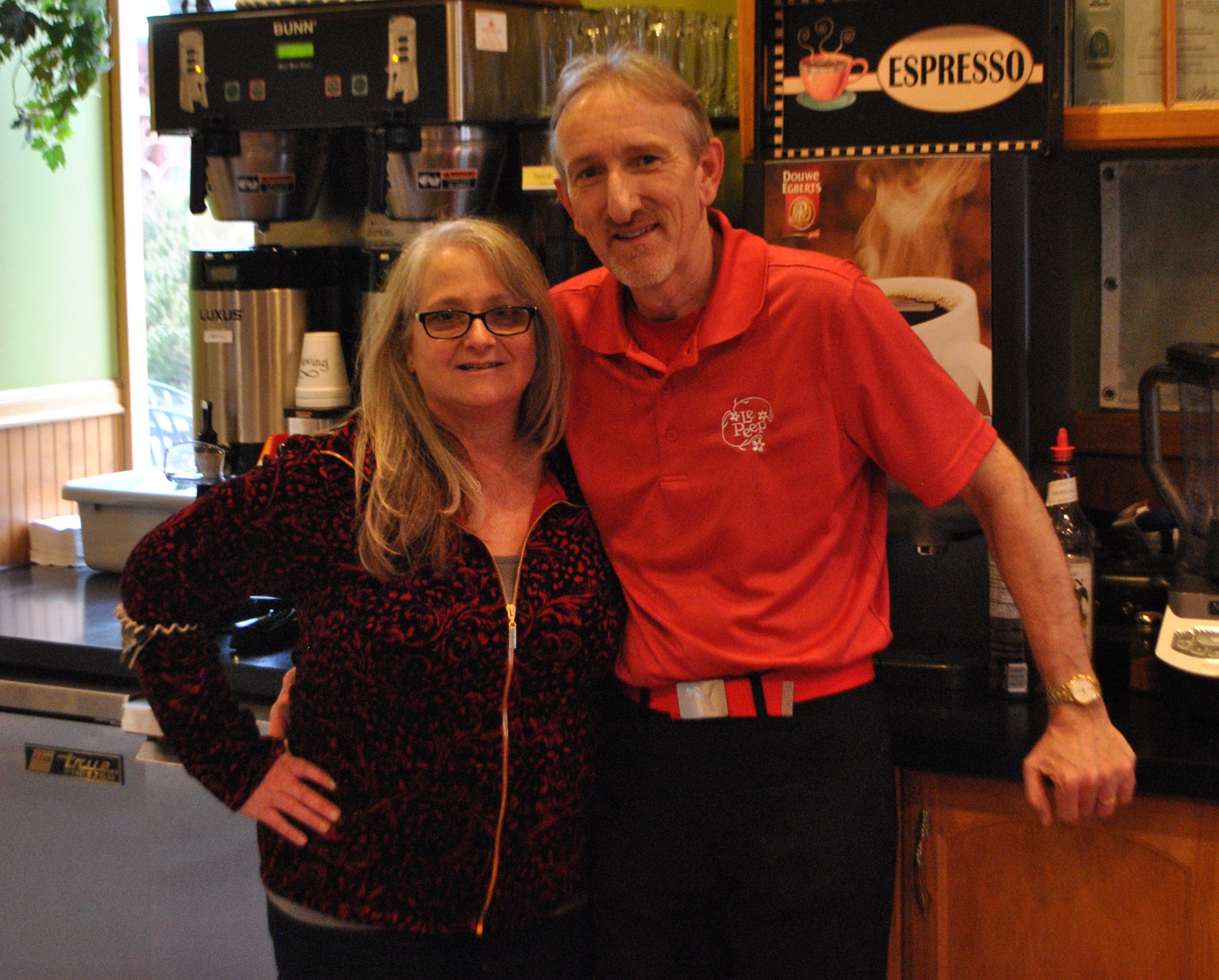 Photo by: Bridget Broihahn
Le Peep is always hopping. It seems like they always have people enjoying breakfast fare-and more- at this popular restaurant. We went on a dreary Wednesday in late February, quite expecting it to be a little slow, as it was right after the lunch hour at 1:30 p.m. "We have a good crowd today," Tim Buscombe said, as he grabbed a menu and seated us right away. It seems like they can always accommodate more guests.
Located at 2209 S. Neil St., Champaign, in the Shoppes of Knollwood, Le Peep isn't just for the weekend or day off, either. There is nothing better than food made fresh during the business week, too. And they can take your order and have it ready for you when you arrive, whether you want to carry it out or eat in.  "We can accommodate you," Harriet Buscombe said. She owns Le Peep with her husband, Tim Buscombe.  They purchased the restaurant from the previous owners. "Business is good," Harriett Buscombe said.  The Buscombes wanted to build on the already loyal customer-base and hard-working staff. Harriet Buscombe said she and her husband reckoned why not continue with what already works?
Tim Buscombe is a PGA professional golf pro-he was even awarded the coveted Bill Strausbaugh Award in 2014-and Harriet Buscombe owns her own media company, "My Posh Media." The Evanston, IL natives moved here in 1991. "I said, "Let's give this five years," and here we are still," Harriet Buscombe said. After raising two kids, Elizabeth-or Bissie-and Will, and establishing themselves in Central Illinois, they are firmly planted. In fact, Bissie works at Le Peep, too.
Le Peep is well-known for their breakfast menu, with homespun pancakes, Le French toast, breakfast crepes, skillets, pampered eggs, crepes, Quiche-of-the-Day, and Eggs Benedict; they also serve burgers, sandwiches, fajitas, wraps, burritos, melts, salads, pasta, all sorts of soft drinks, juices, milk, delicious smoothies, and creamy milkshakes. Coffee that is worth coming in for by itself and espresso is noteworthy, too. "Our number one seller is our Eggs Benedict," Harriet said. "But, if we have the ingredients we can also make what you like. We love to accommodate our customers. Tim is such a customer-service oriented person. He loves for people to enjoy being here." 
As the staff hustled and bustled, and the afternoon crowd wore down, it was obvious that these people enjoyed working at Le Peep. "We have the best people ever. Our employees are excellent. Yes, we have a very, very hard-working staff," Harriet Buscombe said.
This community-oriented restaurant offers fundraising opportunities with the selling of gift certificates or they will help out with a community fundraiser where 15 percent of the total sales goes to the charity of your choice.  They will also donate gift certificates for your fundraiser to auction off or sell. All they ask is a four-week request window so that they can properly accommodate your charity.
They have a user-friendly website: champaignlepeep.com. Customers can even subscribe to get updates on specials and more! For more information, to look at the menu, see some of their delicious dishes, or purchase gift cards online, visit their site today. There is even a fun birthday club, too!
Le Peep is open Monday through Friday from 6:30 a.m. to 2 p.m., and Saturday and Sunday from 7 a.m. to 2 p.m. Follow them on Facebook, Twitter or Instagram.