The Perfect Balance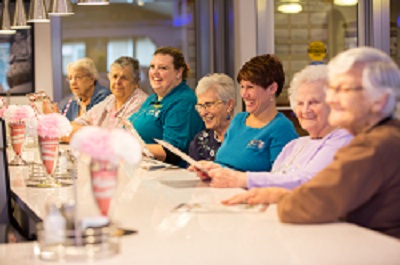 Photo by: Villas of Hollybrook
Villas of Holly Brook started when the Reggie Phillips of Unique Homes saw the need for quality assisted living for seniors. His exposure to the communities he built homes and commercial buildings in made him aware of this need. He was also concerned for his own parents, and decided he would build what he would want for them to have in senior living care. Unique Homes, the umbrella company of the Villas of Holly Brook, is owned by Reggie and Martha Phillips, who founded the company in 1983, and is located in the Charleston area. Sons Chad and Hadley Phillips are partners in the operations of the independent, assisted and memory care facilities.
"We have a passion for nurturing the independence and well-being of seniors," Phillips said. He added that the Villas of Holly Brook are communities where seniors go not only to age gracefully, but also to live full and happy lives. "Our care is designed to exceed expectations. Whether for yourself or a loved-one, the decision to transition to assisted living is not an easy one. The Villas of Holly Brook understands that while health and wellness needs change over time, age does not diminish one's desire to live a full and engaging lifestyle. At the Villas of Holly Brook you'll never have to choose between the care you need and the lifestyle you desire," he said.
The Villas of Holly Brook has 16 communities across Illinois and Indiana. According to Chad Phillips, they use the latest innovations in senior care. "The architectural design and interior layout of our communities encompass the latest trends in the industry: elegant, yet comfortably designed for today's seniors," he said.
"The Villas of Holly Brook and Reflections Memory Care communities are among the finest in Illinois and Indiana." Hadley Phillips said. They are also opening soon in North Port, Florida, as well as expansion into South Carolina. They offer both the Villas of Holly Brook and also the Reflection Memory Care communities that give the very best quality lifestyle and care environment possible. These communities are broken down into smaller communities so residents feel part of an intimate family unit. It also creates a bond between the residents and staff so meaningful relationships are formed.
Assisted living facilities include one-bedroom, two-bedroom or two-bedroom deluxe apartments. Residents are served three meals a day, plus snacks. They have round-the-clock supervision, daily activities, common areas and courtyards, laundry-service, housekeeping duties and lawn maintenance that is provided by the staff.
There is also the Reflections Memory Care communities that include their signature therapy, "Sensory Stimulation," a fairly new approach to uncomfortable feelings a senior with dementia may experience. This therapy uses objects that will reach one or more of the five senses: sight, smell, hearing, taste or touch.
Clint Lawhorn, regional director of sales, said that residents enjoy unparalleled amenities like gourmet dining, wellness centers, fitness centers, spas, beauty salons, barber shops, movie theaters, libraries, four seasons' rooms and activity rooms in each senior community. "Our Morton location is proud to announce the grand opening of Reggie's Diner, a 1950s-style restaurant where food is made to order. Breakfast is served all day, too," Lawhorn said.
Each community has courtyards and landscaping, plus a pond for those residents that enjoy fishing, wildlife and bird-watching. Their interior courtyards feature a barbeque pit and pergola, raised flower beds, paved walking paths and patios with comfortable seating. "Family and friends are always welcome and encouraged," Lawhorn said.  Each community is also pet-friendly.
To find out more about the Villas of Holly Brook and Reflections Memory Care, go to villasofhollybrook.com, or call 855-20-VILLA.