Strong and successful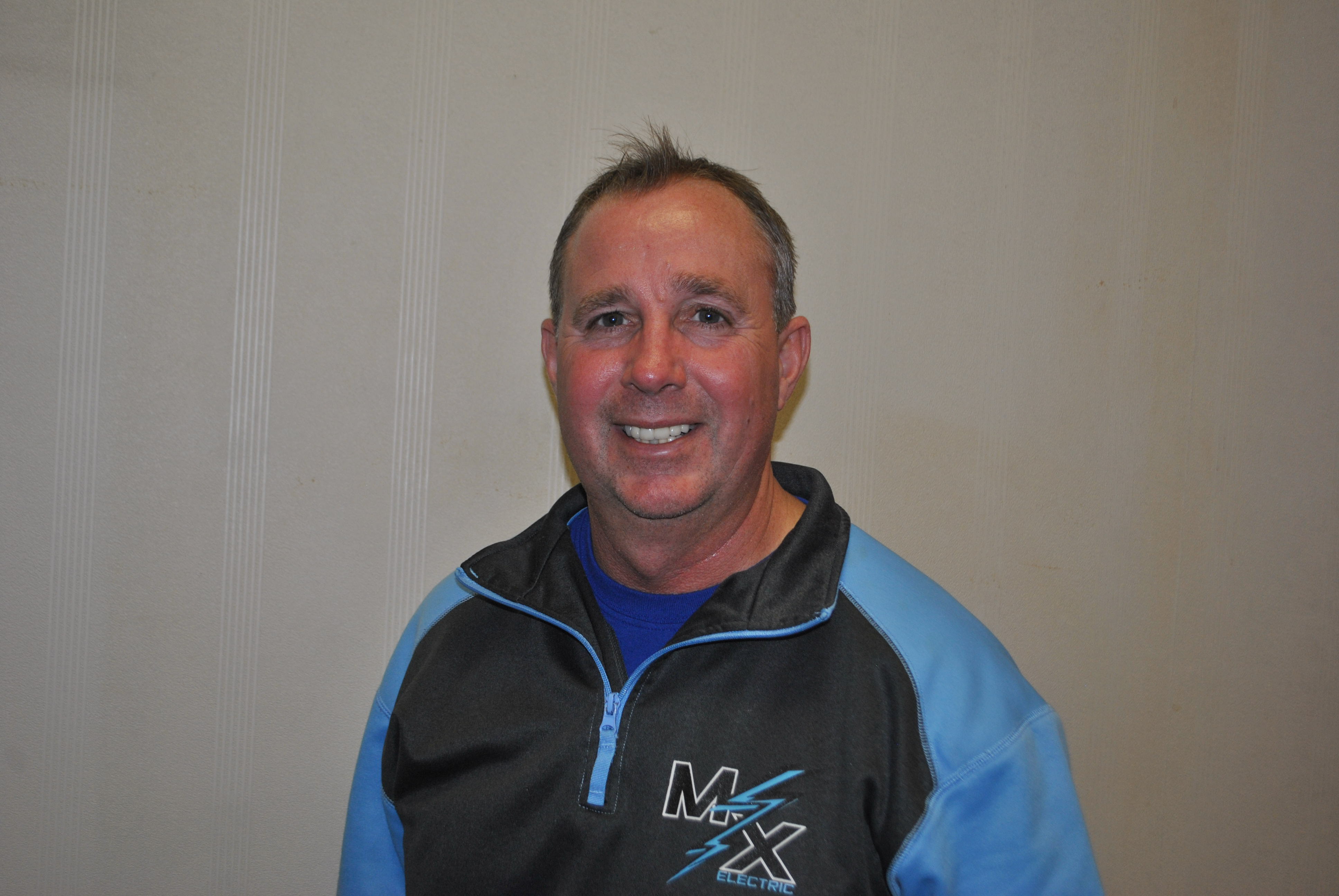 Photo by: Christine Walsh
Max Painter's interest in electricity started early.
"When I was about 13 or 14, I wired everything up in my room to be on a switch," the MX Electric founder and CEO said.
Growing up in Villa Grove, "my dad was handy with everything," Painter said.
Painter entered the Army after high school, completing basic training at Fort Knox and then was stationed at Fort Hood, where he drove a tank. "They really teach you a lot of respect," Painter said. "You put in a hard day's work. I almost wish everybody had to go through it. It teaches you how to be independent."
Through the GI Bill he earned an Eastern Illinois University economics degree. "All I knew was I wanted to be an electrician," Painter said.
So a month before graduating, he interviewed for the electrical union and apprenticed five years. Painter briefly had a partnership before starting MX Electric in 2002. "From there, it just grew," Painter said.
MX Electric does everything from non-working outlet troubleshooting to fuse panel upgrades, working with many small remodeling contractors. MX has worked on about 10 new apartment buildings and the new Crunch Fitness facility. The company often works with Sub4 Development and Jimmy John's corporate office.
"We care a lot," Painter said. "When we get good or bad reviews, I take it personally. We're here to make customers and to make customers happy."
Customers sometimes include thank-you notes with bills. "I'm proud when a customer says, 'I'm referring you out; you guys are the best,'" Painter said. "We do little things to try to make the world a better place."
Painter and fitness coach Brenda Hixson started the St. Joe Santa 5K Run/Walk Race, now in its second year, which drew 325 participants last year. The idea was born as he and friends he relay races with returned from Indianapolis. They wanted another run before spring. This year's race is Dec. 21, and Santa Claus and the Grinch will visit. "It's going to be a lot of fun," Painter said.
He also serves on the St. Joseph village board.
Painter keeps up with building codes, which get updated every three years. "I learn something new every day," Painter said. "The inspectors around here are great to work with."
MX Electric has about 15 employees but has had up to 24. "May through September is usually go, go, go," Painter said. "But we find enough projects to stay busy year-round."
MX recently moved from a rented Champaign building to an Ogden one Painter bought and renovated. "I fell in love with the building," he said. "If I would have had to pick out what I was looking for in size, this would have been it."
Painter credits his wife, brother-in-law Scott and office manager Nikita Holmes for allowing him to bounce ideas off of them to help MX grow. Painter does much of the residential bidding and meeting customers, and employee Jacob Collins has taken over some other duties. "Growing up, I was kind of an introvert," Painter said, noting that his job has helped him to improve his interpersonal skills. "Communication is what it's all about. People don't mind if you're late or you can't get to a job that day, as long as you communicate with them. You don't get a second chance to make a first impression; we try really hard to make a great impression the first time."
Painter feels his involvement benefits MX. "It's my name on the door," Painter said. "I want to make sure it's done right the first time. I've made people change stuff when I didn't like the way it looked. Jacob's the same way; we want it to look good."
MX has started sending customers appointment texts. "We're trying to get a lot more user friendly," Painter said.
Painter advises customers who have a kitchen or outdoor receptacle not working to test their GFCI receptacles. "I hate going into someone's home and pushing a reset button and charging them for a call," he said.
Painter also advises making sure your contractor is willing to pull a building permit. "He (the building inspector) is there for the customer to make sure it's done correctly," Painter said. "Don't be so quick to give a bunch of money up front. We've seen horror stories about people who did that and then the contractor never finished the job."
Painter advises those considering starting a business to have plenty of up-front capital. "You need a support system of friends and family, for sure," he added. "You need to be prepared to work long hours and pay your taxes."