Future leaders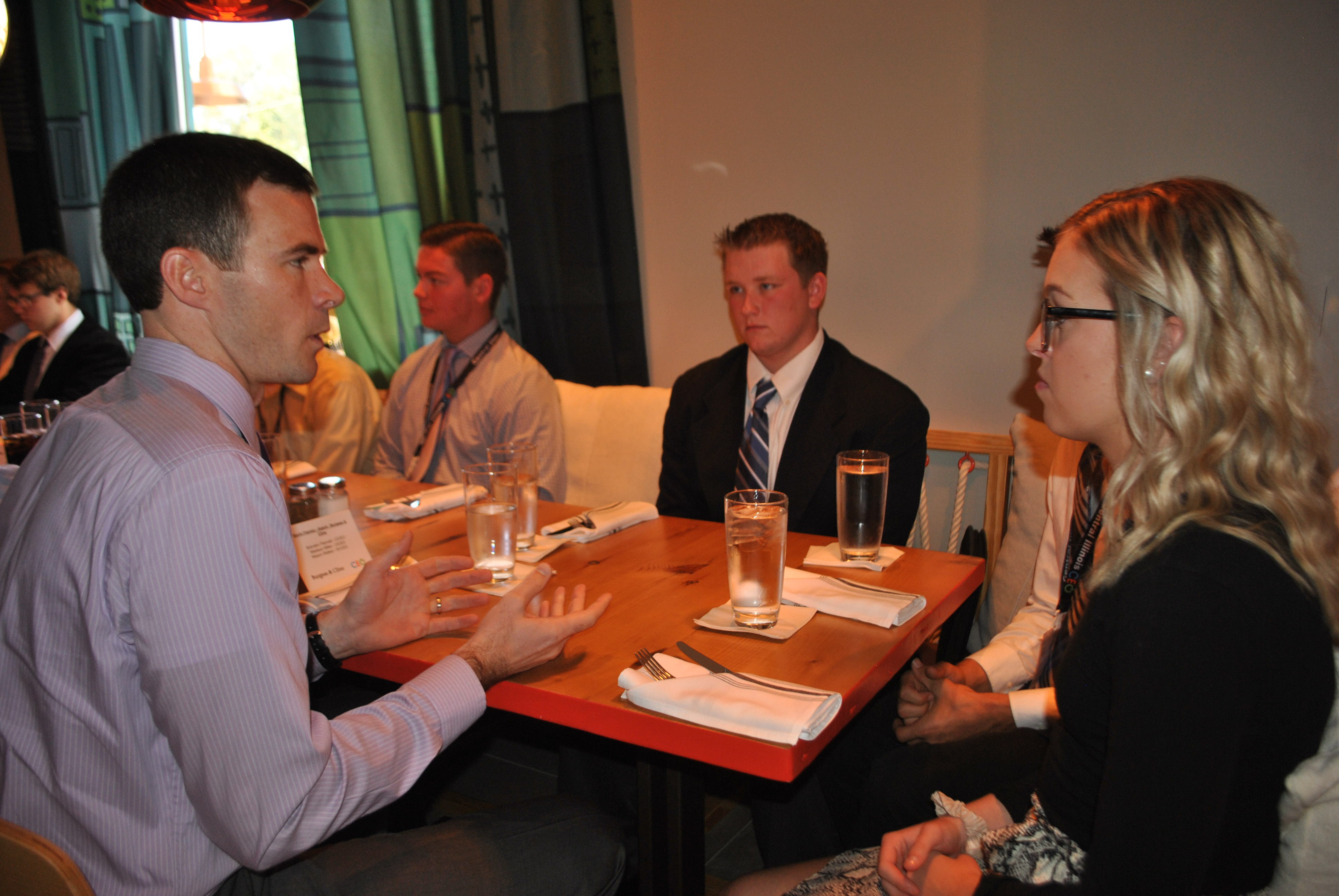 Photo by: Christine Walsh
When hundreds of seniors graduate from Central Illinois schools this May, many will set off for college or straight into the workforce.
According to workplace coaching provider InsideOut Development, 72 percent of high school students want to start their own business one day and 61 percent plan to start a business directly after graduating from college. An innovative entrepreneurial education program is giving some area juniors and seniors a leg up in meeting those challenges.
Since August, a total of 18 students have been piloting the brand-new Sangamon Valley CEO (Creating Entrepreneurial Opportunities) and Central Illinois CEO programs. Central Illinois CEO encompasses Warrensburg-Latham, Maroa-Forsyth, Clinton and Blue Ridge high schools; Sangamon Valley CEO includes Argenta-Oreana, Bement, Cerro Gordo, DeLand-Weldon and Monticello high schools.
The CEO students meet from 7:30 to 9 a.m. every day in a business setting rather than in a classroom. There are site visits and guest speakers three or four times per week with additional days spent working on class business.
Since their counties overlap, Central Illinois CEO facilitator Melanie Brown and Sangamon Valley CEO facilitator Lisa Sheppard work together closely. The program started in 2008 in Effingham and is run by the Midland Institute for Entrepreneurship there, with a total of 51 CEO programs across the nation. Completely funded by local businesses and private individuals' investments, three years ago work began to create boards for the two CEO programs.
Both Brown and Sheppard were invited by respective board members to take the helms of the programs. Sheppard has a degree in interior design. She has been the student director at a Lutheran church and does freelance design work.
Brown has a master's degree in exercise science. She had experience in fundraising and event planning for Decatur Memorial Hospital and has done some substitute teaching. She recently also launched an online wellness coaching business.
"It's something we talk to the students about – it's not always a clear path," Brown said.
During the site visits, experts in areas like accounting and insurance speak with the students. A bank marketing director, for instance, taught students about creating a business plan. Sheppard said while it's valuable for students to connect with specific areas of business, it's just as valuable for them to discover which fields they're not interested in.
Brown said she jumped from major to major in college and found her career path during her junior year when a counselor asked her what she was passionate about. "I feel like my experience is something I can shed light to them on," she said. "That can help you to find who you are and what you want to pursue, so you are a step ahead of your peers."
The program also helps to prevent "brain drain" by introducing the students to local successful businesspeople. A Central Illinois native, Brown thought she was going to move away until she became involved in her family business. "They (students) learn there are great opportunities in their back yard," she said. "Sometimes they aren't even aware you don't have to move away to have a thriving career. They learn to value where they're from."
As part of her program, Brown shows students a video series about life lessons from CEO's founder, Craig Lindvahl. "I let them lead the discussion on it," Brown said.
One topic was conversations. She was thrilled when one student observed that he and his classmates were the future leaders and that they need to think about the impression they give by what they say and how they say it.
The program has some overall structure with room for interpretation. It starts off with an exercise designed to teach students about pricing structure and team dynamics. "Our role is to facilitate and guide but also to get out of the way," Sheppard said. "It's the students taking responsibility for their own growth."
In the first semester, the students collaborate to create a class business, and then in the second semester start their own individual businesses for which they write business plans. It culminates with a Banker Day during which students pitch their ideas to local bankers and a Trade Show to showcase their individual businesses. 
At the end of each quarter, the facilitator meets with students for individual evaluations during which they discuss what grade each thinks that the student has earned. The students are asked which areas they think they need to grow in.
"You see the growth and change," Brown said. "I'm super-proud of each of them."
The students also keep journals about the topics covered in the program, which they turn in weekly.
Program participants come dressed in business attire every day. Brown encourages her students to dress the part in the same way she does her own sons, "I'm not picking you apart; I'm setting you apart," she said.
In preparation for mock lunch interviews with local businesspeople, Lodgic Everyday Community Special Events Coordinator Teresa Brown met with students a week in advance to talk about business lunch etiquette. She gave advice on how to make small talk and how to get out of uncomfortable subjects. Teresa Brown recommended that the students arrive early to familiarize themselves with their surroundings and study the menu ahead of time.
Students prepared just like they would for an actual job interview, researching the companies they were interviewing with, and felt the same nervousness. "The only thing riding on it is their not being embarrassed," Sheppard said. "Now they've got that initial fear out of the way. I love that they are getting real world experience before they have to navigate that on their own. For how many of us was the first interview terrifying?"
Melanie Brown said that when the subject first came up, one of her students complained that he didn't understand the importance of dining etiquette. But after Teresa Brown's session, he wrote in his journal, "I learned so much that day."
Sheppard appreciated Lodgic donating its resources to the program. "My passion is designing interiors and how they make you feel and interact," she said. "Now they know what it's like to come to lunch in a place that facilitates that, rather than in a school cafeteria."
Burgess & Cline agent Kevin Feeney was one of those conducting the mock interviews. "They knew what to do, researching the company before going into it," he said. "There was just a natural nervousness about them, which makes all the sense in the world. But they were definitely making a conscious effort to be professional."
Feeney also serves on the board for Sangamon Valley CEO. "If this were around when I was in high school, I would have jumped at the opportunity to do it," he said.
The students have to submit a blind online application process with names and genders removed to be accepted into the program. They are required to submit references and are chosen on the basis of criteria like trustworthiness, being hard-working and being on track to graduate. Each program can accept up to 20 students; Sangamon Valley has eight, and Central Illinois has 10.
"I actually have a family business I want to take over some day," Central Illinois CEO student Madison Miller said. "I really wanted to stand out."
Sangamon Valley CEO student Briggs Fultz's parents have both run side businesses, and he'd like to run his own eventually. "I love it," Fultz said of the CEO program. "It's been extremely educational. From both the speakers and businesses we've gotten a lot of great information."
Both CEO programs are looking for more mentors, who meet with the students in person and stay in touch through telephone calls or text messaging; those interested can contact Brown or Sheppard. Additional information is available at sangamonvalleyceo.com and at centralillinoisceo.com.