Tech training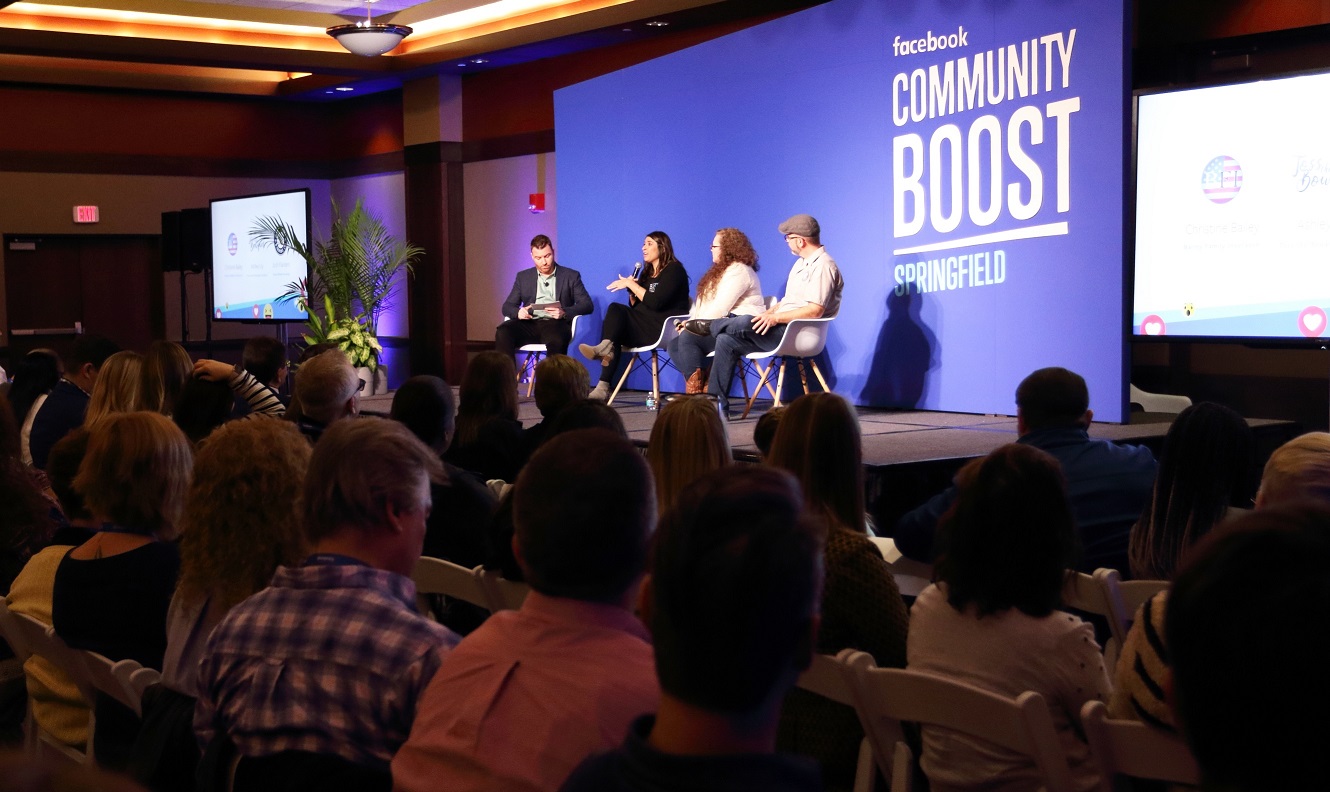 Photo by: provided
On the information highway, I'm roadkill," Tony Leone quipped.
The owner of Springfield's Pasfield House Inn was one of over 450 people attending Facebook's Community Boost, a national tour focused on high-tech training as it stopped in Springfield. "I'm looking up to these people," Leone said.
The initiative is part of the social media giant's goal of improving the digital skills of 1 million American business owners and workers by 2020. The free event was the 48th out of 50 stops in mid-sized American cities, each with panels, breakout sessions and one-on-one consultations. Facebook said the mission is to help small businesses grow and to enhance careers and community in today's digital economy.
Facebook director of global marketing solutions Matty De Castro welcomed everyone, and Springfield Mayor Jim Langfelder gave opening remarks. Small business panelists Christine Bailey of Bailey Family Insurance, Ashley Lily of Toss the Bouquet Studios and Josh Flanders of Buzz Bomb Brewing kicked off the conversation.
The breakout sessions, led by Facebook's small business team members, taught how to set up a business page; create a post and pay to have that post visible to more people; and identify potential customers based on age, gender, location, interests and behaviors.
According to Facebook, 77 percent of Illinois small businesses said an individual's digital skills were important when hiring. Sixty-four percent said that Facebook is essential for their business. Forty-nine percent said Facebook helped them hire additional employees. Sixty-nine percent said Facebook allows them to reach more customers outside of their communities.
Sam Muriel led a session titled "Finding New Customers with Facebook." "You will have the best result if you are targeting a specific audience," Muriel said. He said common questions are how much to spend on "boosted" advertising and how long to run an advertisement; he advised setting a budget. "We always encourage you to start small," Muriel said, adding that younger audiences tend to like more video, while older ones prefer text. He suggested changing something in an advertisement if running it for over a week. Page Insights can offer glimpses into page likes, post reach and engagement, as well as net likes and where page likes happened, he said. The Custom Audience Tool allows businesses to upload an existing customer list to target ads to that audience. With the Lookalike Audience feature, businesses can find users similar to existing customers. Facebook Blueprint offers free 15-minute training videos to businesses, he concluded.
Attending was Carolina Lopez of Chicago, who is opening a bakery. She mainly uses Instagram to post cake photos and wanted to learn more about Facebook to find potential local customers. "I get comments and follows and likes, but no one from Chicago," she said.
Lou Hecox of Farmington was there to learn more about how to set up events and promotions for his wife's business, Little Farmers Early Learning Center. "With Facebook, it's very easy," he said.
Nicky Blumm led the session "Getting Creative with Your Mobile Phone." Blumm noted that there are an estimated 115 million small businesses worldwide. He told owners not to let a lack of equipment, money, knowledge or confidence discourage them. "Every big business started as a small business," he said. "You have to start thinking about how you can be relevant to as many people as you can. Your message has to resonate with folks." Blumm suggested owners start by considering how they would describe their business to a friend, what makes their business stand out, who their customers are as people, what they need to tell the public about their product or service and what the ad's goal is. Blumm quoted statistics that nine out of 10 minutes spent on Facebook are on mobile devices and that three-fourths of mobile device consumption by 2020 will be video. "People do like seeing motion instead of just a static image," he said. Blumm urged participants to make their content "thumb stopping" by showing things that apply to them. "It should feel personal," he said. "A carousel ad can tell a little bit of a story about a product," he said. Square and vertical videos are viewed more than ones with a 16:9 aspect ratio, he said. The Facebook Mobile Studio portal can help create Instagram or Facebook ads on mobile phones. Blumm recommended 10 creative apps to help in that process: Adobe Photoshop Express, Adobe Spark Post, PicLab, Plotaverse, Ripl, Videoshop, Quik, Instagram Stories, Boomerang and Legend.
Dora Gerardo led a session called "Connecting with Local Shoppers." Gerardo defined a small business as one with no more than five locations, that isn't part of a chain or franchise and has a physical store or travels to customers. She said 45 percent of local businesses don't maintain a close connection to the local community. Gerardo described three potential customer types: The Mobile Enthusiast, who has always has a phone handy; The Convenience Lover, who is always seeking new opportunities; and the Local Explorer, who likes to do business with people who make him/her feel exclusive. She encouraged building a mobile presence, saying nearly half of people say they need information about local businesses while on the go. While the Mobile Enthusiast is not necessarily seeking out local businesses, they are likely to leave a rating or review on a business page. Gerardo suggested having a "call to action" button such as "start order," "shop now" or "book now." To reach the Convenience Lover, she suggested making sure you're posting engaging content. The Local Explorer is likely to tell others about an experience with a business, so it's important to make them feel special and exclusive. One way to do that is with offline events or online groups. Gerardo said eight in 10 consumers have used Facebook to interact with local businesses. Other statistics: Fifty-six percent of people would much rather message a business through Facebook than call customer service, and 330 million people messaged a small business for the first time in 2017. Fifty-two percent of people say they like to receive locally relevant updates. Gerardo recommended setting instant reply and away messages. A total of 700 million people use Facebook events every month, and 1 billion people use Facebook groups every month.
Haley Hall led the session "Instagram 201: Getting Business Done." Hall said two in three business profile visits are from non-followers and 75 percent of people search, shop or share after being inspired by a post. She suggested creating a shareable experience; for example, having a backdrop in front of which customers can take a photo with your product and then hashtag the business in their posts; be sure to reply, she said. Instagram live streams can be replayed by followers for the next 24 hours. Instagram has a co-broadcasting feature that allows users to broadcast with another expert in their field. She suggested announcing going live ahead of time, asking people what they want to hear and then answering those questions. She advised keeping your phone vertical when making new content. The number of smartphones is forecast to triple by 2019, and nearly 80 percent of U.S. adults already shop online, Hall said. Instagram can approve retail businesses to feature products in posts and stories, and then product photos or videos can be tagged with the name, price and a description. The feature has to be set up on a Facebook business page on a desktop or laptop computer, not a smartphone. Instagram's Collection Ads method allows brands to add a full catalog in single and carousel-style ads, add a video and images, lets users scroll to see various products and lets consumers place orders. More can be found at business.instagram.com.
Immanuel Beech led a session called "Growing Your Nonprofit with Facebook." Beech encouraged page administrators to participate in conversations, comparing them to a party host. Beech said meaningful communities' qualities include identity, fulfilling a need, letting members' voices matter, having a distinct culture and instilling a sense of safety. He encouraged nonprofits to spark meaningful conversations among people who share a relevant passion; scale and build a broader, more diverse community; mobilize supporters for offline action; and deepen engagement with the organization's mission by learning more about its members. He said you can create a group identity by prominently stating your mission, clearly communicating the rules of the group and linking your page to the group, inviting people and creating targeted content using posts, photos, videos or polls. Nonprofits can grow their communities by welcoming new members, connecting with like-minded groups, inviting people with similar interests, asking questions, commenting and collaborating, creating content and posting rituals, managing interactions, hosting events and encouraging members to meet offline. Nonprofits can keep their communities safe by choosing the privacy of their groups, approving new member requests, blocking or removing violating members, assigning roles to help moderate, clearly stating the group's mission and code, reviewing posts before they appear and reporting violations to Facebook. To collect donations, groups have to be 501 (c)(3) nonprofits, U.S. or Europe-based, have a verified page, have a page that meets community standards and have an application approved at facebook.com/donate.signup.