Signs of the times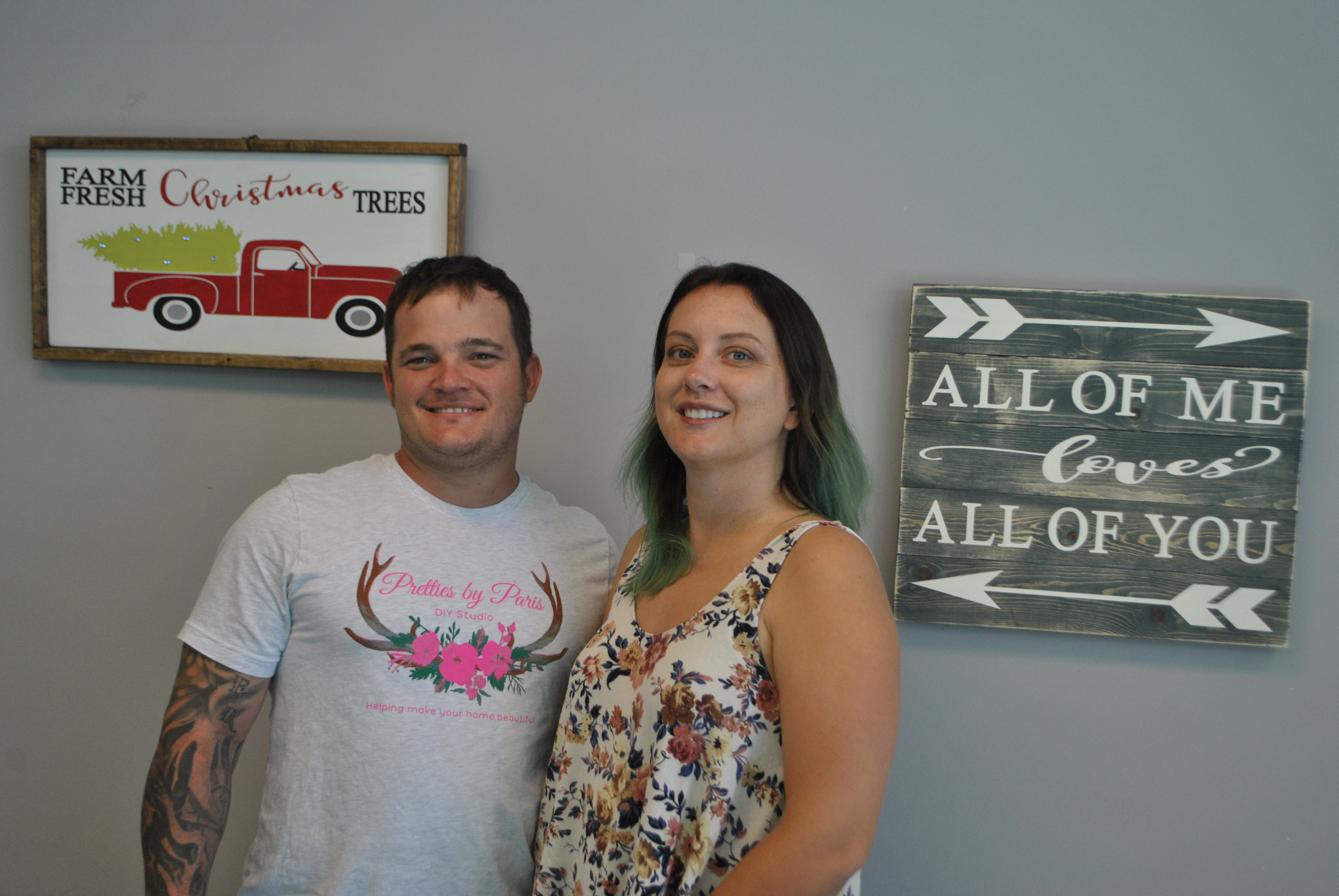 Photo by: Christine Walsh
Prepare to let your creative juices flow at Champaign's first DIY home décor studio.
Pretties by Paris, offering hands-on, step-by-step instruction for creating wood signs, opened in March at 2004 S. Neil St. in Champaign.
The space, which underwent renovations from having been a nail salon, is adjacent to Brya Insurance Agency and B Won Korean restaurant.
Workshop participants start with raw materials and learn all of the steps to complete a custom piece. Signs can display everything from kitchen designs and welcome messages to holiday greetings and other sayings. Designs are ever-evolving.
Originally from Vermilion County, Pretties by Paris owners Terry and Manda Paris now live between Fisher and Gibson City with their two children. Manda used to be a second-grade teacher, and Terry works with Plumbers & Pipefitters Local Union 149. After having two kids in two years, Manda decided she wanted a job with some flexibility. She was inspired with the idea for the business when she saw a picture of a scarecrow on Pinterest and asked Terry if he thought they could make it. They successfully did so, and then made and sold more to others. Manda bought a cutter and started selling her hand-painted wooden signs on Etsy. Manda had attended some parties at which people paint on canvas and began to wonder if she could start a business where people did the same thing with wooden signs. "I think they would take it home and be proud of it," she thought.
When Manda was traveling with her paint parties, people were required to have a large group.  She wanted a place where kids were welcome and adults could come alone or on a date night. "It's worked out really well. A lot of people come in here every week; it's so relaxing to them," she said.
Terry does all of the woodwork, mostly using white pine. "He's extremely talented," Manda said. "He usually makes things better than I envisioned. He can make things really precise."
Terry and Manda do all of the sanding ahead of time so that customers are only painting. "Signs are just so popular right now," Manda said. "I always try to make them unique."
While some signs are inspired by trendy designs on other signs, the Parises try to add elements like lights to make them one-of-a-kind. "We step it up," Manda said.
The Parises can also custom-make stencils from messages that customers send them.
Pretties by Paris has adult-only open paint nights from 5 to 9 p.m. on Thursdays. "A lot of people love it," Manda said. "They can relax and decompress from all the stress of the work week."
There are also themed workshops from 1 to 3 p.m. on Sundays.
The business can be booked for private parties with drinks and snacks for friends and family. Businesses also do team-building there. Kids' birthday parties are popular, too, as well as sorority get-togethers. "They feel accomplished when they're done, especially if they're not artistic," Manda said. "It's good quality time with your friends and family."
The finished product can be kept or given as a gift.
Manda does her best to ensure that customers end up with a good-quality product. "It really is fool-proof," Manda said. "They always say how patient Terry and I am. They're always nervous at first, but we guide them through step by step, so they end up loving their finished product and come back to do another."
Some customers come in specifically for the social aspect of the business. "It's something different for them to do," she said.
The Parises have had customers ranging in age from 1 to 83. Men come in sometimes, too. "I think they're shocked by how easy it is," Manda said. "You get to be as creative as you want. You have a lot of freedom that way."
"Anybody can do it," Terry added.
While there are 32 seats, Manda prefers not to teach more than 25 people at a time. "I never want people to feel crammed or rushed," she said.
Unlike a traditional painting party, where everyone is working on the same project, at Pretties by Paris everyone can be doing something different. "You can do whatever you want," Manda said.
For more information, call 217-504-3752 or email mandalee22@live.com.