Gross joins Kirby Medical Center's governing board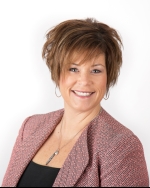 Photo by: provided

The Kirby Medical Center governing board of directors has announced that Michelle Gross from Bement has recently joined Kirby Medical Center's governing board.

Kirby Medical Center's governing board consists of a group of community members. As trustees, they adopt broad policies, help develop and approve the strategic direction of the organization and evaluate the hospital's operational, strategic, quality and financial performance.

Gross is also a member of The Kirby Foundation board of directors, where she serves as chairperson of that board.

Gross serves as the executive vice president for State Bank of Bement and community bank president at State Bank of Bement - Monticello.

Other members of the governing board include Craig Webb, Gary Huisinga,

Stephen Ayers, James Ballsrud, Karla Bradley, Edward Ewald, Mike Atwood,

Dyke Piatt, William F. Tracy II, Thomas Scaggs and Steve Mills as an honorary emeritus member.

For more information about Kirby Medical Center visit http://www.kirbyhealth.org.