CIBM unifies banks under a single brand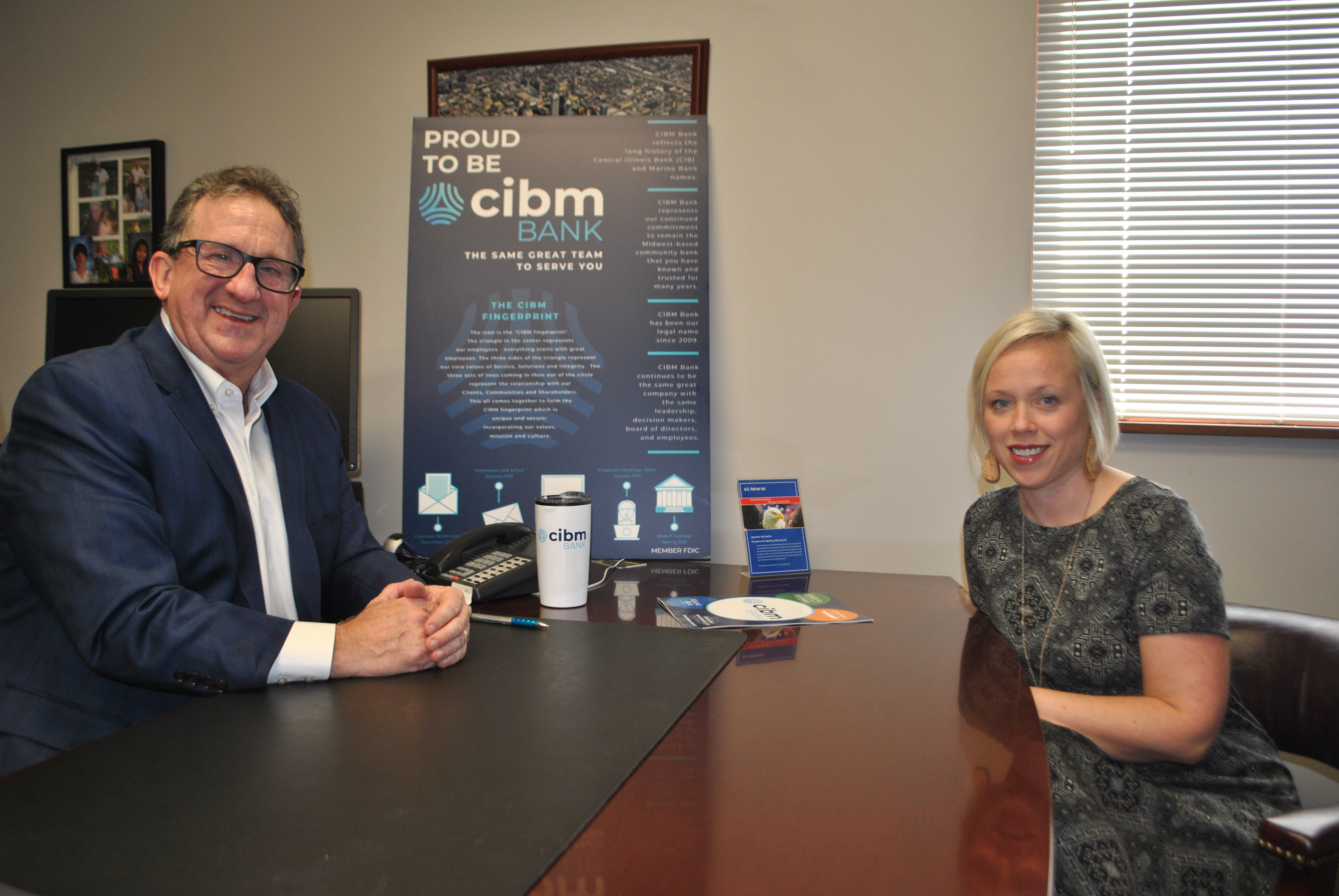 Photo by: Christine Walsh
A local bank family is getting a new name and look but wants customers to know their mission remains the same.
Central Illinois Bank is part of the CIBM Bank family, which includes four separate brands that are being united into the CIBM Bank brand.
Over the years, the company developed distinct brands under separate banking charters in a variety of states. Ten years ago the company combined all of its banking charters under a single charter, CIBM Bank, but still used the Central Illinois Bank brand in central Illinois, the Marine Bank brand in Milwaukee and Indianapolis (no relation to the Marine Bank in central Illinois), and the Wheaton-based Avenue Bank brand, which the company acquired in 2013. The company is now consolidating all branding under the CIBM Bank name, with its Avenue Mortgage division in Naperville operating as CIBM Mortgage. The name CIBM Bank reflects the long history of the Central Illinois Bank (CIB) and Marine Bank names. "It's our roots, where we started," Chaffin said. "We don't take it lightly we're changing the name. But it makes sense."
The holding company will continue to use the name CIB Marine Bancshares, Inc., and trade under the symbol CIBH.
"It was a long process of thinking about it; we've talked about it for many years," CIBM President and CEO Brian Chaffin said. "It can be kind of confusing. Our legal name has been CIBM for years on all of our legal documents and statements, so customers were familiar with it. The real challenge was coming up with what does that new name look like. We serve many hometowns."
Chaffin and CIBM Director of Marketing Cara Dalton worked closely with Rod Roberts of Thunderstruck Design, a graphic design and marketing firm in Champaign.
The first decision to be made was what name to use. The next was how the logo was going to look. "We took ideas back to the executive team," Dalton said.
Ultimately someone had to make a decision.
"Marine Bank has had a lot of history in Milwaukee," Chaffin said, adding that the most difficult part was "pulling the trigger." "You always have some hesitation," he said. "But logically we knew it was needed. We just had to say, 'OK, we're going to do it.' We've had great response. It's been reaffirming."
Each element of the company's new logo has some meaning. The triangle represents the employees, and the three lines going in and out represent the core values of service, solutions and integrity. "It's at the center of what we do," Chaffin said. "It's been a lot of fun to roll out and unveil it to our clients."
"We really wanted what we did to represent who we are," Dalton said.
Chaffin presented ideas to the executive team of 10 individuals. "One of the hardest things about this is getting a buy-in," he said. "They're not yes people. And that makes us better."
The company began letting its customers know about the change in December. "We got a really great response," Chaffin said. "The annual report highlighted it front and center."
CIBM's new marketing will focus on the company's desire to help customers with their business, retirement, etc. "They've worked hard to get where they are," Chaffin said. "We look at every customer differently because they have unique needs. They all have a different story, and that story is important."
Customers will see the change on their debit cards, which Chaffin said "carry a whole new look."
Each of the four websites has been completely changed, Dalton added. All four now converge to the same website.
The signage in each office has been updated, too. Monticello was the first of the local flagship banks to make the switch.
For others contemplating rebranding, Chaffin recommends input. "There needs to be representation across the company, in terms of looking that or at least sharing the vision, in order to build some consensus," he said. "That's not nearly as important as to develop a vision of what it could look like."
Chaffin said company employees should feel heard in the process. "You start with internally discussing," he said. "It's giving people engagement in a process, letting people have a voice and know that their voice and opinions are important. It's one of the reasons I go to all the offices."
"Our brand means so much more to us than how it looks," Dalton said. "We're changing the look of what we do but not who we are."
Chaffin said the changes in the banking industry are nonstop, especially when it comes to keeping up with technology. "You have to be able to deliver an electronic platform clients want to utilize," he said. "That's what they want. With that clientele, there comes a time when they want to talk to somebody. Our business is personal; it's person-to-person."
Chaffin is a third-generation banker. "It's been in the family for a long time," he said. "It's not easy all the time. It's about providing clients with solutions and deciding what is the best solution for the client."
Chaffin often passes on to employees some advice that his father gave him about the irreplaceable nature of integrity: "Nobody can take it from you, but you can easily give it away," he said.
Chaffin travels a lot among the different offices and tries to meet every employee. "That's valuable to me," he said. "It's the personal attention. People can call me or email me anytime."
"Our employees know him, and he knows them," Dalton said. "It makes this place a family and not just a place to work."
"This is work; it's not life," Chaffin said. "You have to recognize that family is first and build your culture around that."
"It resonates outside our walls as well," Dalton said. "They (clients) feel appreciated and understood. They never feel like a number."
Chaffin even hosts family-friendly company get-togethers at his house every year, complete with bounce houses and pony rides. "You've got to have fun," he said with a grin.