Perfect pain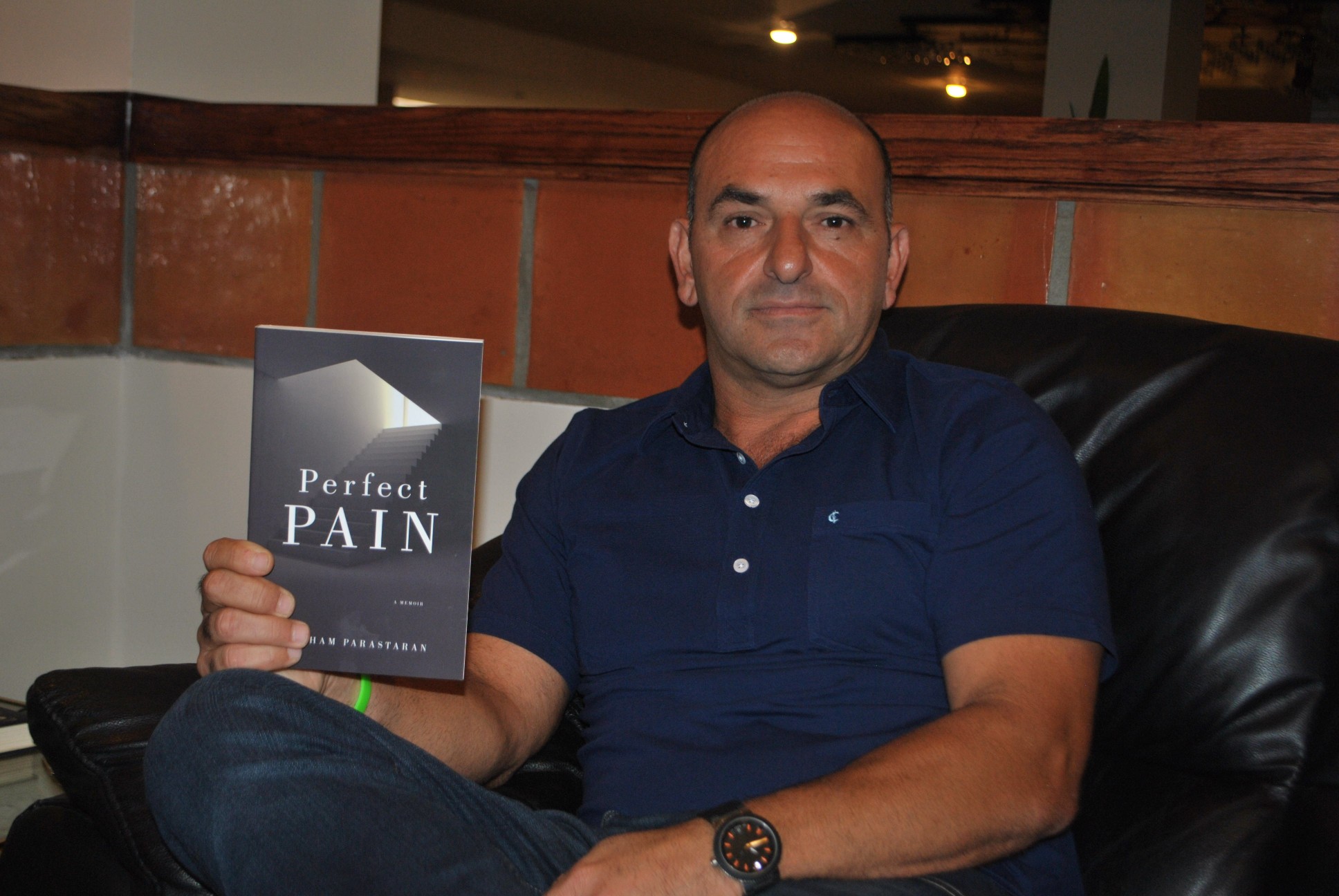 Photo by: Christine Walsh
To a lot of people, Parham Parastaran is the embodiment of the American dream.
An immigrant to this country, he built a successful company from humble beginnings. He had a fulfilling personal life. But nobody around him knew that he suffered from depression.
That struggle is the subject of his new book about mental illness, "Perfect Pain." "The stigma is nobody talks about it," Parastaran said. "Just in the short amount of time the book has been out, many people have reached out to talk about it – very prominent entrepreneurs in the community many people would know. What's interesting is everyone did it privately. It's one of the reasons I wrote the book. Everybody is touched by it in one way or another. The reality is almost everyone I know is touched by depression."
Parastaran first came to the United States from Iran at age 1 and then returned at 5. "Initially it was fine," he said. "My dad was doing well."
But because his family was Bahá'í, they were seen as apostates from Islam, and that normalcy ceased. "It clearly was very stressful," Parastaran said. "Family members were being jailed and tortured. That's why we left and left very quickly."
He was 9 when his family returned to the U.S. In addition to the revolution, Iran was at war with Iraq. "I would see airplanes flying above shooting at each other," Parastaran recalled. "There was a lot of stuff going on politically. We had to flee the country on a moment's notice."
Many of those dark memories did not resurface for a long time.
Parastaran's family moved to California and then relocated 10 more times by the time he was a high school freshman. He came to Champaign in October 1985 and graduated from Central High School in 1989. Parastaran went to the University of Illinois and began teaching as a tennis pro as a way to finance his education. "I thought I was going to have a teaching academy, but I went to a local bank (for a business loan) and basically got laughed at," he said.
Parastaran decided to go into business instead, partnering with his father to open his first CarX on University Avenue. Parastaran ended up expanding to 17 stores. "There were lots of ups and downs," he said. "I grew the business and had good times and bad times."
Parastaran sold the company in 2016 after about 23 years in business but still has a commercial real estate company.
In his book, Parastaran is "blatantly honest about being abused as a kid, that I lied and all of the wrongs I did."
Parastaran recognized his own depression and suicidal tendencies and realized he needed to do something. "I have children I would've orphaned," he said plainly.
In addition, Parastaran was spending $1,500 per week on cocaine. "The amount I was using could've killed somebody 10 times over," he said. "I wanted to be a good husband. I didn't want that to be my legacy -- that I died at 35. But it took a long time. I had several low moments. I would have lost everything – my wife, my kids, my business and everything. I came really close. Thank God I got help."
Parastaran chose psychoanalysis over an alcohol treatment and drug abuse rehab program. "That works for some, but I knew deep down I had a severe problem," he said. "I needed to know why. I needed it to last. It wasn't willpower. I had to know why I was doing it. I thought, 'I'm a smart guy, I'm well-liked, I have a really good community of friends. So why do I need this?' So I took my relationship with my parents and the world and analyzed it."
Parastaran began to learn why he was the way he was and to develop "a permanent fix." "For me, it was all self-esteem issues," he said.
Parastaran said many would prefer to simply be given a pill than to sit down for 45-minute sessions with a therapist on a regular basis. "We are a society of quick fixes," he said. "We expect to go through a drive-thru and be fed in 3.5 minutes. It's difficult but it's doable. It became easier and easier as I felt better and better, and the better I felt, the happier I was."
Parastaran now sees that he self-medicated with drugs, alcohol, money, food and accomplishments. "Why do you think some people are so money-hungry and ambitious?" he said. "I needed that attention, that praise," he said. "It was something I was lacking before. I wanted them to see me as perfect."
Parastaran said the most difficult part about undergoing therapy was facing the pain. "You don't want to know how insecure you are and how deeply reliant you are on someone else's praise because your mom and dad didn't give it to you," he said. "We repress things."
Parastaran had pain from being poor, an immigrant, from being sexually abused by a cousin and from having a different last name – all things that he now knows are part of his identity. "I named the book before I ever started working on it," he said. "I was in therapy and could see the light at the end of the tunnel. I wouldn't trade a single one of my experiences. It's who I am. The pain that I experienced was perfect."
Parastaran's relationship with his wife and three daughters benefited most from his therapy. "My level of connection with people has really become more genuine," he said.
Parastaran had always felt like he was living a lie. He hopes that from his experience, his daughters learn "you don't need to be perfect. You don't need to be ashamed. You don't always need to be trying to get my approval. Don't try to be anything else."
Parastaran hopes that by telling his story, he will inspire others to get the help they need. In his perfect world, people would proudly say they are in therapy. He said men, in particular, are often too insecure about what other people think to seek treatment. 
Parastaran also hopes to bring awareness and to start a conversation about mental illness in the business community. He is now doing speaking engagements and podcasts and is even going to a public speaking coach to help him better convey his story. "I'm putting the conversation out there as much as I can," he said. "It's hopefully a platform where I can get people to take it more seriously. I want the next part of my life to be service."
Parastaran predicts that suicide and drug overdoses and alcohol-related deaths caused by depression will eventually become the leading causes of death in the U.S. He wonders why so many resources are devoted to physical health, while insurance companies refuse to pay for the kinds of services he needed. "I am concerned for America," Parastaran said.
While the suicides of celebrities like Kate Spade and Anthony Bourdain have drawn some media attention to mental health, they haven't done enough, according to Parastaran. "We don't know what to do with it," he said. "It's literally happening every day. We don't like doing things that are long-term. It's just too damn hard."
Parastaran is also worried about children who are starting to suffer from mental illness at an early age. "What I want to see is identifying kids at risk for mental health issues," he said.
"Perfect Pain" is available on Amazon. Parastaram has a website at perfectpain.com, which includes a blog that he writes every week, and you can follow Perfect Pain on Twitter, Instagram and Facebook.