Over 70 years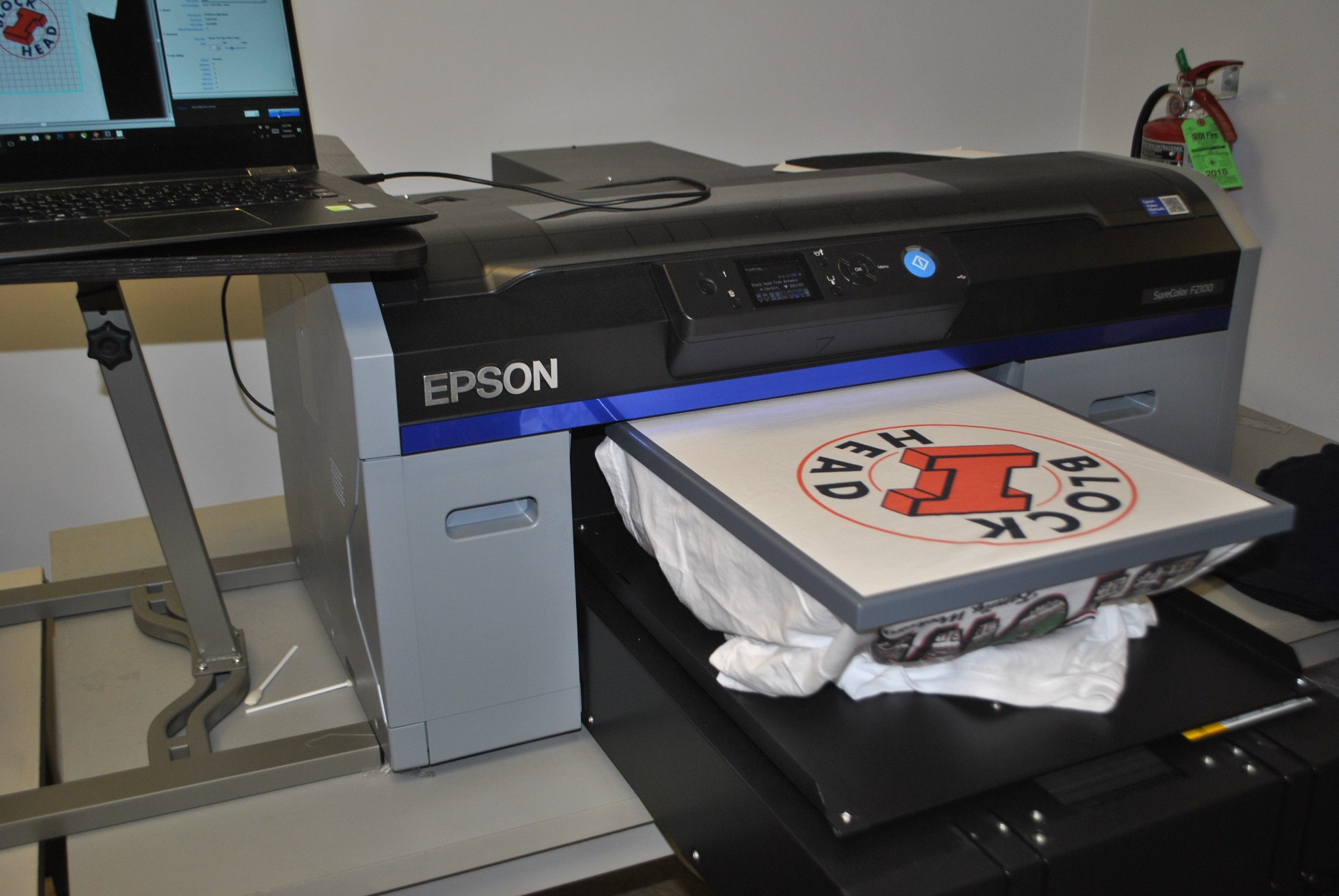 Photo by: Christine Walsh
A local T-shirt business owned by two lifelong Champaign-Urbana residents is expanding into an entire warehouse to handle all of its shirt business around the country.
Campus Ink has moved from its Campustown location at 710 S. Sixth St. in Champaign to 1201 Kenyon Road in Urbana, near Interstate 74. Formerly known as Campus Sportswear, the business changed its name a couple of years ago because of a misconception that the business made team uniforms.
Two of the owners, Jedd Swisher and Tom Coleman, graduated in 1979 from Urbana High School and Champaign Centennial High School, respectively. The third partner, Steven Farag, didn't graduate high school until 2010 and came on as a partner when Swisher and Coleman were 55, so they admittedly have very different viewpoints at times. Each has his own specialty: Coleman is in charge of production, Swisher handles artwork, and Farag specializes in technology and sales.
Farag believes his senior partners bring their ingrained value and attention to quality, while he brings the desire to be on the ground floor of technology and the philosophy that there's no reason the business can't compete with giants like Amazon. Farag said he's learned a lot from his older partners. "There's a pretty big learning curve," he said. "You can't just pick up a shirt and know how to put it out."
Coleman began working for Campus Sportswear as a 12-year-old. "It's the only job I've ever had," he said. Coleman's grandfather emigrated from Sicily in 1905, and in 1947 his father, Joe Buttitta, bought a piece of land at 708 S. Sixth St. on which he started a 10-by-10 shoe repair shop called Campus Shoe Store, where St. John's Catholic Church once stood. "It was a dirt road at that time," Coleman said. "The U of I was two buildings on Wright Street."
Joe Buttitta started a bar called Jocko's there in the 1950s. The family then rented to Raymond Timpone, who started a restaurant called Timpone's on 6th Street. In 1961 Tom Cochrane became the tenant and operated a bar called the WigWam until it became Round Robin in 1969, later becoming RR Sports Grill. The business stayed in the Cochrane family, becoming Firehaus in 2005 after three years of remodeling using stone and brick from the original building. "There aren't a lot of people who can say they've been in the same place for 57 years," Coleman remarked.
The old Campus Ink location was one of several in an area where developers have proposed a 17-story high-rise apartment tower. "They put together a nice project, and it's going to be beneficial for the campus," Coleman said. "It was the impetus to get us moving. We honored my family by being there as long as we were."
But the business had been outgrowing the Sixth Street facility for some time. It presented logistical challenges like stairs that employees had to transport full boxes up and down on a regular basis. "It's going to be really quick now that we're on one level," Coleman said.
The business will be going from a 3,500-square-foot space to one that is 12,000 square feet. "Sometimes you need some separation (among coworkers)," Coleman said.
Another challenge with Campus Ink's Sixth Street location was that it only had five parking spaces, three of which were behind the building, and all of which were a tight squeeze to get in and out of, especially when campus traffic was heavy. Loading zone parking tickets were another frequent concern. The Kenyon Road facility, by contrast, has 50 parking spaces. "It's going to really change the way we do things," Coleman said. "We did everything (in the old building) by convenience."
The screen printing and embroidery business does a lot of work for the Illinois Marathon, fraternities and sororities and 5K and 10K races, as well as nonprofits like the Don Moyer Boys and Girls Club and Crisis Nursery. It's not unusual for a customer to bring Campus Ink work from three different entities in town, for example, a sports team, a church and a charity. "We do a lot of the whole spectrum," Swisher said. "A lot of customers around town are involved in 15 different things."
"We're in such a cool local economy," Farag agreed.
Swisher is quick to point out that it's a wholesaler, not a shirt retailer. In addition to shirts, the business produces promotional "swag" products like pens, pencils, mugs, cups, water bottles and buttons to help companies with their marketing. "Our goal is to be a one-stop solution," Swisher said. "We're here to help people get their brands out. If you don't have good artwork, you're not going to have a good product."
Campus Ink also prints signs and banners. They don't do any kind of paper printing, however.
The new facility on Kenyon was formerly occupied by HAL Communications Corp., the first amateur radio product vendor to sell a microprocessor-based computer. The building includes an entryway where various shirts are on display, a large room where screen printing is done, a room where screens (which look like stencils) are made and burned, a room where artwork is created and another room for bagging and tagging shirts and for printing banners, as well as for digitally printing on a direct-to-garment printer for orders of a smaller quantity.
Along with the new space, Campus Ink has added new, state-of-the-art equipment that will increase its production capacity. The business is now offering direct-to-garment printing for smaller jobs and a full-service sign and banner shop.
Although Campus Ink has some clients like the Chicago Park District and the Chicago Fire soccer team, the business owners hope to attract more out-of-town customers with the new building's proximity to Interstate 74. The new location will be more appealing to local customers as well, he added. "We have people who say, 'I don't go to campus,'" Coleman said.
Swisher said the fact that Campus Ink doesn't subcontract out its work gives it greater control and cutting down on delays that can sometimes take days. "A lot of people don't cut their own vinyl," he said. "We make sure it's done right."
Campus Ink has about 13 regular employees and a student program that employees about 75 college-age sales representatives at various Big 10 schools like Purdue University and Indiana University. Farag started out as a campus manager for Swisher and Coleman when he was a student. "It allowed me you to learn in a really good environment," Farag said. "They would show me how to do artwork. I wanted to recreate that experience for our students."
Campus Ink offers temporary online stores to make it easier for small groups of customers like school sports teams to order shirts without any mistakes. It also eliminates the need for parents, coaches and principals to collect money and shirt sizes from students for fundraisers.
Campus Ink now has a lab three doors down from its old shop, at 812 S. Sixth St. Campus Ink's old printing equipment was built into the walls, and a screen frame was built into a table. A mural was painted onto a plain white exterior side wall. About 20 students work and hang out there, with others from campus able to go there to work on artistic endeavors.  "It's built like a coffee shop," Farag said. "It's kind of a cool shared space."