Lighting it up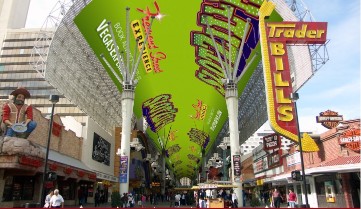 Photo by: Provided
One of the most popular Las Vegas tourist destinations is getting a facelift, thanks to a Central Illinois business.
Danville-based Watchfire Signs was recently chosen to renovate the Freemont Street Experience canopy in Las Vegas, the largest single video screen in the world. The 14-year-old digital canopy is 1,500 feet long, 90 feet high and almost 100 feet wide. The canopy is suspended above a pedestrian mall that attracts 20 million visitors annually, presenting a challenge. "We don't want to disrupt their business," CEO Steve Harriott said. "It's unlike a lot of job sites; it's going to have to be done in a different manner. It's going to be an entirely custom product to suit their space."
Harriott said Watchfire was chosen over 14 other digital screen manufacturers because very few were willing to put in the development effort required to deliver a screen that is up to seven times brighter and four times sharper than the original and to trim it to fit around the existing structure. "It was very different from anything we've done before," Harriott said.
The project has involved between 50 and 100 Watchfire employees, including the marketing department submitting an RFP response and a group of engineers planning all of the components.
Although Watchfire has 60,000 LED signs all over the world, the Las Vegas canopy will easily be the most visible project to date. "It does put us in a great position," Harriott said. "It's hard to argue there's any limit to what we can do after this. It's a milestone."
Watchfire serves a lot of different markets from billboards to large corporations like McDonald's and Walgreens. A market that is starting to open up more is elementary and high schools because the technology is becoming more affordable. Watchfire is also doing more indoor signs. "It's becoming really part of the landscape," Harriott said. "It's going from being a thing that was really a difficult decision to a good thing for businesses in terms of promoting themselves and taking control of their advertising message."
Almost from the start of its 86-year history, Watchfire has specialized in signs that change in some way, first with movie marquees with intermittently flashing lights, then with time-and-temperature signs (the first electronic message centers) and then evolved into lightbulb signs. Watchfire is now using semiconductor technology for LEDs. "That market has exploded," Harriott said.
Watchfire has 330 employees housed in a 200,000-square-foot facility with about 100,000 square feet of manufacturing space.
"A lot of traditional media has met with challenges," Harriott said. "But it has driven some of our customers to compete for the wallets that are driving right in front of their buildings. You're seeing more and more of that in the world. The cost to the end user is going down."
A lot of the work that Watchfire does is outside, so the company has to face the challenges of an outdoor environment that can include heat and cold cycles. "We start every design with a blank piece of paper," Harriott said.
Harriott attributes Watchfire's success in part to the level of control it has over its products. Using parts from all over the world, Watchfire creates 12-inch-by-12-inch modules and then integrates them into a complete sign before it leaves the factory. Harriott added that with electronics companies, it can be difficult to get someone on the phone, a fate from which Watchfire tries to spare its customers. "When they have a concern, they can call us here in Danville over the life of the product," Harriott said.