Zachary Sickler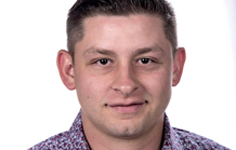 Photo by: Bridget Broihahn
Community involvement: I am the vice president of Red Hot Productions; a pro¬duction company that puts on several charity shows and events throughout the year.
Proudest professional accomplishment: Receiving my first Commendation Medal and earning Senior Airman Below the Zone from the U.S. Air Force.
I attribute my success to: the many people who have mentored me in my professional career and never being afraid of a little hard work.
Best advice to give or received: Most of life's greatest catastrophes never actually happen. Funny how most good luck is created by hard work.
Important lesson I've learned: To understand that in business there are peaks and valleys. Never get too excited about the successes or too down at the failures.
Pivotal career decision: To leave active-duty Air Force to come home and start our hair product distribution company.
From the nominator: "Zac has demonstrated that he will do whatever it takes to get the job done." - Brian Furry, IdHair North America