Pookie Phetchareune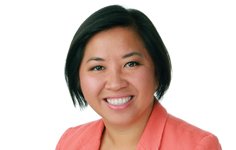 Photo by: Bridget Broihahn
Community involvement: I am involved with the Special Olympic Illinois Area 8 Committee for the Polar Plunge and Golf Outing fundraisers. I am currently involved with Villa Grove Rotary Club, which has allowed me to start an Interact Club at Villa Grove High School. We have 15 juniors who are members and we're planning a com¬munity cleanup day to assist those who are unable to do the labor of the outdoor work.
I attribute my success to: I attribute my success to my parents. When we arrived in the United States with only a box of clothes for five people, many would assume that we would probably stay at the poverty level. My parents have worked in factories all over Champaign County. They decided to take their future in their own hands and became entrepreneurs. They are now the owners of P.K. Jewelry, T. Garden Thai Restaurant and now Green G. Farm LLC. They are who I look up to.
Best advice to give or received: Do not live for tomorrow, live for today and do what makes you happy.
From the nominator: "She is constantly giving back to the community." - Maghan Moslander, Midstate Collection Solutions Inc.