Philip Trautman, Jr.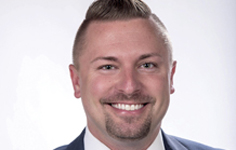 Photo by: Bridget Broihahn
Proudest professional accomplishment: Being awarded the Affiliate Choice Award for 2016. The Affiliate Choice award is awarded to a realtor member who has been determined to be pro-active, a benefit to work with, and provides outstanding con¬tributions to the real estate industry. The nominating panel is of affiliate members consisting of attorneys, lenders, home inspectors and appraisers. Also, a proud professional accomplishment is being elected to the board of directors for the Champaign County Association of Realtors. I also expended our family business, Appraisals By Trautman LLC, to the Chicagoland area in 2014. I'm very proud to have grown and expanded our business to new territories and increase revenues.
From the nominator: "PJ works diligently to make our community the best it can be." - Marissa Siebel-Sierro, IntelliWheels Inc.