Man and Woman of the Year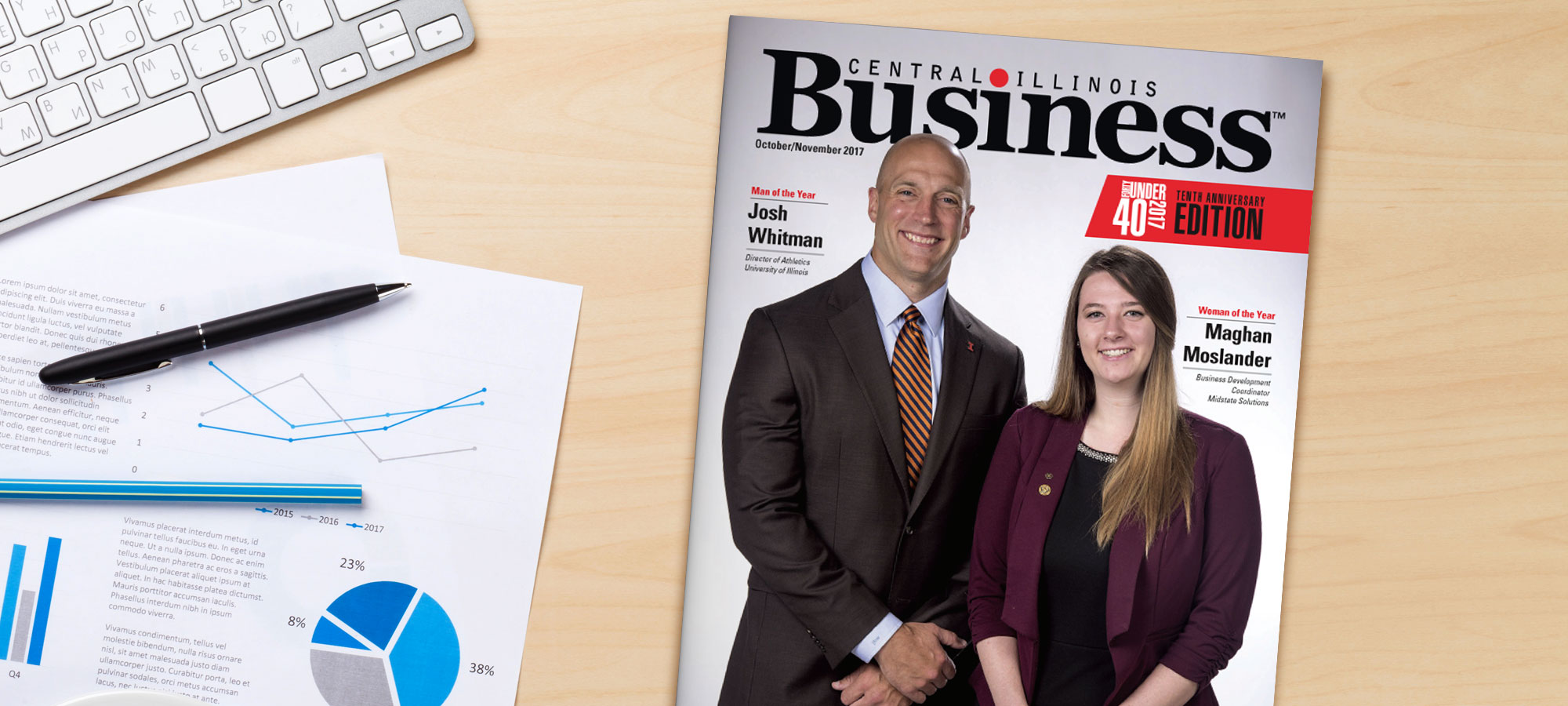 Photo by: Provided Photo
Central Illinois Business' Forty Under 40 Woman of the Year, Maghan Moslander, has made a big splash for the short time she has been in Champaign-Urbana, Cindy Tarrant said. Tarrant was one of six that nominated Moslander for the honor. The others were Austin Beaty, Michael Hirschi, Kyle Fleming, Pookie Phetchareune and Mary Shores.
"As the president of Women's Business Council, I have recruited Maghan onto the board of directors in her first year as networking/social chairman. She has implemented many new ideas for bringing our group together professionally," Tarrant said.
"Maghan's entire life is centered around the question, "How can I help?" She believes in doing everything in her power to make anything she is involved in better in some way," Mary Shores said.
Shores is the CEO of Midstate Collection Solutions, and Moslander's employer.
"She is also involved in the Chamber of Commerce, Rotary, and is a founding member of LEAD-Leadership, Education and Development. She has a heart for the community service, as well, with involvement in Eastern Illinois Foodbank and Cunningham Children's Home," Tarrant said.
"She is an encourager. A supporter. A true leader," Austin Beaty said.
Becoming a leader starts with family
Moslander grew-up in the south suburbs of Chicago. She graduated from Homewood-Flossmoor High School.
"My parents divorced when I was a baby, and they are both remarried with their own kids now. My nuclear family that raised me is made of my mom, stepdad, and younger brother," she said.
This 27-year-old leader has a hero, too.
"My mom, Mary Beth Wiberg, is my hero and I look up to her every single day. She has taught me strength, courage, love, and how to stand up for what's right in this world. She leads by example, and has shown me how to help others become the best version of themselves and to help them reach their goals," Moslander said.
Her stepdad taught her quite a bit about life, too.
"My stepdad, Craig Wiberg, whom I call my dad, is an incredible man because he not only helped raised me since I was little, but he also chose to love me as his own," she said.
Then, there's her younger brother, Andrew, who is exactly seven years younger than she.
"He and I were like the typical brother-sister duo growing up: always fighting, and never sharing. One thing we do share is the same birthday. Andrew and I grew out of our constant bickering and arguments, and are now best friends," she said.
She has little sisters that have taught her not to take life so seriously.
"My father and stepmom, David and Elizabeth Moslander, live in the north suburbs of Chicago, with their two beautiful girls, Emma and Erin. Emma is 14 years my junior, and Erin is 17 years my junior, which allows me the opportunity to watch them grow into beautiful young women," she said.
College: not the typical experience
"It's bittersweet, honestly; it's something that I feel that I've missed out on and can never get back, but in its place, I was able to gain other experience in life that taught me so many valuable lessons that I would have never had otherwise," she said.
She started her undergraduate career at Prairie State College in Chicago Heights, from which she earned associate degrees in English and biology. She then ventured to Dominican University.
"Dominican was not a good fit for me; my one and only semester there was not a good time in my life for many reasons, one of which was that I was engaged and my fiancé was deployed out to sea with the US Navy conducting dangerous drug ops missions in South America. I decided to take the spring semester off, which was a very hard decision for me to make. I moved back home with my parents, worked, and prepared for our upcoming wedding," she said.
After the wedding and promises of being sent to either duty in Florida or Washington State, they were sent to Yokosuka Naval Base in Yokosuka, Japan.
"As a 21-year-old that had never truly lived on my own, I sat and stared at my computer in disbelief," she said of the move.
There was an upside, though: the base had Navy College center so she applied to the University of Maryland University College. She would be able to finish her Bachelor's Degree on-base and take face-to-face and online classes.
"The only downside to transferring was that there were no biology labs, at which point I decided to change my major to Business Administration. At the time, I was disappointed that I could no longer study biology and had to change to something that I didn't feel as comfortable with studying. Looking back, that was one of the best things that happened to me," she said.
It was through studying business that she learned where her true passion lies.
"I added an Undergraduate Certificate in Management Foundations to my degree plan, and I graduated Cum Laude in 2013 with a Bachelor's and a Certificate. After graduation, I continued my studies by taking graduate coursework in Leadership and Management until our military orders in Japan were complete, and it was time to return to the US," she said.
Now she's ready for more
"I am incredibly humbled and honored to announce that not only have I been accepted into the Illinois MBA program at the University of Illinois at Urbana-Champaign, I was one of only 10 students selected from the entire College of Business to be in the Emerging Leaders MBA Cohort," she said.
Community involvement
 "Growing up in the suburbs of Chicago, we didn't have a strong sense of community. Champaign County is where my heart is and the community support and pride here is strong and supportive of one another. As an active Rotarian in Champaign West Rotary, I strive to support, empower, and develop others to grow into the leader they want to be through service above self. Rotary has truly changed my life—we are people of action making a difference," she said.
 She loves finding that untapped potential in people and bringing it out to really help them shine.
In the near future, she plans to work on her MBA with the University of Illinois and further her career at Midstate Collection Solutions.
Moslander said  that it is such an unbelievable honor to be selected as the Central Illinois Business magazine's 10th Annual Forty Under 40 Woman of the Year.
"The Forty Under 40 leaders in our community have been the people that I have looked up to and aspired to be like year in and year out. Standing shoulder to shoulder with the leaders I admire is truly humbling, and I am completely overwhelmed with gratitude," she said. 
Whitman
Excellence is not born from balance, Josh Whitman said on a hot day last summer. It was quite a profound statement in what was expected to be a typical interview.  The statement was an epiphany of sorts, and a sign that typical was nowhere to be found in the presence of this 39-year-old hard-working and exceptional young professional.
Whitman was recently selected as Central Illinois Business magazine's tenth Man of the Year for Forty Under 40, 2017, and he was ready to be interviewed. There was no sweat on his brow and no tension on his face, even though he had just come in from outside where Central Illinois temperatures were sky-rocketing to a level only comfortable to the corn growing in the near-by UI agricultural plot.
He flashed a light-bulb smile and regarded the room with clear and sharp bright blue eyes. Whitman could give lessons on powerful but not intimidating body language, eye-contact and a firm but welcoming handshake.
"That's right. If you are going to be exceptional, you will not have balance. Balance is such a buzz-word," he said with a smile and headshake at the very idea.  
It makes sense, doesn't it? Think about the word, "exception," and it conjures up other terms like, "outlier on a bell curve," or "the road untraveled." One word it does not bring to mind is "balance." Those of you reading this have to know something: Whitman will make you think. He challenges us to step-up our own game, if you will, no matter if that game is tennis, an economics class or writing an article. He expects no less of himself, as well.
He is a committed director of University of Illinois athletes. He is intensely focused on their best interests, as well as those of the university and its alumni and fans.
"Our athletes are pursuing excellence. Athletics is not any different than other pursuits, like those in the lab or the classroom. This is their opportunity. We have world-class athletes here at the University of Illinois," he said.
He attributes his success to focus and hard work.
Kent Brown, associate athletics director-media relations, University of Illinois athletics said Whitman is a breath of fresh air. He said the environment in the athletic office is now more upbeat and positive, and smiles are more common now than they have been in a while.
"He has the best interest of this department at the forefront. His decisions are based on what's best for the program, not what will make people happy," Brown said.
"I take a lot of pride in making decisions. I truly believe you make your own deal," he said as he leaned forward with his tall and lean frame. Behind him are helmets and other athletic mementos stored as visual memories from his journey in life thus far. "That is my helmet from Harrison High School in West Lafayette," he said while pointing out the Raiders' gridiron headgear.
It all started in Indiana
Whitman was a standout athlete early on.
"An interesting fact you may not know about me is although I played college and professional football, as a young kid, I dreamed about being a professional baseball player," he said.
He also knew his power was football. To him is it was clear and he had a plan.
"The plan was that I had to figure out a way to pay for college," he said.
He didn't want that burden to be on his parents, Mark and Mary Beth Whitman, both teachers. He wanted to make his own way, and he wanted to give that to them.
Success on the field, in the classroom and the practice of law
After his career as an Illini stand-out, he had a stint in the NFL, after which he enrolled in the Illinois College of Law. While in law school, he clerked under federal judges Michael P. McCusky and Michael Stephen Kanne. When he graduated summa cum laude, he was off to our nation's capital as an attorney.
"In 2010, only one year after arriving, I left Covington & Burling LLP- one of the nation's most highly regarded law firms located in Washington, DC- to become the athletic director at University of Wisconsin-La Crosse. I had no experience in Division III, had little background in leadership, knew no one in La Crosse, and took a 50 percent cut in pay, but I needed to follow my passion, and I believed in myself," he said.
Athletic director was the dream
Whitman was later named AD of Washington University in St. Louis in 2014, before coming back to Champaign-Urbana as UI AD. In the meantime, while in St. Louis, he met his wife, Hope, when they were set-up on a blind date. She is a basketball hall of famer from Drury University.
"We went to the Braggin' Rights game in 2014. We had a whirlwind romance," he said. 
Then, in 2016, Whitman had the chance to come back to a place he had established himself on so many levels, but this time as director of athletics, a job he had hoped to acquire all along.
"When traveling a career path, make professional decisions with an eye toward differentiating yourself from the other (sometimes hundreds) of people who will pursue the same opportunities as you. How do you make yourself stand out from the crowd" he asked.
Family evolves and grows
Almost a year ago, the Whitmans welcomed baby Tate Elizabeth into their family. When asked if he had baby pictures, he jumped up as if on a spring to retrieve photos of the adorable baby girl with the cherubic face.
Family is obviously important and Whitman likes spend time with them in his free time. He also enjoys working out. The Whitman family is extremely community conscious and very involved.
"My wife and I support a number of local community organizations, including Habitat for Humanity, Coaches vs. Cancer, and the Tom Jones Challenger Baseball League. I am a frequent speaker at various community activities, including Rotary and Kiwanis events, among others," Whitman said.
Whitman evolves, too
When asked what the biggest challenge he's faced in his career, Whitman gets right to the point.
"Learning to be an effective leader. You can read and study leadership for years, but until you have the opportunity to practice actual leadership, it is difficult to truly hone the skill.  It is a skill that is never fully formed – I continually work to develop into a better leader," he said.
"Josh Whitman is one of the brightest rising stars in collegiate athletics. A former student-athlete for the Fighting Illini, Josh set the goal to one day become the Illini director of athletics. I know I feel like we have the smartest person in the room when we are represented by Josh. The bold hiring of Lovie Smith as the Illini football coach gave fans everywhere immediate hope that the program could once again compete for championships. This came after a particularly dark period," Brown said.
Brown said Whitman's "We will win!" mantra is the new rallying cry for Illinois athletics.