Luke Zwilling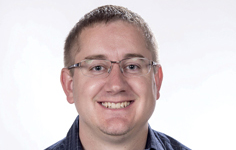 Photo by: Bridget Broihahn
Proudest professional accomplishment: Making the world more sustainable, by working with farmers that grow our food and the companies that create our diverse array of foods in the grocery store.
I attribute my success to: Curiosity of how things work, which I attribute to my dad and his willingness to take apart almost anything to fix it.
Best advice to give or received: Life is a marathon and not a sprint. Need to set long-term goals and don't get shortsighted.
Biggest career challenge: Changing employers - going from an estab¬lished consulting company, to being self employed and then to a new technology startup (Agrible).
Pivotal career decision: Leave a stable job and become self employed. The decision was made to provide more time for my family.
From the nominator: "Luke strives not only to be the best when it comes to his commitment and passion for science, but he also puts others and their talents before himself, as all great leaders do!" - Katie Betz, Agrible Inc.