Laura Gerhold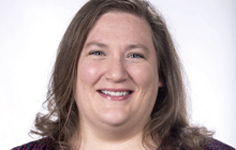 Photo by: Bridget Broihahn
Proudest professional accomplishment: I have received the Engineering Council Excellence in advising award each year for the past five years. This award means more to me than most because it is voted on by the students. Knowing they find value in what I do makes me appreciate my job even more.
I attribute my success to: My parents. My parents raised me to follow my passion, which has led me to my current career. With each decision I have had to make, they have provided a sounding board for me to toss ideas off and given me the support and confidence to make a final decision that would make me the most fulfilled. They also showed by example how important it is to do what you love.
Best advice to give or received: To keep your options open and make decisions that make you happy. In your life, there will be pressure from lots of different directions, so it is important to make sure you are follow¬ing your gut and doing what makes you feel the best.
From the nominator: "I have not met a more understanding and caring person." - Emily Manganaro