Kimberly Otchere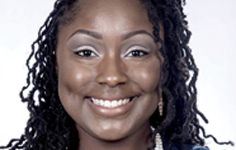 Photo by: Bridget Broihahn
Community involvement: C-U One-to- One Mentoring Program; C-U Change Makers; Homestead Corporation of Champaign-Urbana; University YMCA Nominations Committee; C3 (Com¬munity, Campus, Connections) Program; George M. Pullman Educational Founda¬tion; Magnus Charitable Trust.
Proudest professional accomplishment: This past Spring my department was awarded the Outstanding Student Affairs program. I was overjoyed that collective work of our student leaders, paraprofessionals, campus col¬laborators and incredible professional staff team had been recognized for tireless work of living and leading for positive social change.
My partner/best friend/mom would describe me as: Silly, energetic, driven, "woke." Most notably, they know I am a social justice advocate, someone passionate about equity, and one who loves deeply.
From the nominator: "Kim is the sort of professional who inspires others to grow into the best versions of themselves." - Jennifer Bechtel, University of Illinois