Katherine Johnson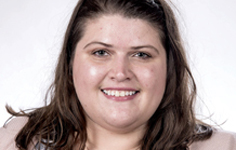 Photo by: Bridget Broihahn
Community involvement: Girl Scout leader, Rantoul Recreation Theatre Program Director, Rotary Youth Leader¬ship Award Camp Instructor/Counselor, PMBA peer for the Illinois MBA Program, Rantoul Rotary volunteer, First Baptist Church Education Board - Special Events Chair, Rantoul Cancer Walk Volunteer, United Way Emerging Community Lead¬ers Graduate, Shop with a Cop volunteer, past president of Rantoul Theatre Group, and by participating in many other exciting activities that need volunteers.
I attribute my success to: Working hard, surrounding myself with won¬derful people, and being as kind as possible!
Best advice to give or received: Be involved in your community! My life has been enriched in so many ways by being involved with different volunteer organizations and I cannot say enough about how important it is to give back in whatever way you are able.
From the nominator: "Katie brings beautiful energy, talent and knowl¬edge of the community of Rantoul." - Jessica Holmes, Credit Union 1