Jacob Shaw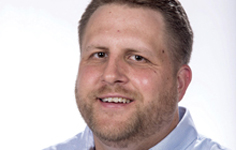 Photo by: Bridget Broihahn
Community involvement: I am a member of the Savoy Rotary Club, where I have served as club service chair, and participat¬ed in activities including roadside cleanups along Route 45 in Savoy, food packs at Eastern Illinois Foodbank, Breakfast with Santa, among others. I have volunteered with Habit for Humanity, am a member of the Savoy United Methodist Church, where I have served on different committees, and have had the opportunity to help coach my daughters' basketball and softball teams.
Best advice to give or received: I recently attended a leadership conference and received some great advice from the presenter, John Spence, who talked about "making the very complex awesomely simple." In his presentation, he gave the following examples of awesomely simple ways to be successful in life: 1) Show up on time 2) Do what you say you will do 3) Finish what you started 4) Say please and thank you 5) Always give a little more than what they expect.
From the nominator: "He is never shaken, always a steady and confident leader." - Ben Mast, Fertilizer Dealer Supply Inc.