Chelsea Norton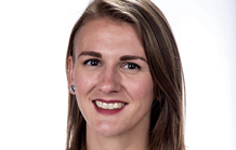 Photo by: Bridget Broihahn
I attribute my success to: The support staff in my life and my support staff at the Champaign Park District. My parents gave me my outgoing nature and taught me to be kind to others, and that foundation got me here. My husband encourages me through uncertainty to be myself and do my best. At work, I am encouraged to be creative and try new things without the fear of failing. Many friends along the way have led me to where I am today. It's truly amazing to think about!
Interesting fact: At age 30, I have joined my first band - Whiskey Shadows - with my husband and five other talented musicians. I play bass!
Biggest career challenge: I feel that being young in a position of leadership has been a challenge. And the surprising thing is that the insecurities come more from within than any external comments or attitudes. When feeling challenged in this way, I just focus on staying true to myself and remember the work and support that got me here.
From the nominator: "Her excitement about Champaign's art scene spreads easily and quickly." - Joe DeLuce, Executive Director, Champaign Park District