Abby McDonald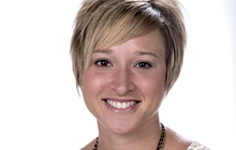 Photo by: Bridget Broihahn
Community involvement: I coach volleyball at our local high school and run a youth volleyball program in the winter and a youth volleyball camp in the summer. My family and I have volunteered in the past at a youth camp for limb different children in Duquoin, Illinois. My husband and I often volunteer at various events that our children are a part of.
Proudest professional accomplishment: Working alongside parents, students, co-workers and health professionals to meet the needs of students within my classroom. Having the opportuni¬ty to coach the SJO volleyball team and lead them to a second-place finish in the IHSA state volleyball tournament. We were able to bring home the first state volleyball trophy in school history and set a new school record with 31 wins and 4 losses.
My partner/best friend/mom would describe me as: "A strong, loving, dedicated, and hardworking mother and wife. She strives to raise her family to follow Christ in every way." - Phillip McDonald (my husband).
From the nominator: "Abby is a committed to the growth and development of students." - Carol Bosley, UI student affairs retiree