Time-turner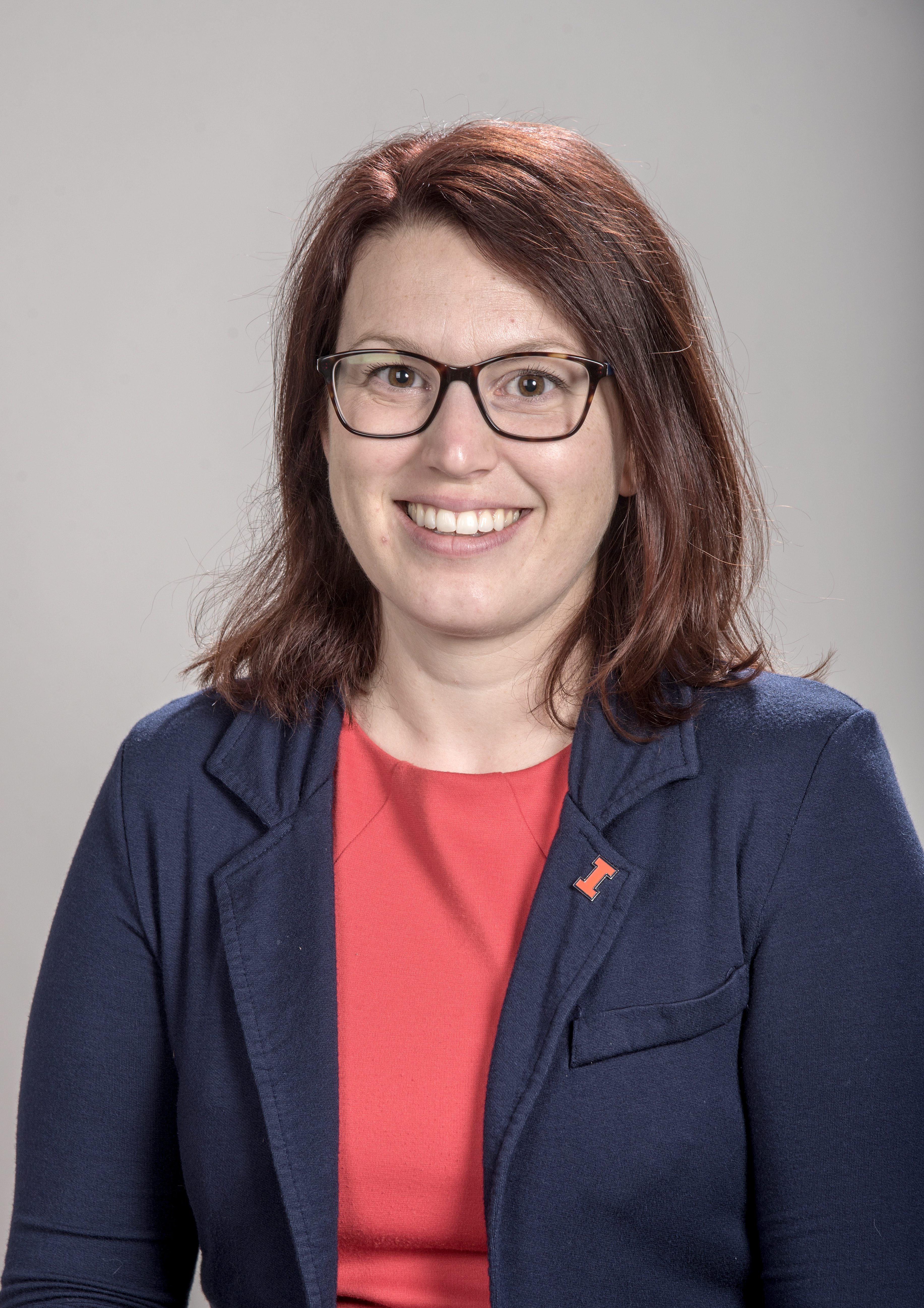 Photo by: Christine Walsh
Jenny Amos is often compared to Harry Potter character Hermione because of her ability to fit so many activities into a day. Colleagues speculate that Central Illinois Business' Forty Under 40 Woman of the Year has a "time-turner," the device Hermione uses for time travel.
Amos has been the University of Illinois director of undergraduate programs in bioengineering, been promoted to senior lecturer and is now associate teaching professor. She now also serves as director of assessment and evaluation at the new Carle Illinois College of Medicine, where she has taken a leading role in developing curriculum and assessment.
Although it meant splitting her time with bioengineering, where she'd been for eight years, Amos decided the offer was too good to refuse.
"I spoke with my mentors, and they all agreed that this was a once-in-a-lifetime opportunity," she said. "I have been working across both programs since then, and it's been a great experience since both programs have overlap in content and benefit from each other."
"She has taken the educational objectives for bioengineering, where nearly a third of the students continue on to medical school, and helped redesign medical school to focus on leveraging these students' background to accelerate learning of medicine and to produce future doctors with different ways of thinking about medical challenges," Amos' nominator, UI professor emeritus Michael Hirschi, said. "Throughout the development of the engineering-driven medical curriculum, she has also identified new ways to merge physiology and medicine back into her engineering courses. This effort will fundamentally transform the role of the bioengineer in medicine and, simultaneously, prepare future medical doctors for a high-tech, big-data clinic."
Although Amos' parents were Canadian, she was born in the United States after her father went to work for an oil refinery.
"We moved a lot," she said.
As a girl, Amos, 36, liked space and thought about being an astronaut.
"I was really interested in science; it kept my interest all through school," she said.
Amos' first high-school job was at a deli. Her first engineering job was at a factory, where she did research and development on candles.
"I looked like I was having a séance all the time," she laughed. "But I smelled amazing."
Amos received her chemical engineering degree from Texas Tech University and her Ph.D. in chemical engineering from the University of South Carolina. She joined UI in 2009 as a bioengineering department lecturer.
Amos is co-founder and faculty adviser for Engineering Ambassadors at Illinois, which is part of a nation-wide effort to inspire middle- and high-school students to challenge conventional ideas about science and engineering.
Amos discovered her love of education as a seventh-grade science teacher. She's been surprised by her profession's rapid evolution.
"Everything I learned in college has pretty much changed now," she said. "Education has changed so much in the last few years I don't know what to expect."
There is a push for online learning that wasn't there when Amos was in college, so she has no model to follow as she gets ready for upcoming classes.
"It seems like a new job every year," Amos said. "I have a lot of joy in learning. I love the opportunity it's given me to travel."
One of her favorite locales is Sierra Leone, where she goes annually as the principal investigator on a capacity-building grant at Njala University. She partnered with start-up Invoq Health to create and implement electronic medical records for the west African nation.
"They really appreciate everything," she said.
Another favorite is France, where she went as a 2015 Fulbright Specialist Scholar. Her children were able to attend French school while there.
When she was 10, Amos watched her mother take control of her own career.
"That was pretty empowering to me," Amos said.
Amos' heart for helping comes from the home she was raised in; her parents often took in troubled kids. Constantly meeting new people gave her a unique perspective.
"They were like my brothers and sisters," Amos said. "I was exposed to everything. There were never negative words about someone."
Many of Amos' mother's students called her "Dr. Mom."
"She helped take care of people," Amos said.
In fact, her mother ended up adopting a special needs child.
Another person Amos admires is Marie-Christine Brunet, the UI College of Engineering's assistant dean, with whom Amos does outreach.
The book "Make It Stick: The Science of Successful Learning" has influenced Amos.
"It emphasizes communicating ideas in a way people are able to adopt them," she said.
Another that she points to on her rainbow color-arranged bookshelf is "Design for How People Learn."
"It helped me think about different learners in the classroom," she said.
To that end, she provides both lectures and more active learning environments for her students.
Amos enjoys inspiring younger females to go into engineering.
"I want kids to think, 'That could be me,'" she said. "It's a good career path."
When Amos was in graduate school, she taught seventh grade in an all-girls magnet school for a year.
"Without trying to be, I was their role model," she said.
Amos developed the GAMES summer bioengineering camp with a focus on women's health and diversity in engineering.
"That really makes me feel like I'm making a difference," she said.
Amos believes those under 40 can bring their workplaces different ways of thinking.
"We're more open to changing the way things are done," she said. "But many of my friends over 40 have just as much energy and openness."
Amos strives to attain a work/life balance.
"Once I had kids, I realized I needed to constantly monitor my priorities," she said. "I found fun ways to involve my kids in the work that I do, including involving them in design and testing outreach experiments and even coming along on school visits."
Amos has received many awards, but she is most proud of being named the American Society for Engineering Education's Illinois-Indiana Teacher of the Year.
"This award was great recognition for the work that I do in the classroom, and it was a student-nominated award from current students and alumni," she said. "It's very special to me for students to recognize my passion and hard work."
One of the items on Amos' bucket list is visiting every continent; the only ones she has left are Australia and Antarctica. She is getting ready to conquer another one: Running in a half-marathon for the first time.
Inspired by a friend, Amos began running a few years ago, first with a 5K and then working up to a 10K.
"It's a great stress release," she said.
Amos is on a running team of bioengineering colleagues known as the BioRUNgineers, who run 5K, 10K and marathon relays together. This year, Amos ran in the BTN 10K in Chicago and met emcee Bill Murray.
"That was fun," she said.
Amos also loves cooking.
"I still try to make it home each night to prepare a home-cooked meal for my family; it's a form of therapy for me," she said.