Lonndon Blake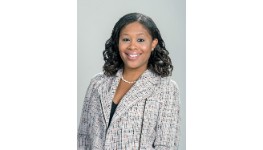 Photo by: Stephen Haas
Community involvement: Most recently I served on Prom Court 2018 for Eastern Illinois Foodbank's Prom Benefit Fundraiser. I am a member of Junior League currently serving as Executive Vice-President and I sit on the Board of Directors. Additionally I'm a board member for Champaign-Urbana Ballet and also an awards selection committee member for the YWCA University of Illinois Women's Achievement Celebration and an alumni of the United Way's Emerging Community Leaders Program. 
Proudest professional accomplishment: Employee of the Month September 2015.
I attribute my success to: God and my parents. I learned early on that success does not have the same meaning for everyone and you define your own successes. 
Best advice to give or received: The best advice I have been given is a Bible verse, Jeremiah 29:11, "For I know the plans I have for you, declares the Lord plans to prosper you and not to harm you, plans to give you hope and a future. "
Interesting fact: I am a paper scrapbooker.
Important lesson I've learned: There is no harm in taking a step back in your career to explore other options and to grow as an individual.
To relax, I: Travel.
From the nominator: "The lives she touch directly or indirectly are forever changed for the good because of Lonndon." – Denise Poindexter, Director of Strategic Operations, University of Illinois at Urbana-Champaign