Lindsey Blickenstaff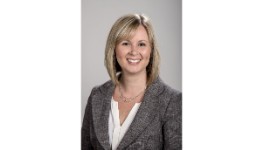 Photo by: Rick Danzl
Community involvement: I am passionate at volunteering for my children's school activities and am participating in the St. Jude run for the second year in a row. This year, my team has raised over $65,000 for the kids and families of St. Jude!
I attribute my success to: The wonderful people around me. I truly work with the best team at Busey and have the best family and friend support system. Without them, I wouldn't be able to do what I do each day!
Best advice to give or received: Some of my best advice comes from one of my favorite leadership quotes from Steve Jobs, "The people who are crazy enough to think they can change the world are the ones who do." In order to have an impact, you have to be willing to move outside of your comfort zone and be crazy enough to believe your ideas will work!
Biggest career challenge: Two years ago I took a leap of faith and left education, where I had spent my entire professional career. Joining the corporate world was a huge learning curve, but Busey truly is the best place to work, and through my amazing leadership team, I am afforded the opportunity to do amazing work each and every day.
Important lesson I've learned: I've learned that strong leadership is of utmost importance. You don't always need to be the expert in everything, and being a successful leader means that you don't pretend to know everything — engage and empower the experts on your team to get the job done!
My partner/best friend/mom would describe me as: My husband and family would describe me as compassionate, high energy and driven (I may have asked for an opinion here J).
To relax: I love spending time with my amazing husband and two children. We love everything from relaxing at home to playing outside to just going for ice cream together. We are a pretty low-maintenance family, who enjoy the little things! I also enjoy running — there's something about the reflection that can be done while going for a run that is incredibly relaxing!
From the nominator: "Through her admirable leadership and work ethic, members strive for excellence as she fosters an environment where integrity, creativity and teamwork are encouraged." – Kelly Youngblood, digital communications specialist, Busey