Kris Ehler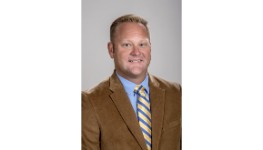 Photo by: Rick Danzl
Community involvement: Through my agronomy background, I have been blessed to be able to work with some of the greatest growers in the world here in East Central Illinois to help improve their farm productivity. With my DJ business, I have been able to utilize my talents to help the Eastern Illinois Food Bank, March of Dimes, Champaign County Farm Bureau Gala and Maggie's Rose to raise money to further their missions. 
Proudest professional accomplishment: In 2017 I was recognized by the Illinois Soybean Association as the first recipient of the Certified Crop Advisor Master Soybean Advisor.
I attribute my success to: My family and my faith. I keep those two things at the center at all times. My grandfather was an innovator and started our business over 50 years ago. My father and brother are two of the hardest working men I know, and it truly inspires and motivates me. My wife is my biggest cheerleader and best friend. I thank God for every opportunity that I have been blessed with. 
Best advice to give or received: The harder you work, the more doors will open for you, and I can always hear my grandfather saying, "Do it right the first time, or else you'll get to do again!"
Biggest career challenge: Gaining the respect of my father's generation of farmers has been challenging. I still remember speaking at a meeting about seven years ago promoting planting practices that went against their 50-plus years of experience. After slow adaptation, these practices are now widely accepted and implemented. They have also made significant positive gains in their farming incomes during hard times. 
Pivotal career decision: In 2016 I created a social media page promoting the early planting of soybeans. I wanted a way to share my trials on a broad scale. I currently have a community of followers that exceeds 13,000. The messages of thanks and success I receive are extremely rewarding.
To relax: I enjoy good bourbon and a great album on vinyl. I also love riding motorcycles. 
From the nominator: "Kris is one of the most humble people I know; he gives and shares constantly and never asks for anything in return." – Tracy Ehler, Program Coordinator for Bridge Transitional Care, CRIS Healthy Aging Center