Josh Markiewicz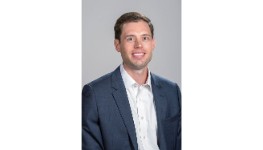 Photo by: Stephen Haas
Community involvement: Co-founded CAMPMACKALL, which connects post-9/11 military veterans attending UI with mentors, Habitat for Humanity home build, Illinois Marathon volunteer.
Proudest professional accomplishment: Having a small role in shaping and growing our community.
I attribute my success to: Serving alongside and learning from many incredible and selfless people in the U.S. Army Special Forces.
Best advice to give or received: Good advice requires context, and therefore most advice you receive is worthless.
Interesting fact: I served as a Green Beret in the U.S. Army Special Forces and deployed twice to Afghanistan and South Asia.
Important lesson I've learned: Doing the right thing is always the right thing.
My partner/best friend/mom would describe me as: Adventurous and family-focused.
To relax, I: Disconnect and enjoy the outdoors with my family and friends.
From the nominator: "Josh focuses on customized, creative and comprehensive strategies to drive maximum property value, accelerate lease-up, and deliver exceptional results for his clients." – Tim Harrington, owner, Coldwell Banker Commercial Devonshire Realty