Jennifer Shike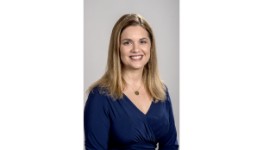 Photo by: Rick Danzl
Community involvement: One of my favorite ways of giving back in the community is empowering my children to be those agents of change. My daughter, Olivia, is on year three of leading 4-H service projects and efforts to serve the residents of Maple Point Assisted Living Facility in Monticello. Watching her raise money to make blankets and create pen pal programs to connect the elderly to 4-H'ers has been a great joy. The residents at Maple Point are family to us. I also handle communications and serve on the board for the Unity Youth Wrestling Club, advise the Illini Agricultural Communicators of Tomorrow Chapter at the University of Illinois, lead Bible studies, volunteer with 4-H and the Champaign County 4-H livestock judging team and assist with activities at Unity West Elementary.
Proudest professional accomplishment: My first job out of college allowed me to organize and create the National Junior Swine Association, a purebred swine youth organization that offers competitive shows, scholarship programs, leadership conferences, educational opportunities and more for youth ages 21 and under. I grew the program to nearly 13,000 youth from across the country in less than 10 years. Today, my children participate as members of NJSA in their shows and leadership conferences. It's humbling to see how this organization has impacted lives in the past 18 years and to watch the young leaders it has helped raise up in agriculture.
I attribute my success to: If I've had any success in my life, it's been because of God giving me the strength and ability to do it. I was wired to be a hard worker with an unwillingness to give up on my goals. I've learned that the best things come after the hard work is put in. My grandma recently passed at the age of 95. I don't know many women who worked harder than she did. She took great satisfaction in being able to work and considered it a privilege. She raised my dad to be the same. I think being able to understand that good things don't come easy has helped me as I strive to reach my goals professionally and personally.
Best advice to give or received: Value others more highly than yourself. We live in a world that is overly self-focused. In order to be the leader I want to be, I've learned that the more I think about my team and serving others, the more joy I receive. Great leaders are observant and know how to read their team. If you can't understand where your team is coming from, you can't help them achieve success and get to where they want to go in their career. When they are reaching their goals, you'll find you are reaching your goals, too.
Interesting fact: Livestock judging scholarships helped pay my way through college and led me to meet my husband, Dan. I was fortunate to be a member of two winning teams during my college years at Black Hawk East and Kansas State University. I was the first female to win the Bell Award at K-State that recognizes the top judge on the team.
Biggest career challenge: My biggest challenge was being a 22-year-old female trying to make big changes in a male-dominated industry. Growing up, my dad led me to believe that I could do anything I put my mind to. I didn't grow up thinking of myself as less than any boy. But as I went into a male-dominated industry, I quickly looked around the table and saw that I was the only female in many situations. It didn't help that I was young. I learned that I had to work hard and over-deliver what I promised and value what every person brought to the table to earn their respect.
Important lesson I've learned: The most important lesson I've learned in my career is that you can't have it all, all the time. As a mom who works outside of the home, I want to be awesome at both motherhood and my career. But I've learned you'll have moments (hopefully) of being awesome at each, but likely not at the same time. And that's OK. I am proud of being a mom who loves her children fiercely, but also loves her career. I hope I can be an inspiration to my children that with hard work, drive and love, you can do whatever you put your mind to.
Pivotal career decision: Leaving my first job to come to the University of Illinois took a huge leap of faith. I loved my first job; it was pretty unique to be in a position where you basically got to make up your job description. But as I considered the time I was giving up away from my young children, there really wasn't a decision anymore. At first, my new job at the University of Illinois was quite a change in pace. But I learned to "bloom where I was planted" and found ways to make that job my own and eventually transitioned into more of a leadership role in the college.
My partner/best friend/mom would describe me as: There's no way around it – I'm intense. But I hope that they would also say that I'm fiercely loyal, thoughtful, servant-minded, inclusive and love others.
To relax, I: I love being outdoors, riding horses, chasing my kids around with my camera, traveling with my husband and going out for coffee with my friends. 
From the nominator: "Regardless of the circumstances she finds herself in, Jennifer does her very best every day to create excellence in everything that she does." – Kim Kidwell, Dean, College of Agricultural, Consumer and Environmental Sciences