Jaya Kolisetty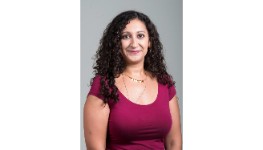 Photo by: Stephen Haas
Community involvement: Most of my community involvement is associated with my work at Rape Advocacy, Counseling, & Education Services. I am also an alum of the United Way's Emerging Community Leaders program and I enjoy finding opportunities to continue to volunteer for and support United Way of Champaign County.
Proudest professional accomplishment: For six months I served as the only staff member at RACES, as a result of the impact of the state budget impasse on the agency. During that time, I worked with a group of incredible volunteers to ensure that survivors of sexual violence in Champaign, Ford, Douglas and Piatt counties continued to have access to 24-hour crisis services.
I attribute my success to: I attribute my success to my commitment to work that I truly believe in and the fact that I have incredibly supportive family and friends.
Best advice to give or received: Never settle.
Biggest career challenge: The time I spent as the only staff member at RACES was my greatest challenge. I trained and supervised up to 80 volunteers to make sure that crisis services continued 24 hours a day during that time.
Important lesson I've learned: Be open to learning from others while staying true to your principals. 
Pivotal career decision: The choice to stay on as the only staff member at RACES during a very difficult time was challenging, but my belief in the importance of the work and the support of my family made me confident in my decision.
My partner/best friend/mom would describe me as: Compassionate, dedicated and probably a bit goofy.
To relax: I spend time with my family and my cat.
From the nominator: "Her commitment to our agency and our mission, her enthusiasm through our rebuilding process and her leadership with new staff and volunteers alike, all attest to her skills , knowledge and abilities." – Adelaide Aime, executive director, Rape Advocacy Counseling & Education Services