Jason Liggett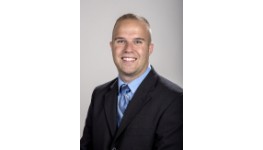 Photo by: Rick Danzl
Community involvement: My position at the City of Urbana has allowed me to reach out and help a number of community organizations throughout the years.  I work regularly with students at Urbana High School, teaching them broadcasting skills. I'm also involved with the CU 1 to 1 Mentoring program.  I have been volunteering my time to produce their end of the year senior video for 10 years. I work regularly with WEFT 90.1FM and Heartland Pathways.  I've also had the opportunity to work with a number of churches, community members and after-school programs throughout the years. I'm a board member on the Midwest Region of the Alliance for Community Media, which allows me to use my professional expertise on an even larger level than just my work at Urbana Public Television.  
Proudest professional accomplishment: My work with Michael Badger always brings a smile to my face. As a community access media center, Urbana Public Television opens its doors and "airwaves" to community members. There was no one more passionate about their production than Michael Badger was of "NewsView." I have won regional media awards and presented to my professional colleagues at national conferences, but I still go back to giving people opportunities they may not otherwise receive. Public access television has been giving a voice to the voiceless for years, and that's what keeps me coming to work every day.
I attribute my success to: There are more skilled people at my profession and my volunteer efforts, but they aren't all willing to put in the time that I do. Long hours and a drive to never quit made me who I am today.
Best advice to give or received: "Life moves pretty fast. If you don't stop and look around once in a while, you could miss it." - Ferris Bueller
Interesting fact: I've been playing drums in a two-man punk rock band for the last 16 years. Yes, I do lead a double life :)
Biggest career challenge: I think the biggest challenge for all of us is to diversify and become adaptable. Change is constant. It is a challenge I embrace and love but a challenge nonetheless.
Important lesson I've learned: Always take time each week to admire the work you've accomplished. Don't dwell on the negative; focus on the positive.
Pivotal career decision: I was 20 years old and burnt out. I turned in my resignation notice to Jim Lewis at WDWS/WHMS and notified my college advisor, Tom McDonnell, I was leaving the broadcasting program at Parkland. I didn't think I wanted to pursue a career in media anymore … until Mike Haile called.  Mike just took over as general manager at WDWS/WHMS Radio and convinced me I was crazy to leave and I had to stay. Twelve years later I'm still there and I've gone on to working full-time in media at UPTV. I can't imagine where I'd be today if I didn't answer the phone, but I'm sure I wouldn't be as happy.  Thanks, Mike!  
My partner/best friend/mom would describe me as: Fun, hard-working and ready for adventure.
To relax, I: Walk my dog, Tito, and listen to "The Jump" podcast.
From the nominator: "Profound professionalism, positive, creative, innovative, talented, gives back to the community, flexible, open-minded, high ideals and steadfast are just some of the words that come to mind when describing Jason Liggett." – Bridget Broihahn, Communications Specialist, City of Urbana