James Chandler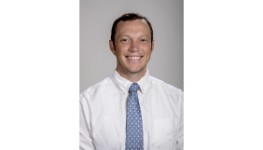 Photo by: Rick Danzl
Community involvement: Two-time box dweller for One Winter Night. Supporter of Fellowship of Christian athletes and C-U @ Home. Volunteer at Stone Creek Church. I have also had the opportunity to serve children affected by cancer from all over the Midwest as a camp counselor at various programs for Camp One Step at a Time for the last 15 years. I have been the co-leader of the Children's Oncology Services Washington, D.C., advocacy trip in which high school students affected by cancer have the opportunity to speak in Congress to advocate for funding, research and long-term survivor issues. This year will be my seventh consecutive year running the Chicago Marathon with Team One Step, which helps to send kids from all over Illinois to various camps and programs.
Proudest professional accomplishment: My favorite accomplishment is one that is ongoing. That is the
opportunity to be a partner in the health and wellness of our community. Bringing an innovative healthcare model to our area that helps improve access to care.
I attribute my success to: An amazing wife that continues to provide unwavering love and support. Having parents and grandparents that have opened countless doors and shown to me that true leadership is through service to those being lead.
Best advice to give or received: When I have too much and I give to someone with too little, we both get closer to having what we need.
Interesting fact: I am super-good at burping baby dolls.
Biggest career challenge: Although it is an absolute privilege to be with families during hard times, delivering bad news will always be the most difficult part of my occupation. 
Important lesson I've learned: In medicine I unfortunately cannot always choose outcomes, but I can always choose to treat people with kindness and respect.
Pivotal career decision: Starting Square 1 Healthcare with my great friend Arun. We both have a serious love for being frugal (OK, let's not church it up; we are cheap) and getting great deals. We thought it would be really cool to start a clinic that offers value and transparency for people like us. With a lot of prayer and the support of our amazing families, we decided to make that dream a reality.
My partner/best friend/mom would describe me as: My wife would probably say, "He is where his feet are, and whatever moment he is in is probably one of the best moments of his life." Also she would probably mention that I eat too much ice cream.
To relax, I: Spending time with my beautiful girls: My wife, Marie, and my daughter, Harper.
From the nominator: "James is hands-down the most selfless person I know." – Whitney Emmert, marketing manager, News-Gazette Media