Erin Tarr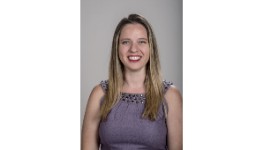 Photo by: Rick Danzl
Community involvement: Junior League of Champaign-Urbana, CU Cradle 2 Career, Booker T Washington PTA, Quest United Methodist Church.
Proudest professional accomplishment: Pursing my passions as a role model for my daughters.
I attribute my success to: The grace of God.
Best advice to give or received: Choose your thoughts.
Interesting fact: I'm an extrovert ... just kidding ... EVERYONE knows this about me!
Important lesson I've learned: You learn more from the failures than the successes.
Pivotal career decision: Leaving a position I loved and stepping back professionally at a time when most people are climbing up the ladder, I decided to back down. Ultimately I knew that I needed to have more space in life for my family and for ME, and to allow other passions and interested and ultimately my new entrepreneurial endeavor to grow and thrive, and that could only happen if I made a major change.
My partner/best friend/mom would describe me as: Inspiring, passionate and persistent.
To relax, I: Read, sing and run (sometimes simultaneously).
From the nominator: "She has made it her mission to teach girls how to have confidence in themselves while also building each other up." – Mallory Haas, franchise development manager, Jimmy John's Franchise, LLC