Curtis K. Blanden Sr.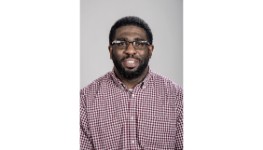 Photo by: Rick Danzl
Community involvement: Includes but not limited to being a volunteer coach - First String, Inc. (baseball and basketball), volunteer coach - Central Illinois Youth Football League, Lone Star Lodge #18, F&AM, Prince Hall Affiliation, volunteer/ mentor - Youth for Christ Midnight Basketball League. 
Proudest professional accomplishment: Is to continuously see my students obtain their definition of "success." 
I attribute my success to: The "Sovereignty of God" and my family. 
Best advice to give or received: "Stay humble" and "The one thing you should value that can never replace is time."
Biggest career challenge: Helping others understand the value they have within themselves. I have learned that in every circumstance or situation there is an opportunity to learn.
My partner/best friend/mom would describe me as: I can be best described as being a dependable and devoted person.
To relax: I think about what else I could be doing and spending time with family.
From the nominator: "Curtis is one who gives back unselfishly to his community." – Teresa Blanden, Assistant Director, University of Illinois at Urbana-Champaign Principal's Scholars Program